While most of us are still sheltering in place for the most part, the days are getting longer and we are starting to see signs of life all around us here in New England. The snow is melting, trees are budding, and flowers are beginning to bloom. And, let's be honest, the walls around us are getting old. It's time to get outside, so we thought it was a good time to feature some amazing timber frame outdoor spaces.
Timber Frame Pool House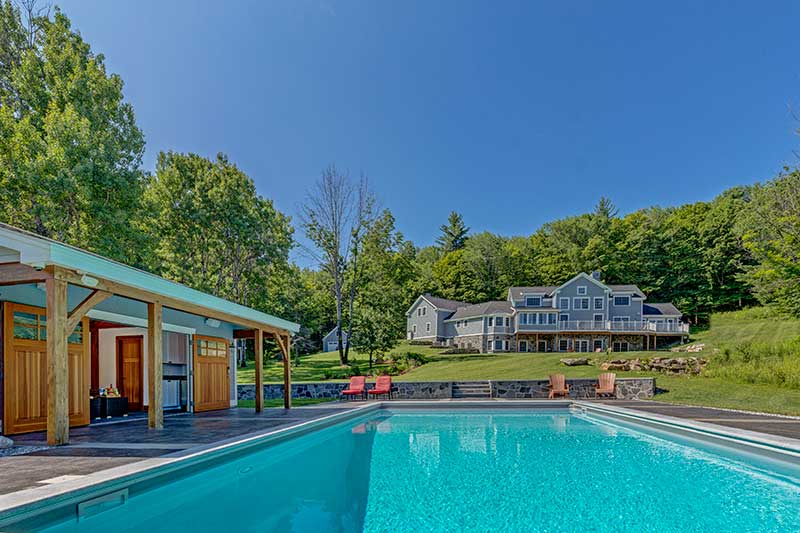 Check out this Vermont timber frame home and its inviting backyard view! The homeowners first built their gorgeous home and a few years later put in an in-ground pool and a timber frame pool house. What a great place to host barbeques and summer parties!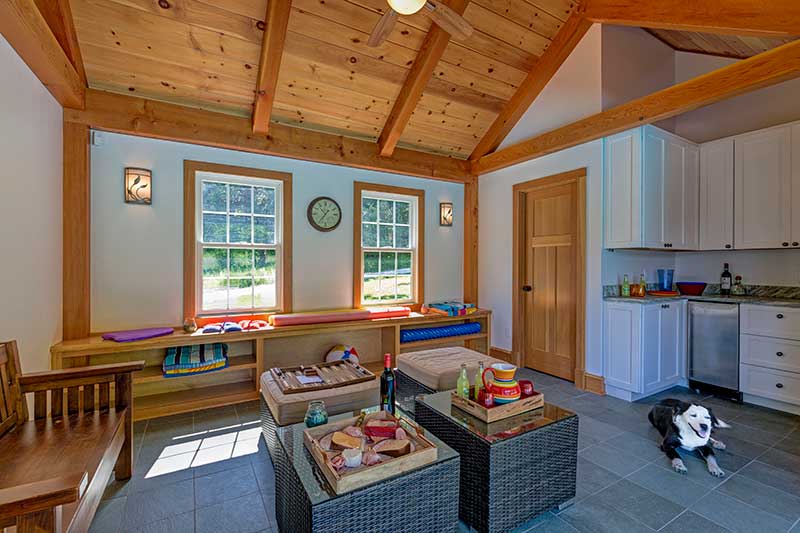 Above is a view of the pool house interior, featuring an open floor plan, a built-in mini bar, and a bathroom. And the double doors open up completely, allowing for a perfect hybrid indoor-outdoor space, as well as a comfortable place to get out of the hot sun.
Outdoor Oasis
The outdoor living space at this rustic lakeside timber frame home in New Hampshire offers a beautiful natural oasis. Swimming and soaking options are numerous, including an infinity pool and hot tub, not to mention the lake. Unfortunately, you will need to use your imagination to see the amazing pool slide, added after this picture was taken. Plus, there is an outdoor fireplace on the upper deck and a world-shaped fire pit on the lower patio below the pool. This timber frame house and outdoor living space is the ultimate place to entertain during the summer months.
Japanese Tea House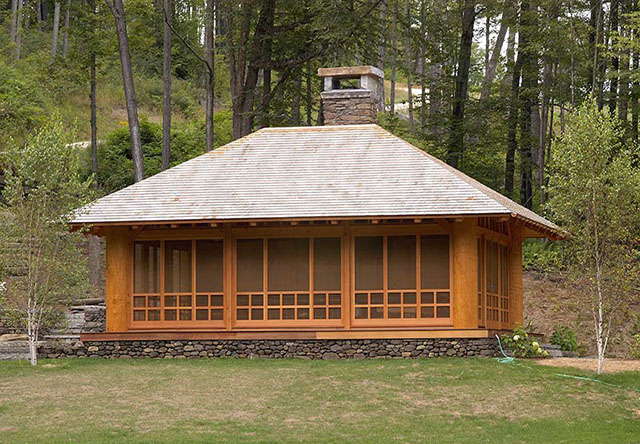 This Japanese timber frame teahouse pavilion was built over 10 years ago as entertaining space for guests during the summer. Featuring a great outdoor kitchen, the teahouse is nicely set beside a pond with great open space for games.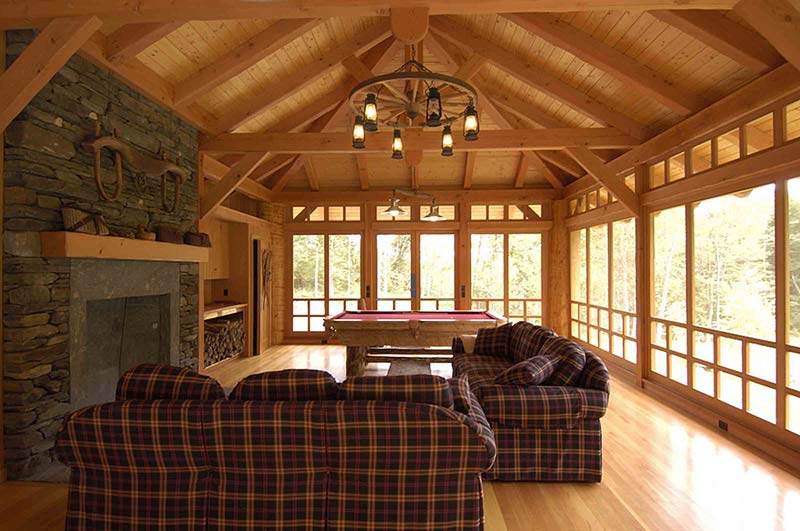 Here is an interior view of the Japanese timber frame teahouse. The open floor plan features a large stone fireplace and billiard table add a nice touch to this entertaining space. And this space has a unique, bonus feature allowing for year-round enjoyment – the windows have removable storm glass that can be replaced with screens for the summer. This allows the homeowners to enjoy the "outdoors" without being bothered by pesky mosquitos.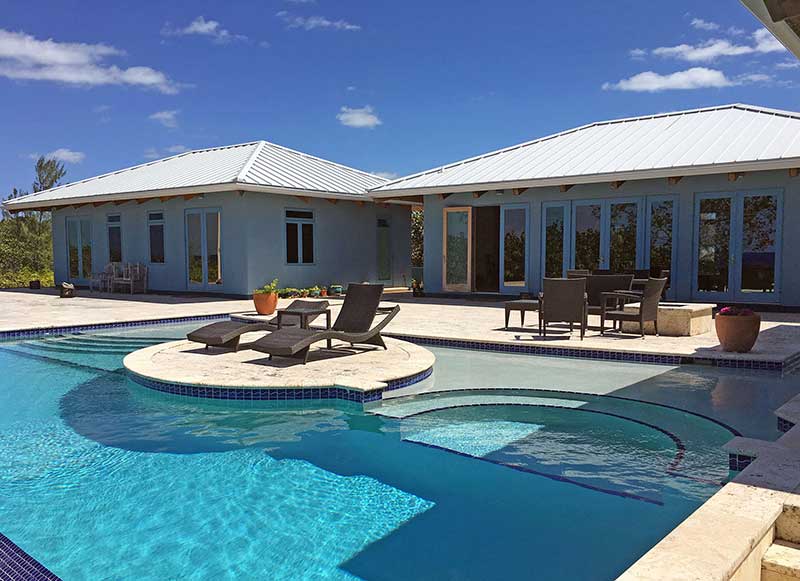 Here is another Japanese teahouse-inspired timber frame that our clients built in Grand Cayman. They built 3 separate timber frame pods as their house. The property overlooks the ocean but without beach access, so the homeowners added this beautiful infinity pool to escape the Caribbean heat.
As a side note, I personally got to stay at our client's home a couple of years back and it truly is a majestic property. I stayed in their guest pavilion, which has a spacious guest suite with beautiful exposed timbers. This was my first time (and hopefully not my last) sleeping in a timber frame and it sure was magical.
Screened-in Porch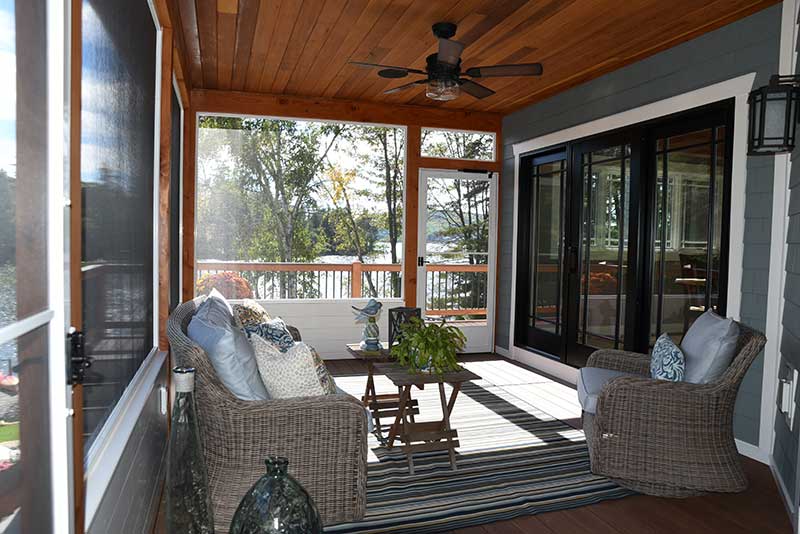 It seems that more and more clients are interested in adding a screened-in porch. It's a great option to consider to enjoy the outdoors without mosquitos and black flies. The above screened-in porch offers was designed to enjoy the bug-free outdoors. It also takes advantage of the amazing views of Lake Winnipesaukee. I don't know about you, but I personally would sit out here every night. What a serene space to enjoy a quiet evening!
We hope these timber frame outdoor spaces made you smile! Interested in talking to us about your new home? Call us today at 800-636-0993.