Over the past 11 years, I've marveled and been in awe of many timber frame homes I've visited and the ones we've photographed. I work in the Marketing department at Davis Frame Company and am lucky to have visited many Davis Frame homes at open house events and photoshoots. It's hard to choose my favorite room, favorite timber frame home, and favorite photos! Today, I thought I'd focus on timber frame great rooms; they are the heart of a home and where family and friends are brought together to enjoy each other's company during the holidays and gatherings. Although not featured in every timber frame great room, you find that most of our client's timber frame great rooms feature soaring cathedral ceilings, dreamy fireplaces, and a nice open flow to the dining room and kitchen. Check out a sample portfolio of great rooms below.
Barn Home Great Room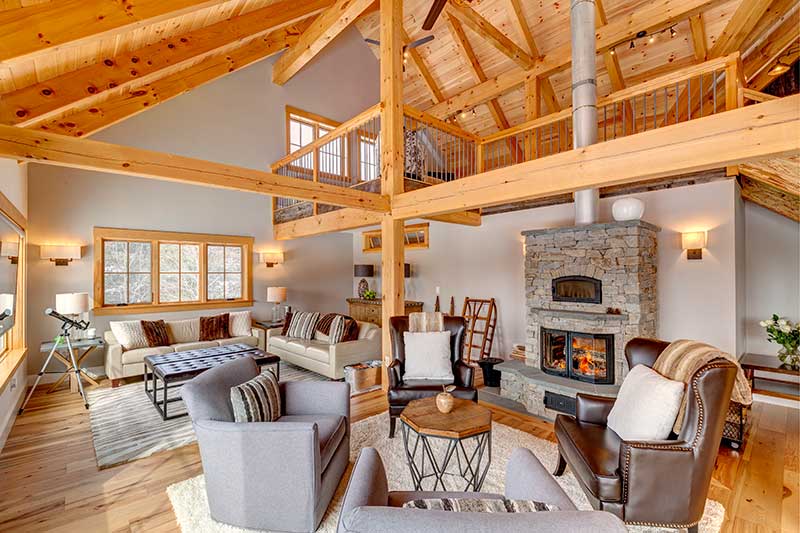 I'll start with this gorgeous timber frame great room. This Southern Vermont barn ski home features a large living room featuring eastern white pine timbers, a nice masonry heater fireplace (bonus, really throws off some heat!) and two lovely sitting areas. I also love the neutral colors and industrial elements chosen for the decor. Our client's chose creamy whites, grays, and browns. This timber frame great room is perfect for entertaining weekend guests after a day at the slopes. It also flows nicely into the dining room and kitchen, making it one big open space perfect for gatherings. This timber frame home is stunning in person. Be sure to check out the entire timber frame photo gallery!
Long Island Timber Frame Great Room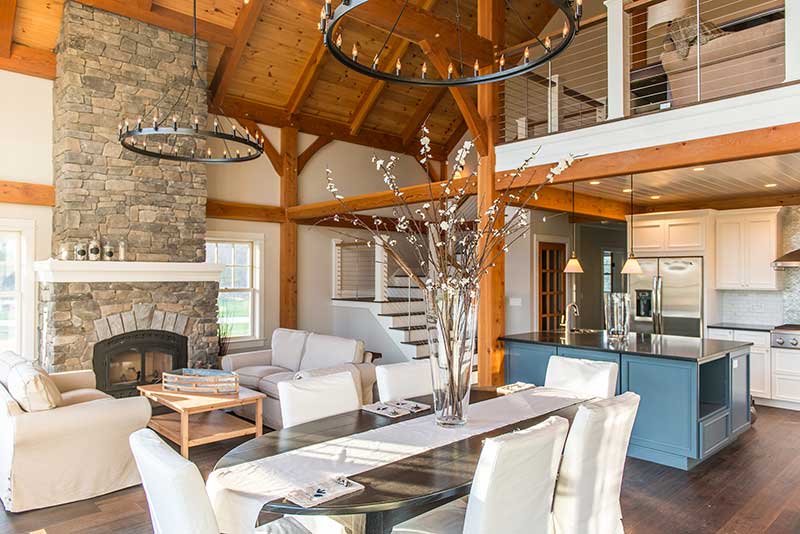 This timber frame great room, dining room, and the kitchen was love at first sight for me. I absolutely love the clean and simple colors chosen in this home. It also shows a perfect amount of wood to white ratio, really giving the timber frame an up-to-date look. Although many of our clients choose Douglas fir for their timber frame species and interior window species, I love that this client chose painted white. The cabinets and furniture linens are also white and linen adding a nice brightness to the space. They painted the kitchen island blue, adding a nice pop to this North Fork New York timber frame home. Thank you to Jerry Cibulski for this amazing shot!
Visit our website to view more photos of this gorgeous Long Island timber frame home!
Country Living Timber Frame Great Room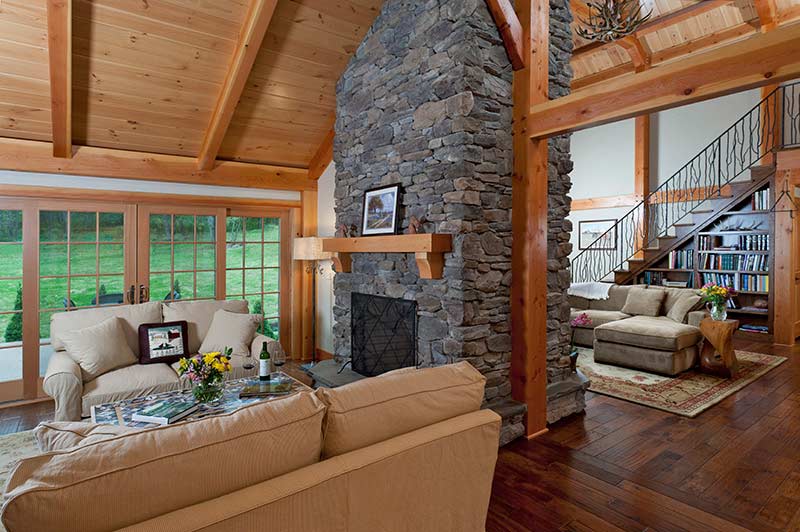 This timber frame living room features a double stone fireplace and can be enjoyed in both the living and great rooms. The living room features a lower vaulted timber frame ceiling that also features tongue and groove decking, enhancing the warmth of the space. The two love seats are the perfect setup for entertaining friends and family by the fireplace. We also supplied the timber frame mantel on the fireplace which ties into the main timber frame harmonizing the space. Behind the fireplace, is the timber frame great room featuring a high soaring ceiling with exposed wooden Douglas fir beams. This space features a nice sectional, perfect for the homeowners to enjoy downtime with their family. Check out more photos of this beautiful Country Meadow home!
Expansive Timber Frame Great Room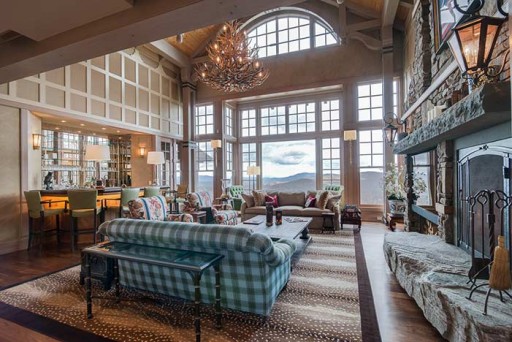 This Vermont timber frame ski home is breathtaking and luxurious. This timber frame great room gets my vote for the best wall of windows hands down! The view of the Green Mountains is beautiful. While the decor looks elegant, it also features a touch of comfort the mixture of patterns including classic plaid, which is a staple in many New England homes. Interior designer Amy Thebault beautifully decorated this timber frame home. Thanks to Amy for sharing these beautiful photos she took. Want to see more of this Davis Frame home and her work? Check out this Stratton Ski House photo gallery!
Are you interested in seeing more beautiful timber frame great rooms? Check out our timber frame great room photo gallery today!
Want to discuss your ideas for your new home? You can call us at 800.636.0993 and we would be happy to put you in touch with one of our project managers.