Discover the best small timber frame plans that Davis Frame Company has to offer! An interest in small timber frame homes has been trending over the past few years. Now more than ever we are receiving requests from prospective clients interested in timber frame floor plans under 2,000 square feet. If you think about what you want in your new timber frame home and spend time carefully planning your design, you can design your small timber frame home to live large. The beauty of a timber frame home is that it allows you flexibility in your design, due to the nature of an open floor plan that timber frame offers.
Below are some of our most popular small timber frame plans by Davis Frame under 2,000 SF:

Classic Homestead 1 
Our Classic Homestead 1 timber frame plan is by far our most popular timber frame plan under 2,000 square feet. This cozy small timber frame plan lives large in a modest space, coming in at 1,800 square feet. The Homestead features an entry covered porch leading into a small mudroom area. A hallway from the mudroom leads straight ahead to a spacious master suite. Adjacent to the master is an open concept kitchen, dining room, and great room. The dining room and great room are vaulted showcasing the beautiful exposed wooden beams that timber frame offers. The open concept living helps to create an airy and seemingly large space. Upstairs are two spacious guest bedrooms and a shared bathroom. There is also a small loft space where you can enjoy looking at the beauty of the exposed timber frame. We've designed several variations of this small timber frame plan.
Visit our website to see photos of our Classic Homestead.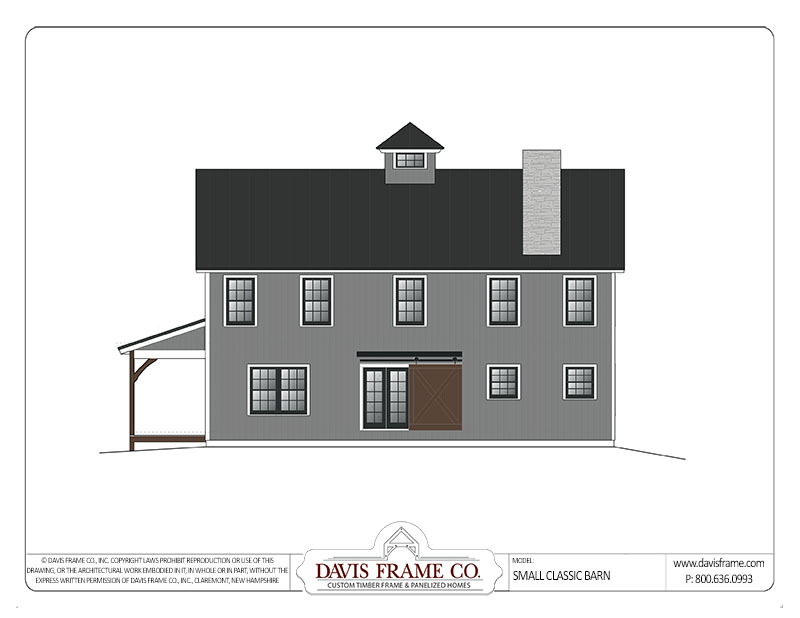 Small Classic Barn Home
Check out this small barn home we recently designed for a client in Vermont! This small timber frame plan is perfect for those looking for a true barn feel for their new home. At 1,800 square feet, this floor plan has it all in a modest floor plan. The first-floor plan includes a foyer entry that leads into the kitchen straight ahead. To one side is an open concept great room and dining room, with the great room vaulted showcasing the exposed timbers above. On the opposite side is a bedroom and a large bathroom that also hosts the laundry room and mechanical closet. Also located on the first floor is an alternate entry into the home where there is a small mudroom area where the homeowner can hang jackets and store shoes.
The second-floor plan features two additional bedrooms with a shared bathroom and spacious loft space. There is a cute loft space on one side of the home that is perfect as a reading nook. On the opposite side of the upstairs is a huge loft space that overlooks the great room below. There are so many options for this space, such as bunk space for guests, a toy room or maybe office space.
This new barn home plan is sure to be popular! Contact us today to learn more about it.

The Concertina by MossCreek
A few years ago, we partnered with MossCreek Design and chose some of their popular floor plans to showcase on our website. The Concertina/Cumberland Trace (same floor plan, different architectural details) is a favorite among those looking for a smaller home. This home can be built as a timber frame home or we can work with you on a panelized version of this floor plan. Whichever building style you choose, you will get a lot of living space in this 1,630 square foot floor plan.
A farmer's porch leads into the home where you have a wide-open floor plan between the kitchen, dining room and great room. Adjacent to the main living space is a spacious master suite. Also included on the first floor are a guest bathroom and a small laundry space. The second floor features two good-sized bedrooms with a shared bathroom. If you are looking for a modern farmhouse for your new home, the Concertina is an excellent choice. Want a more rustic version of this floor plan? Consider the Cumberland Trace model which is the same footprint and plan, but with a more rustic look on the exterior.
Call us today at 800.636.0993 to brainstorm about your new timber frame home! Whether you want a small or large home, we can help you create a design unique to you.