Discover this gorgeous Colorado timber frame home that was built in 2007 in Breckenridge. The timber frame home was designed as a retirement home with additional guest space for visiting family. The exterior is a nice combination of brown siding and a stone veneer. Its rustic architectural charm is perfect for a ski house!
Over the years, we have received many inquiries for this plan.
Why Breckenridge, Colorado?
Before we showcase the plans and photos for this spectacular home, we want to share why Breckenridge or Breck is the perfect place for your Colorado ski home. Located at the base of the Rocky Mountains, Breckenridge is a year-round playground for outdoor activities and a great place to enjoy four-season living. For skiers and snowboarders, it's the perfect place to live! Breckenridge features 5 peaks and 187 trails. As a result, the mountain has a smaller feel compared to larger ski areas like Aspen but is still considered one of the bigger and more diverse Colorado ski areas.
There are plenty of things to do in Breck in the summer months too, including hiking, golfing, alpine sliding, and more. Learn about Breckenridge summer fun here. And there is a quaint downtown, featuring shopping, restaurants, and spas. With this in mind, it's the perfect place to set down roots if you enjoy skiing and a vast array of outdoor activities, during all four seasons!
Now onto the floor plan and photos for this Colorado mountain home!
The Breckenridge Timber Frame Floor Plan 

The Breckenridge timber frame floor plan is a great one-level plan for those looking for all their living space on one floor. The plan features the perfect amount of space, coming in just under 3,250 SF. The main level floor plan has a 24'x40′ footprint and 1,748 SF of wide-open living space. In addition, the great room, dining room, and kitchen open to one another. The large footprint for the primary living spaces is perfect for hosting gatherings. To the right of the main living space is a connector that hosts a mudroom, laundry room, and bathroom. Located on the opposite end of the house, just beyond the connector, is the spacious and very private master bedroom suite.
There is also a bonus lower-level living space, which almost doubles the square footage. On this level, there are two guest suites and a central living space between the two that includes lounge space and a wet bar. This space is great for empty nester's that have adult children who visit on holidays and weekends.
Breckenridge Timber Frame Photos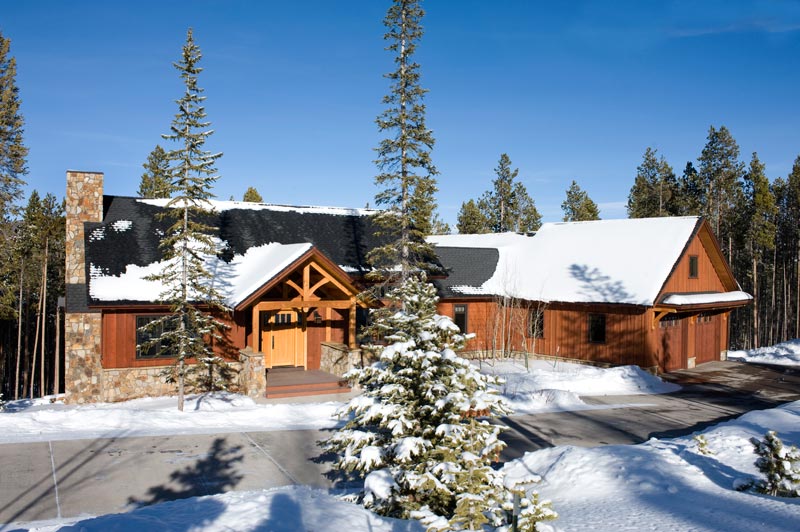 Here is a view of the front of the Breckenridge, Colorado timber frame home. It looks modest in size, but it features over 3,000 SF with the combination of a finished basement. 
The kitchen features a nice traditional look and a curved bar where guests can mingle with the homeowner while a meal is being prepared.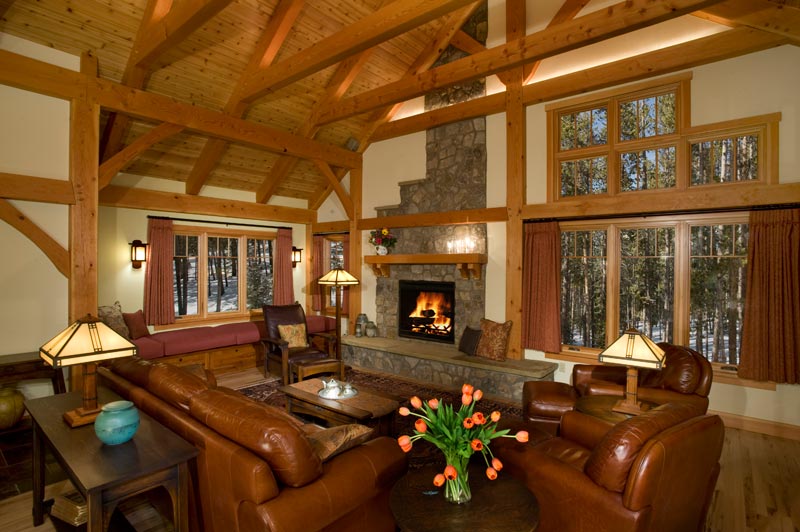 A view of the beautiful timber frame great room. The timber frame features a king post truss system. The beautiful stone fireplace makes a striking centerpiece. It's the perfect place to sit and relax after being on the slopes all day.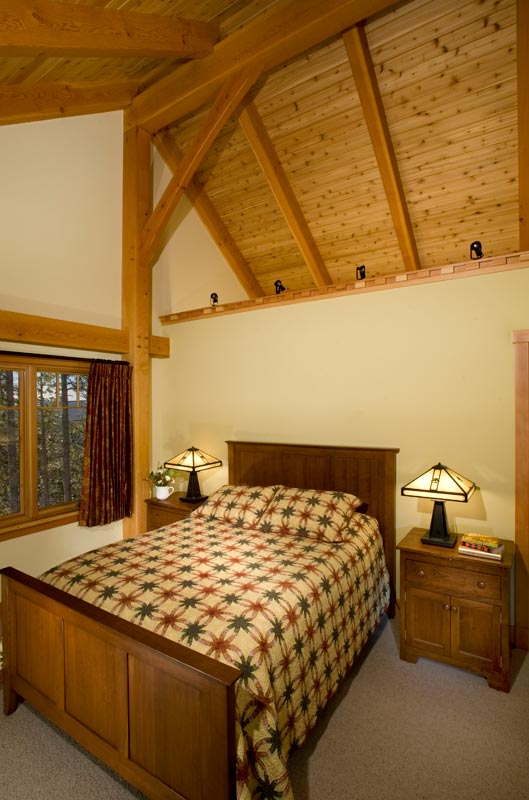 The master bedroom features a spacious bedroom along with a large master bathroom and walk-in closet. The master suite is located opposite of the main living space, allowing for a nice private setting.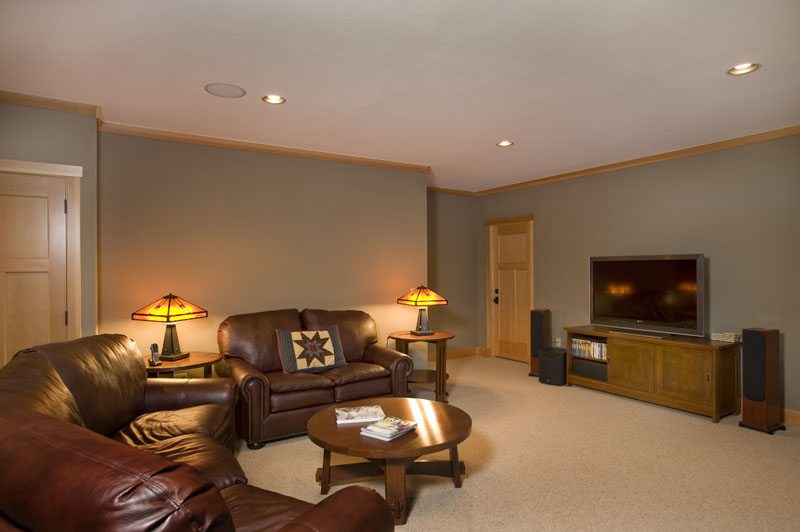 This is the bonus lounge room located in the finished basement. It's a perfect place for weekend guests to enjoy their downtime and privacy.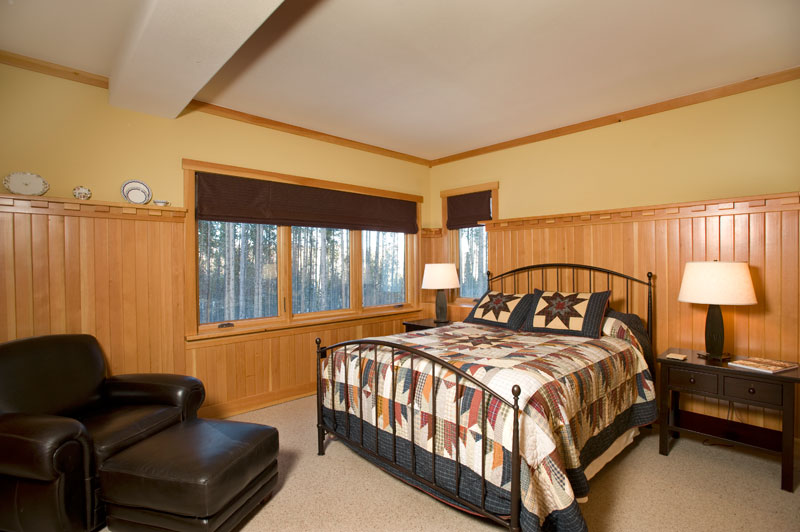 Here is one of the guest suites in the basement which also includes a connecting bathroom.
Interested in learning more about the Breckenridge floor plan? Call us today at 800.636.0993!