One of the most popular questions we receive is, "How much does it cost to build a timber frame home?" Like any custom building project, budgeting for timber frame home construction is unique to each client based on design and specifications. While we can provide estimates for the cost of our package, that's only part of the total cost. The remaining two-thirds (excavation, carpentry, plumbing, etc.) are unknown and out of our control. We like to compare overall building costs to a bag of groceries. Does your grocery bag contain ramen noodles or lobster? Depending on individual needs, styles, tastes, and budgets, the overall cost to build a timber frame home will fluctuate dramatically. But, don't worry, we can offer tips and considerations for budgeting a timber frame home.
Our weather-tight shell packages (timber frame, structural insulated panels (SIPs), and windows and doors) make up about 1/3 of your building cost (not including land). So how do you come up with a total budget for your new timber frame home? Check out the below construction considerations to factor into your new home planning.
Big Ticket Budget Items to Consider:
Land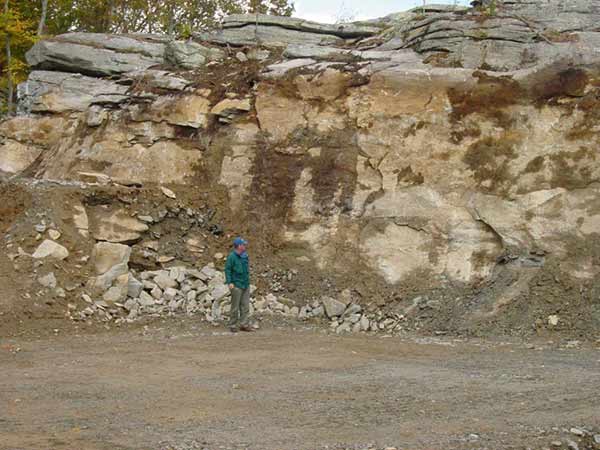 This home site in Connecticut needed major blasting, adding a huge chunk to the overall budget. 
You have decided to build, congratulations! If you haven't found your land yet, it very well could be a big-ticket item. The price of land ranges widely starting at around $50,000 to several hundred thousand. The cost of land varies by size and location. You might find a few acres of land in rural Vermont for $100,000, whereas a small lot in suburban Boston might run you $500,000. We recommend looking around, however. The few acres in rural Vermont might yield more, or less, just a town or two away. This expense could seriously impact your overall budget. That's why we recommend coming up with a total budget before buying land. Think about how much you want to allocate towards the land and how much towards the house. Years ago we worked with a client who paid several hundred thousand for their land, which ate up half of the total budget they'd allocated to building their new home, leaving them to refocus and downsize their design.
In addition to location or price, you will also want to consider the state of the land and how much work might be needed prior to building. Is it raw land in need of clearing or has it been developed and include a well and septic? Does it have extensive ledge where blasting might be required prior to putting in a foundation? In New England blasting can be an unwelcome (and costly) surprise. On average blasting land in New England can cost between $20K – 25K, and sometimes much more. We had a client who built in Vermont who mentioned their blasting cost was double what they had planned when they found they hit a bunch of ledge.
Design Complexity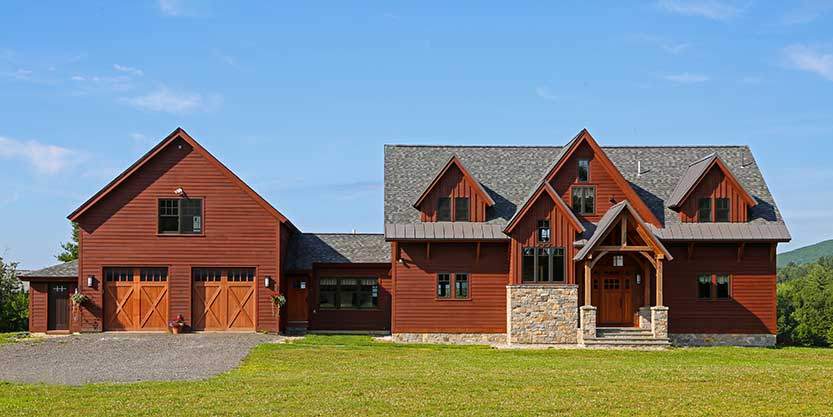 A complex home design is shown in this picture.
What size home are you planning to build? Architecturally, is it going to be a simple rectangular shape or are you planning a home with bump-outs, dormers, and varying roof lines? We ask this because typically a very linear-shaped house costs less to build than a home that features different angles. Ultimately, footprint size, level of stories, and design complexity are all variables to what it will cost to build. For example, a person who builds a 2,000 SF colonial home will probably save a sizable chunk compared to a person who is building a craftsman style home that features intricate roof details. Also, one-story homes cost more per SF versus a two-story home. So if you are looking for a good-sized home, building up rather than out will cost less in concrete and less towards your overall budget.
Hybrid VS. Full Timber Frame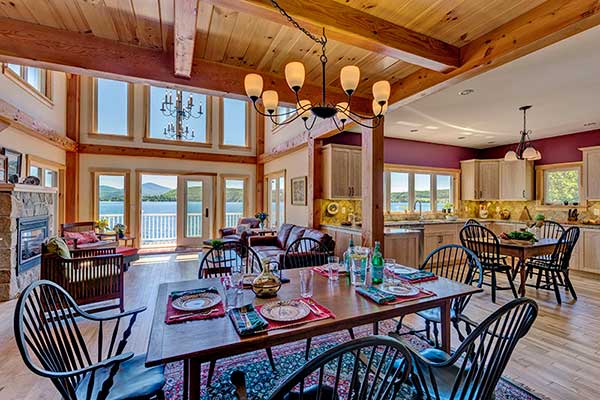 Example of a hybrid timber frame home. Accented timbers in the dining room doorway, and the great room is fully timber-framed. 
With timber framing, it's not all or nothing. You can feature timber framing throughout your home and for the structural integrity of the entire home, or you can integrate accent timbers in just an area of the home. Building a hybrid timber frame home is a great option for those interested in getting a taste of timber framing – and for those interested in significant cost savings! If you can reduce the number of timbers used in your home, it can yield a nice savings to your budget. We design and craft many hybrid homes now. In fact, these hybrid homes have become more common than fully timber-framed homes.
Interior Finishings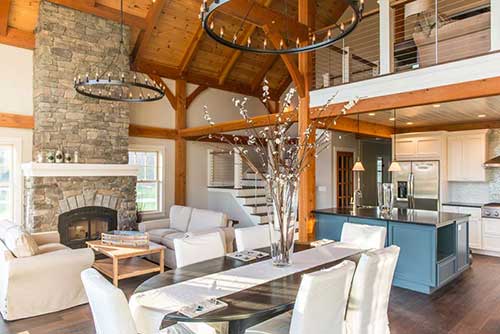 How you plan to finish your new timber frame home is perhaps the biggest unknown variable. It's a big variable because there are so many options and price levels when considering kitchen cabinets, appliances, bathroom vanities and fixtures, flooring options, and more. One good thing about interior finishes is that it is more controllable. For example, are you adding a $100,000 kitchen or a $20,000 kitchen? Favor a chandler that costs $2,000 or a ceiling fan that may cost $300? According to a chart posted by the National Home Builders Association, your interior finishes could make up on average 30% of your construction budget. Again, this percentage can easily go up or down depending on your choices.
As you can tell, there are a lot of components that go into building a new home and much of the overall cost to build a new home, a timber frame, will be dependent upon your choices in the design of your home and interior finishes.
Interested in learning more about planning and budgeting your timber frame home? Call us today at 800.636.0993 to speak to a project manager about your project!