Build a Vacation Home in the Country and Rent in the City! This is a great option to consider to get the best of both worlds. This scenario is common for many city dwellers. They have successful jobs in the city and enjoy many of the amenities city living offers. However, many like to escape, just even for the weekend, to live life slower, where time doesn't pass by so fast. With careful planning and some sacrifice on one end, you can achieve the dream of having lived both in the city and the country. Fortunately, country living isn't too far from some major cities, like NYC and Boston.
Here at Davis Frame, we've worked with many clients who live in a more urban area, but build a vacation home in the country, that they will eventually retire to. So why wait to have your vacation home in the country, and why can't it be the first home you buy? It's also a great investment if you are planning long-term, meaning you will use it for weekends and eventually retire to. Perhaps you can also rent it out to friends on the weekends you are not there. There are many possibilities and it's a good investment.
Several years ago, one of our employees was living the life of hustle and bustle in New York City. He and his wife were exploring buying their first home, especially since they had a new baby. Quickly, they came to realize how expensive an NYC apartment was and shifted gears and explored buying and building a vacation home in the country. To buy an apartment in the city, it would cost them triple the amount it would cost them to have a weekend home in the country, and, did they really want to spend their life savings on an expensive piece of real estate in the city, especially, when really, their heart was in the country? They knew they would move in the future.
Sample Timber Frame Homes Perfect for a Second Home
Classic Barn Home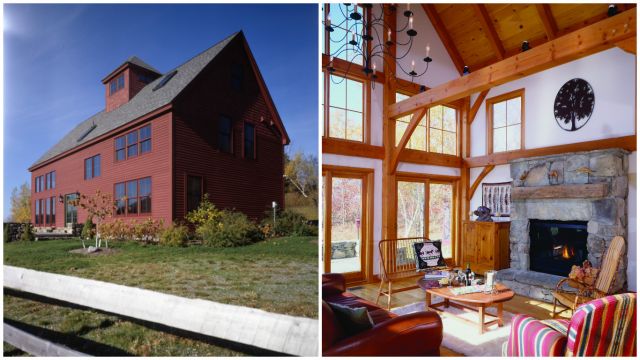 Check out our leading timber frame floor plan, the Classic Barn Home! There is nothing quite as tranquil as a barn. So why not build a barn home? There is something comforting about a simple structure from days gone by, especially if you've spent time in the countryside. Our Classic Barn floor plans range from 2,000-2,500 SF and are the perfect average sized home and not too big to take care of. This plan features 3 bedrooms, 2.5 bathrooms and a nice open floor plan on the first floor. The great room features soaring vaulted ceilings where the warm timbers are exposed. It also features a wall of windows, to take advantage of the view of the outdoors. Enjoy the country living just as much on the inside as you do out!
Classic Homestead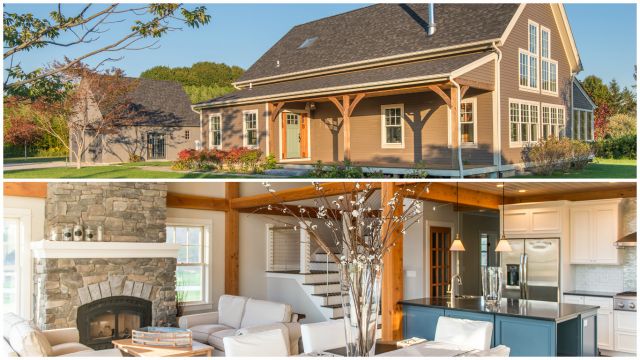 Our Classic Homestead series is a part of our barn home line but offers a slightly smaller footprint without sacrificing bedrooms and bathrooms! The Classic Homestead 1 features 1,800 SF and an open first-floor plan. The master suite is also on the first floor and the second floor features two bedrooms, a shared bathroom, and a loft. This post and beam home is our most popular plan, along with our Classic Barn. Its architecture is homey and fits the vision of countryside living. The great room also features vaulted ceilings showcasing the beautiful post and beam and also features a picturesque wall of windows. You can't go wrong with this plan!
Classic Studio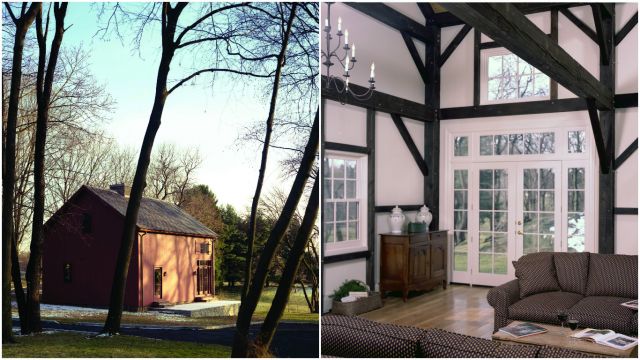 Discover the beauty of living small in this small timber frame home! It was originally built as a weekend getaway for a couple living in the city. The home is from our Classic Studio floor plan series and features 965 SF. The first-floor plan features an open floor plan for the main living space and a bathroom. The floor plan features a lofted bedroom that looks down below the main living space. Though, you could make it a closed off bedroom if a lofted bedroom isn't what you are looking for. This is a perfect plan for someone looking for a small and easy vacation home to manage from afar. What is also perfect about this plan is that you could easily add on. Its simple rectangular shape makes it an easy one to expand in the distant or not so distant future.
Oh, and in case you are wondering what happened to the employee of ours that we started this story about above? He looked at all his options and ultimately decided it was best for his family to relocate to the countryside. He is thoroughly enjoying living here in NH with us and excited to be part of building people's dream homes.
If you're looking to build a new timber frame and post and beam home, whether it be a vacation home or primary home, call us today at 800.636.0993. We are happy to brainstorm options with you!