Back in 2011, we worked with homeowners Phil and Nancy on their beautiful Caribbean timber frame home. Through the years, I've had the pleasure to speak with Phil at least once a year and he always asks when I'm coming down to visit. Every year I've wanted to go, but have had a valid excuse, I'm a Mom of two young boys!
When I spoke to Phil this past December, he asked me again when I was coming to visit. I sat at my desk for a few minutes, contemplating the many reasons I shouldn't go. The #1 reason being the fact I have a 2 and 4 year old who will miss us! The #2 reason is feeling guilty leaving them with my family for a week. And, the #3 reason is, what happens if the plane goes down with my husband and me both in it? Who thinks of the last morbid thought? A Mom of young kids! My husband was all for taking a trip. We've only been away from our kids for 2 nights total! After I got past my fear and excuses, I mustered the guts to ask for my family to help with babysitting.
Off We Go
At the end of February, my husband and I traveled to see Phil and Nancy at their beautiful Davis Frame Caribbean timber frame home on Grand Cayman! We arrived on the island and it was sunny and 82 degrees. It remained just as nice for the rest of our trip. My husband, Josh, and I rented a car and drove to our destination. There is a learning curve driving on the island as Caymanians drive on the left side of the road and the driver seat is on the right side.
After about a 20 minute drive, we arrived and walking up the steps to the property; it blew away me. Right in front of me was an expansive patio surrounding a beautiful infinity pool. Although not beachfront, this timber frame home looks out to the ocean and offers tranquility, perfect for getting away and relaxing. The drive to the beach and downtown Georgetown was only about a 10-minute drive. If you seek to be away from the hubbub, staying at a private residence like this gives you your space.
Caribbean Timber Frame Living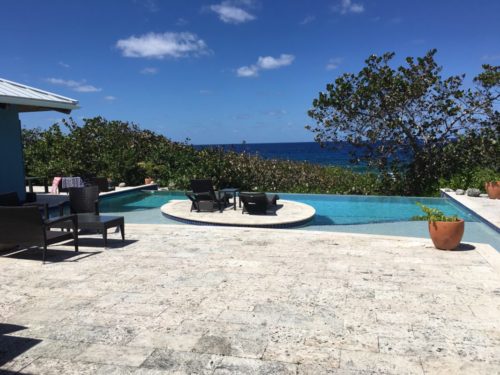 The beautiful patio and infinity pool
Now onto the design of this Caribbean timber frame home. Phil and Nancy worked on a design with us and a local architect for their three pods modeling it after our popular Japanese Tea House timber frame model.  The center pod is composed of one big open space featuring a timber frame great room, dining room and kitchen, and let me tell you, it's breathtaking! The ceiling also features beautiful pine tongue and groove decking which really makes the space and timbers pop.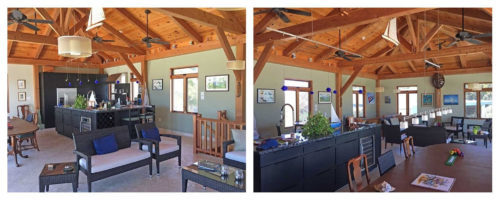 The center pod featuring the open concept great room, kitchen and dining room
To one side of the central living pod is a timber frame tea house that hosts Phil and Nancy's spacious master suite and office. The other side of the central pod is the guest pod featuring two spacious guest suites. My husband and I stayed in one guest room and Phil and Nancy rented the other out to a nice couple, Mike and Stacie through their airbnb listing. They designed the guest timber frame house so nicely with double walls between the two guest rooms, you couldn't even hear a peep from the room next door. I must also admit that staying at Phil and Nancy's home is my first experience staying in a timber frame home! How lucky am I that I got to stay in my first timber frame home on the beautiful island of Grand Cayman?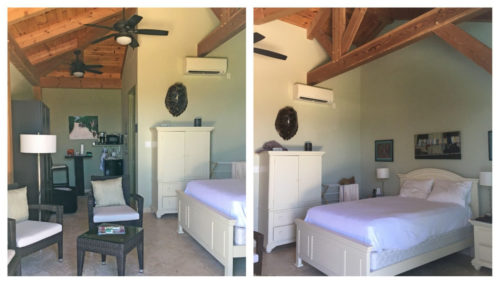 Our room in the guest house
About the Cayman Islands
Now on to a brief history on the Cayman Islands. Grand Cayman is the largest of three British Cayman islands and is where all the major airlines fly into. Most travelers stay on this island, unless, you are a scuba diver. The two smaller islands, Cayman Brac, and Little Cayman are known for scuba diving. You can take a short flight on Cayman Airways. Grand Cayman is made up of white sandy beaches and turquoise blue water. Years ago I visited on a cruise and fell in love with the turquoise clear waters and knew someday, I would return. Little did I know that my job at Davis Frame would lead me back for a visit. While visiting an island on a cruise is nice, you never get the full effect of how an island truly is.
The Famous 7 Mile Beach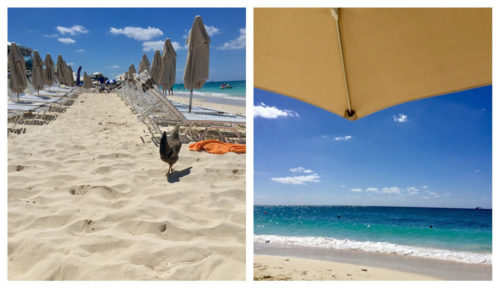 The famous 7 Mile Beach
There are a few popular destinations that bring travelers to the Cayman Islands. The first is 7 Mile Beach, but the beach is actually only 6.3 miles long. This long stretch of white sandy beach and turquoise water is where most of the resorts and dining establishments are. There are a couple of public beaches on 7 Mile Beach and each resort has its own seating area on the beach. We visited the Royal Palms Beach Club, which is not a resort, but just a beach club with music, food, and a bar. You can also rent jet skis here, too. This beach club was nice, but we also were sure to visit on days where there were fewer cruise ship visitors. When the ships are in, it can be quite a hopping place. We also saw a chicken on the beach, random, but it made us giggle!
Camana Bay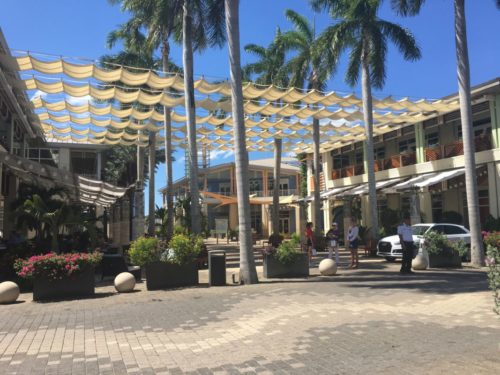 Camana Bay
Within a walking distance of the beach is shopping, including Camana Bay, which features nice upscale retail stores and a few nice cafe's and boutique markets. This shopping destination is unlike any other I've seen in the Caribbean and comprises four courtyards and cobblestone streets. Although we didn't experience any events, according to their website, they offer over 600 annual events a year. They also have health and wellness centers and water sports at Camana Bay.
Rum Point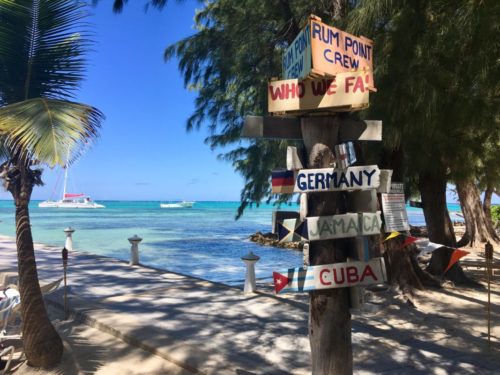 Rum Point
Another beach destination nice to visit is Rum Point and is located on the Northside of the island. It was about an hour's drive from Phil and Nancy's, but we had a nice and relaxing day. It's a different experience from 7 Mile Beach. It was small and quaint, equipped with a restaurant and a bar that also served lunch and a delicious rum punch. Although we didn't use the services, Rum Point offers water sports and boat tours. What I really loved most about Rum Point is its laid-back earthy vibe and the cool signs pictured below of different countries.
Stingray City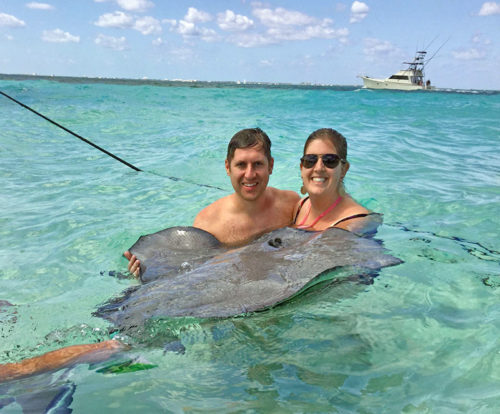 Swimming with the stingrays
Stingray City is another popular destination and one not to be missed! This area is located 25 minutes offshore and features a shallow sand bar where many tour guide boats visit to bring visitors to interact with the stingrays. According to the Stingray City website, there are around 50 stingrays that live here. Each stingray weighs around 150 lbs and is 5′ in length. I will say, 15 years ago I visited Stingray City with my parents while on a cruise excursion and as soon as those stingrays came at us, I was right back on the boat!
Well, fast forward 15 years, my husband was adamant we would do Stingray city. What can I say, we loved it! We went out on Dexter's Fantasea's tour and they made the experience an awesome one. Dexter, the boat's captain, and his co-captain Aster did an amazing job and kept our group small at around 15 people. We got to sail on a beautiful catamaran and snorkeled and visited the stingrays. Aster went out and literally caught a stingray so that we all could go up and hold it, kiss it and feed it. The experience was outstanding! Because we were off to the side from the chaos of the other boats we enjoyed just a few small stingrays circling our feet. Oh and back to kissing the stingray, I know it sounds strange, but they say kissing a stingray will bring you 7 years of good luck, and who doesn't need good luck?
Enjoy a Sunset Cruise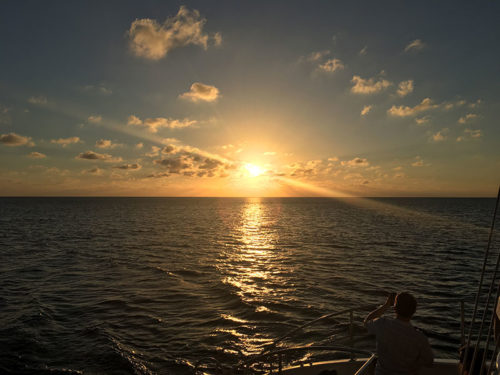 The sunset cruise
One of our favorite things we planned was a sunset cruise. We sailed on a 64′ catamaran through Red Sail Sports. The sunset was spectacular and we were lucky to also see the full moon, too. The catamaran was about 2 hours and the wind was in our favor and we were able to sail back to shore. There was a nice bar and a couple of munchies and awesome island music playing. The captain and crew were fantastic! I highly recommend taking a sunset cruise on any Caribbean island you visit.
Sunset Dinner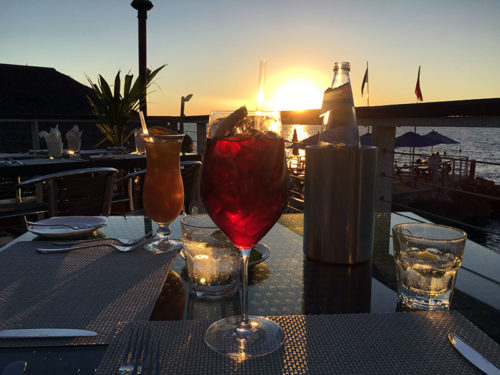 Sunset dinner at Cracked Conch
Throughout the week, we dined at a few spectacular restaurants, but our favorite was a sunset dinner we had at a place called the Cracked Conch.  Conch is an island classic in the Caribbean and luckily, it was in season when we had it as our appetizer. I'm not sure how to describe the taste and texture of conch, but the closest thing I can relate it to is calamari. We also ate some great local fish as our entrees.
There are a few other destinations to visit when you are on Grand Cayman, but unfortunately, we ran out of time. Some other fun options to consider when visiting are the Crystal Caves, the botanical gardens, and the Cayman Turtle Centre.
It was an amazing trip, and my only regret is that we didn't visit sooner. My worries were unnecessary, as my kids truly enjoyed being with family and we made it back all in one piece. I also feel like I've made lifelong friends with Phil and Nancy and it was a real pleasure visiting them and their beautiful Davis Timber Frame Home.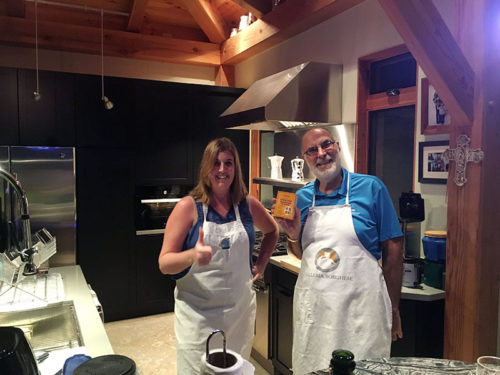 Phil and I made banana bread!
If you are interested in visiting Grand Cayman and want to stay in this beautiful Caribbean timber frame home, contact Phil and Nancy. You can also read their building story we posted a few years back.
One thing I will leave you with as the reader, "Always take the trip."