Check out our portfolio of Colorado timber frame homes! Over the years, we've shipped several timber frame home packages to the Rocky Mountains. A few of the areas our timber frame homes are in include Breckenridge, Silverthorne, Hartsel, Eagle, Grand Junction just to name a few.
Breckenridge, Colorado Timber Frame Home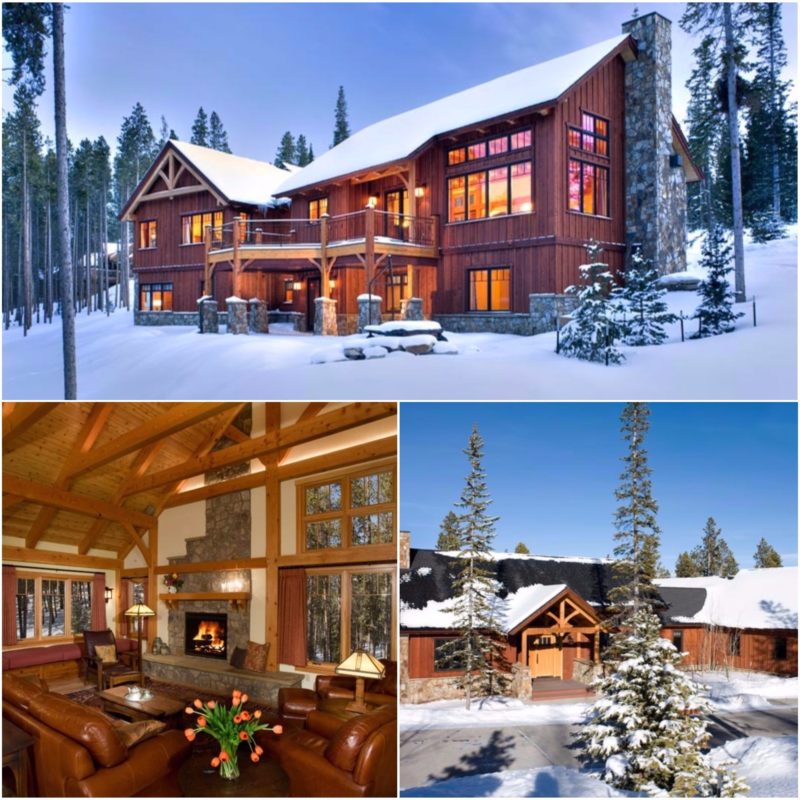 We worked on this gorgeous Colorado Timber Frame Home in Breckenridge, Colorado. The custom design features a 20'x40′ main frame featuring an open concept kitchen, dining room, and great room, all featuring beautiful exposed wooden beams in the cathedral space.
A 23'x16′ wing features a spacious master suite. The lower level of this timber frame mountain home features two guest suites and bonus living space. Visit our website to see this beautiful home's custom mountain home design.  Also, be sure to check out the timber frame photos for this Colorado timber frame home!
Breckenridge, Colorado Timber Frame Home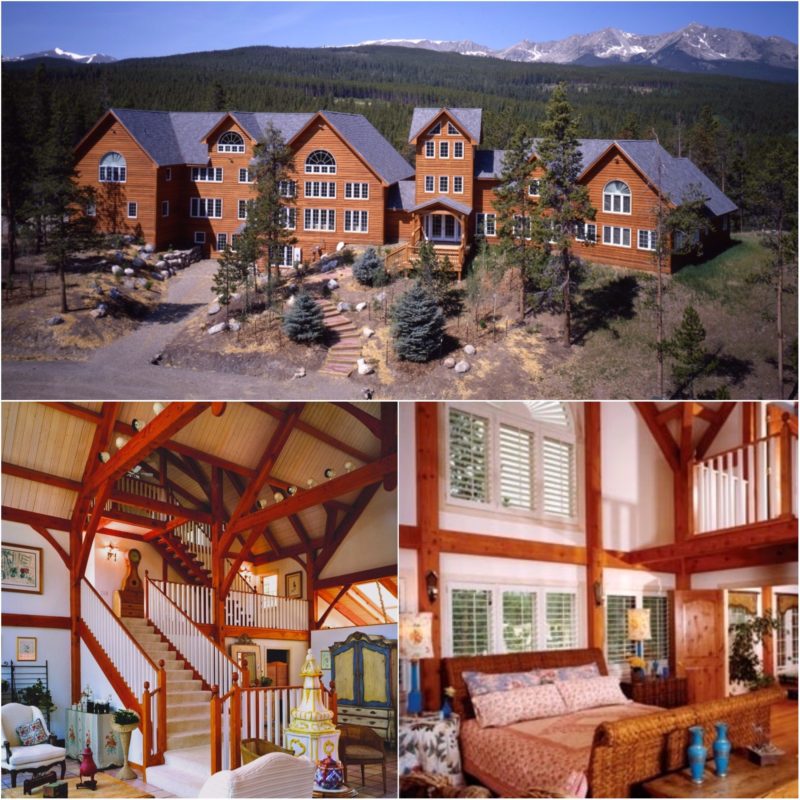 A beautiful luxurious Davis Frame Timber Frame Home built in Breckenridge, Colorado. This stunning mountain timber frame home was built in 1999. The floor plan features two levels, a 3rd-floor loft, and a partially finished basement, totaling 7,000 SF. The first floor features a 30'x48′ grand open living space featuring the kitchen, dining room and great room. To the right are a library and spacious luxurious master suite.
The second floor features 3 guest suites and stairs leading to 3rd-floor open loft space. The finished basement features an apartment featuring 2 bedrooms, a bath and dining space, perfect for overnight guests staying the weekend.
Silverthorne, Colorado Timber Frame Home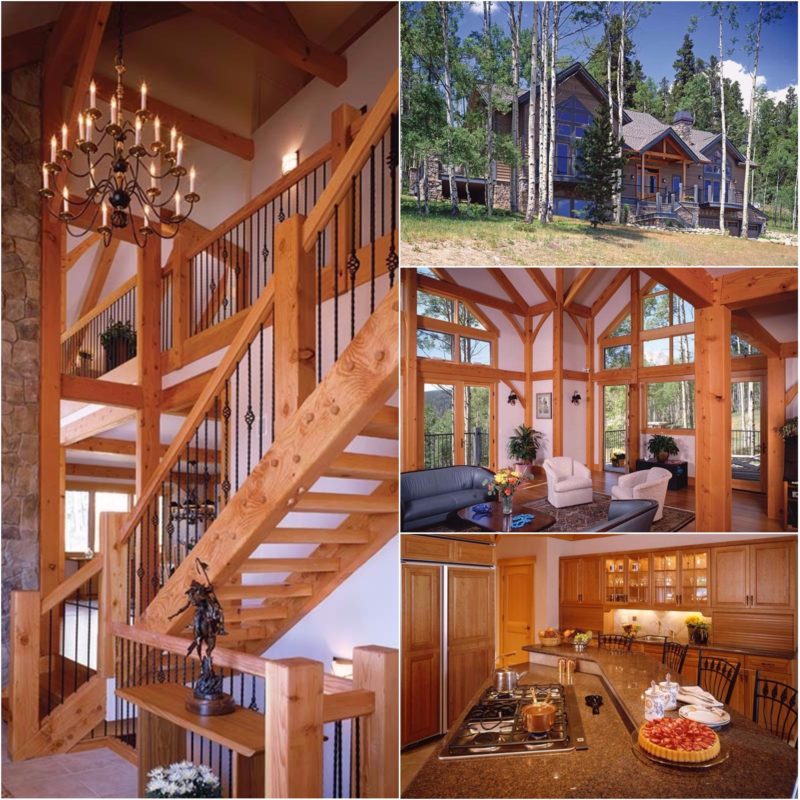 This timber frame home was designed by architect Karen Smuland to blend in with the Colorado mountain setting and overlook a nearby lake. The covered porch is a timber frame with king post bents to shelter guests from the elements. Three steps up from the entry is the spectacular great room featuring a wall of windows in two directions. Two decks are accessible from the great room, inviting you outside to breathe that fresh mountain air.
The dining room is large enough to host a dinner party, and it is conveniently located next to the well-designed kitchen. The natural flow from the kitchen, to the dining room, into the great room, is perfect for entertaining.
The stunning master bedroom has its own balcony that is a private place for reading or relaxing.
The second floor has two large bedrooms and two bathrooms. An inspiring study space in the loft was designed to enjoy the surrounding views in multiple directions. Check out this gorgeous mountain timber frame home plan!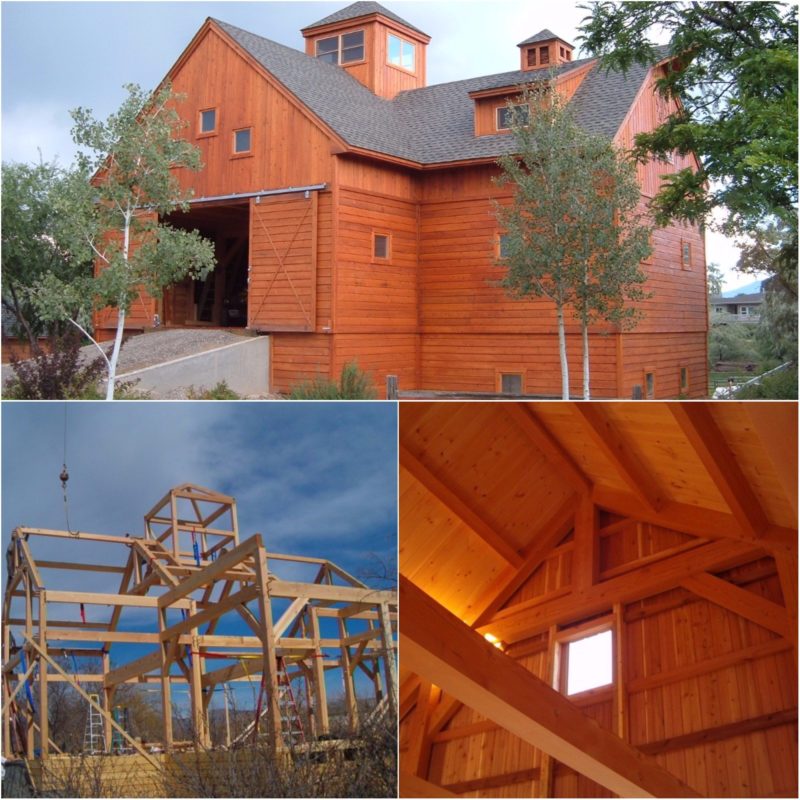 And, if you thought we only provided timber frame homes, we also can provide barns! Check out this Colorado timber frame utility barn in Grand Junction. The owner built this large, beautiful barn to accommodate tractors and equipment.
So whether you are looking for a large luxurious Colorado timber frame home, a small energy-efficient timber frame home, or a barn, we can assist you! Call us today to learn more about our timber frames, 800.636.0993.