During this pandemic year, many of us are spending more time indoors, especially as the weather gets colder. With the trying year we have all had, we thought we would share a sample of cozy timber frame homes with fireplaces! There is nothing quite like a warm fire to brighten the mood.
Very few of our timber frame homes are design without a fireplace. After all, fireplaces are very desirable for the added heat, as well as the ambiance. Most of these timber frame homes are designed with the fireplace located in the timber frame great room, however, we've also incorporated fireplaces in dining rooms, kitchens, and bedrooms. With winter approaching here in New England and the holidays rapidly approaching, why not dream about chestnuts roasting on an open fire?
There is nothing more inviting than this timber frame great room featuring this beautiful stone fireplace. The space also opens up into the dining room and kitchen, spreading the warmth out throughout these living areas.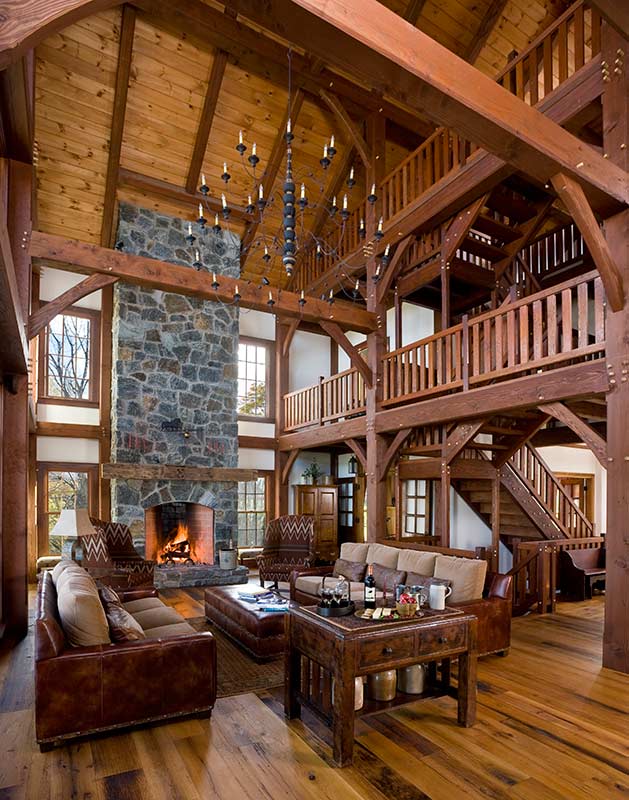 This gorgeous lakeside timber frame home features a grand timber frame great room with a cathedral ceiling and a large stone fireplace, adding great ambiance to the space. The stone and the wood really bring this space to a whole new level – can you say, wow?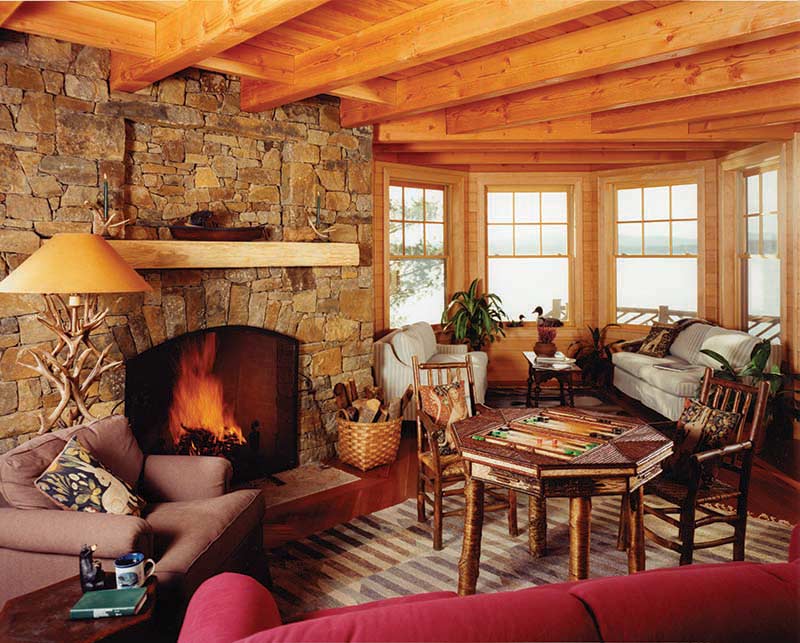 This Adirondack lakeside timber frame home features a standard ceiling height with a gorgeous pine tongue and groove ceiling. While most great rooms feature vaulted ceilings with towering chimneys, there's a certain warmth and coziness to a living room with a standard-height ceiling and stone fireplace. Note the lake view from the surrounding windows. It doesn't get much cozier!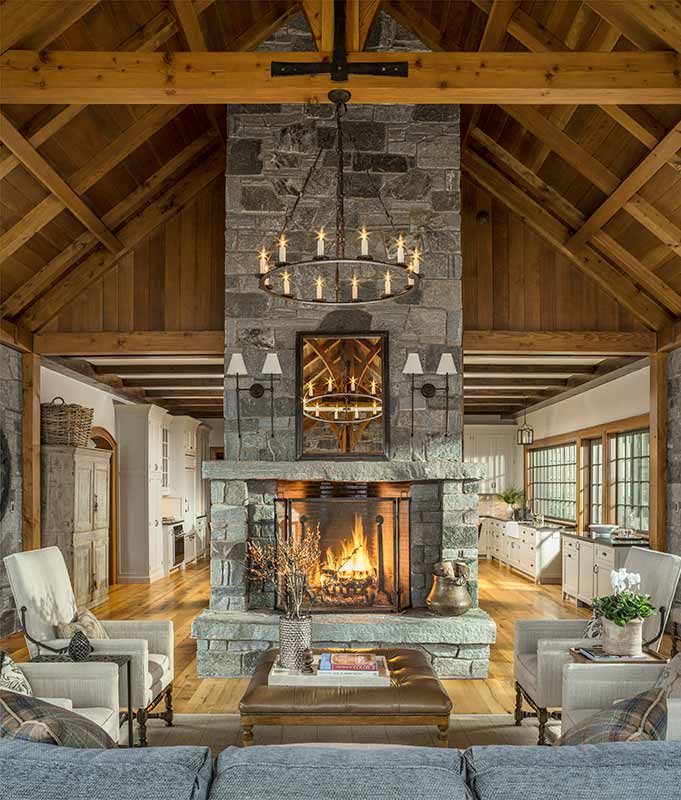 Take a look at this picture-perfect timber frame great room fireplace, a current favorite. The stone fireplace nicely and naturally breaks up the great room space from the dining room and kitchen. We also really like the way the stone complements the exposed wood in this space, giving it additional character.
There is something charming about this farmhouse timber frame home master bedroom with vaulted ceiling and fireplace. The fireplace certainly gives this room a sense of romance, and the Eastern white pine exposed wood adds a rustic feel.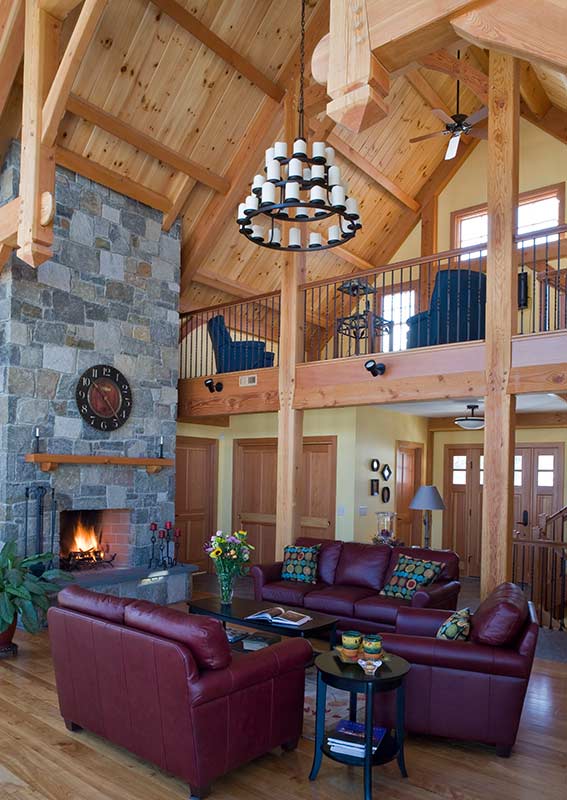 Here is another timber frame beauty showcasing a nice grand stone fireplace featuring a timber frame mantle. The mantle ties in very nicely with the exposed warm Douglas Fir timbers.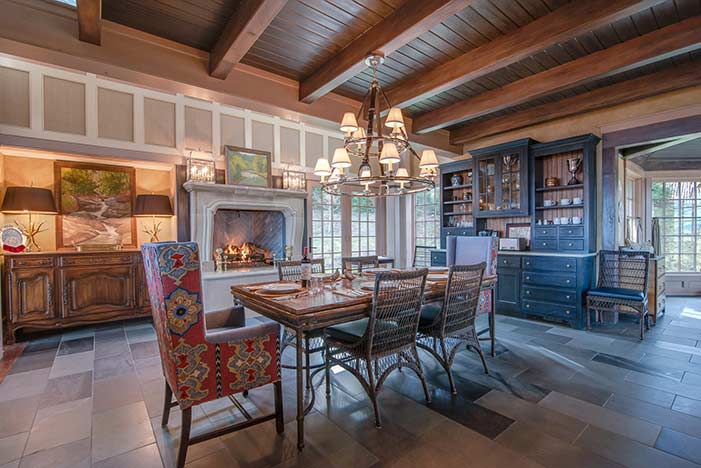 It's definitely unique to have a fireplace in the dining room, and this one is just beautiful! Imagine enjoying a nice fire while dining with your family. It is a wonderful addition to this space.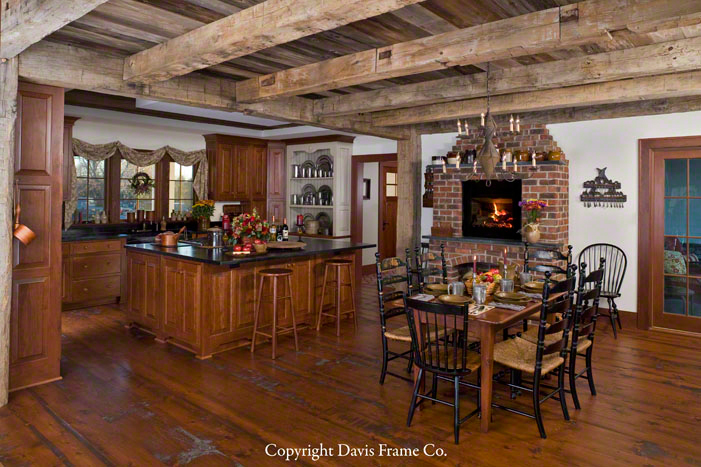 Although not common in the modern-day, this reclaimed timber frame kitchen features a nice brick fireplace, reminding us of simpler times from centuries past. The gorgeous timber frame home used reclaimed timbers, giving the home a historic feel.
Love the cozy timber frame homes with fireplaces? Want to learn more about our timber frame homes? Call us today at 800.636.0993.