Your builder supplies thisNot all timber frame home construction packages are the same. At Davis Frame Company, we specialize in designing and manufacturing structural components for new timber frame homes, and we offer a multitude of alternative package options to fit individual needs. Included in our options is timber frame construction, Structural Insulated Panels (SIPS), or panelized construction.
Founded in 1987 solely as a timber frame manufacturer, over the years we added our 2x panelized wall option into the mix for a more comprehensive offering. Discover our structural package options to see what is the right fit for your project!
Timber Frame Home Structural Shell Package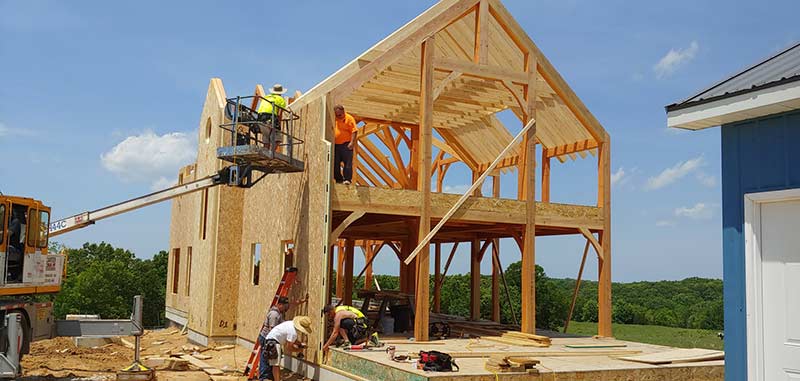 In 1987, frame-wright and custom home builders Jeff Davis and Rick Bascom realized they shared a common dream: to build the finest custom-designed timber frame homes. Begun in a Brownsville, Vermont barn, demand for their frames increased quickly. To accommodate demand, a new 22,000 square foot facility was built over the river in Claremont, New Hampshire. Today, homeowners know Davis Frame Company for crafting beautiful timber frame homes. It's been a brand staple for well over 30 years!
Our timber frames provide the structural integrity of a home, offering a unique warmth and charm with the exposed wooden beams, as well as long-lasting durability. We wrap and insulate frames using Structural Insulated Panels (SIPS), well known for their superior r values. These two structural components are a match made in heaven. Also typically included in this timber frame shell package is pine tongue and groove decking. This is installed over the timber frame roof and before the SIPS roof. The tongue and groove is visible on the second level of the home and in any vaulted space on the first floor. Wood decking adds charm and is a low-maintenance option compared to sheetrock. This Davis Frame structural package is perfect for those looking for a unique look and also want a durable home that will last for hundreds of years.
Panelized Structural Shell Package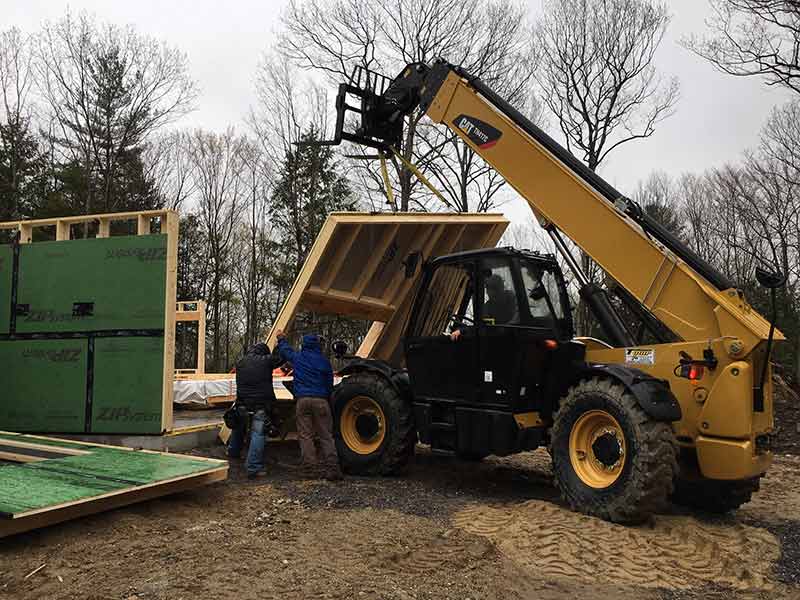 In the mid-2000s, we experienced increased demand for prefabricated conventional wall panels for clients building hybrid timber frame homes. What is a hybrid timber frame home? Typically, a hybrid timber frame features a timber-framed central living area. The wings of the home are conventionally built. When requested, we prefabricated wall panels for these types of projects.
But the demand kept growing, with home-builders interested in just these panelized walls. After some thought, Davis Frame built another facility dedicated to the fabrication of 2x panelized walls. Now, 13 years later, that shop remains busier than ever.
The major benefit of prefabricated 2x walls is that we fabricate them in a controlled environment where there is no interference from harsh weather. Plus, there's less on-site waste, a small team can put together them and it speeds up framing time-on-site. Generally, we've heard from many builders who find our panelized wall systems extremely valuable, allowing them to do more projects with fewer people.
Build-PAK Precut Package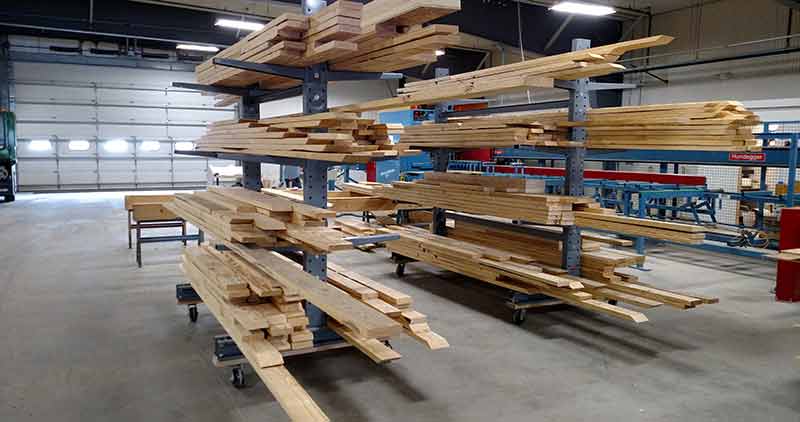 Not sure if you or your builder want to work with panelized walls? Davis Frame also offers pre-cut 2x dimensional framing packages. It cuts down on the on-site framing time, due to all the 2x lumber being cut and bundled per wall section. It will also eliminate waste and lessen the need to cut on-site. This is a perfect package option for clients whose builders still want to do the layout and framing on site. Many builders we work with like this option.
Windows & Doors
We also offer windows and exterior doors with our structural packages. We are a supplier of Marvin and Pella windows. All of our packages factor in window and door openings so that they will install on-site quickly. Many times our clients add windows and doors to their home package. Ordering windows through us assures that we have factored the correct window schedule in during the pre-cutting phase.
Exterior Finishes
For those that live locally, we can offer an exterior finish package that would include siding, trim, and roofing. We primarily offer wood siding options and a manufactured wood siding product like LP. We also offer architectural shingle roofing. Prefer a metal roof? Your builder supplies this.
Considering a Davis Frame home package? Call us today at 800.636.0993!