Laying out your dining room for your new timber frame home is important, especially if you like to entertain family and friends during the holidays. During the design process of your new home, you will want to think about the purpose of each room to help ensure each room in your new home meets your wants and needs. Below are some tips for designing and laying out your dining room.
Do you want your dining room to open into the great room and kitchen? Often the homeowners like to interact with their guests as they prepare a meal and having an open layout brings everyone together. Having the dining room open to the main living areas of the home also makes the area feel more spacious and accommodates guests comfortably. Formal dining rooms are not as common as they used to be and informal open dining rooms are the new trend. Including the dining room into the open first-floor, the layout is a popular request we get here at Davis Frame Company.
Do you want cathedral ceilings in the dining area or are you looking for a more intimate space? Most of our clients like the dining room to be open to the other main living areas of the home, but also want the dining room to feel cozy and will keep the ceilings at the standard height of 8′.
You will also want to think about the furniture you want to include in the dining room. Do you have a large or small table? Are you planning on adding a hutch or another piece of furniture? Determining your furniture and the size of the furniture will help you come up with the size of the space. A few years back, we had one client that had a long table custom made to accommodate her family during the holidays. The dining room was designed and sized around the size of the dining room table.
Check out a few of our timber frame dining rooms below: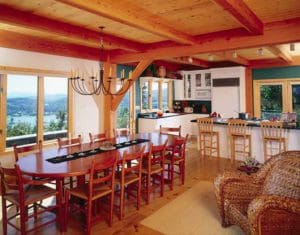 The dining room is open to the kitchen and features a standard ceiling height creating a cozy feel.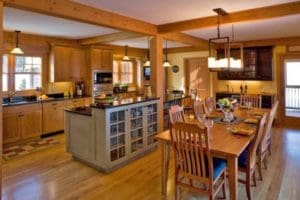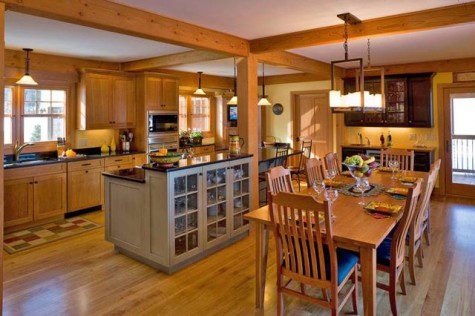 This dining room is open to the kitchen but is a separate space from the great room.
This timber-framed dining area is separate from the kitchen and the great room, unlike most of our client's open concept spaces.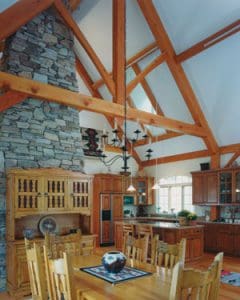 Open to the kitchen and great room, this dining room is a great entertaining space.
We would love to speak with you about your new home project! Call us today at 800.636.0993 to speak with one of our project managers.