Are you dreaming of a new timber frame home for the holidays? With Thanksgiving and the Christmas season upon us, we thought we would share some timber frame dining room design tips to get you in the mood. There is no other better time to plan your dining room space, especially if you like to entertain family and friends during the holidays. Why not take the time now to dream and plan what your dining room space could look like? During the design process, you will want to think about the purpose of every room to ensure that each room in your new home meets your wants and needs.
Tips for Designing and Laying Out Your Dining Room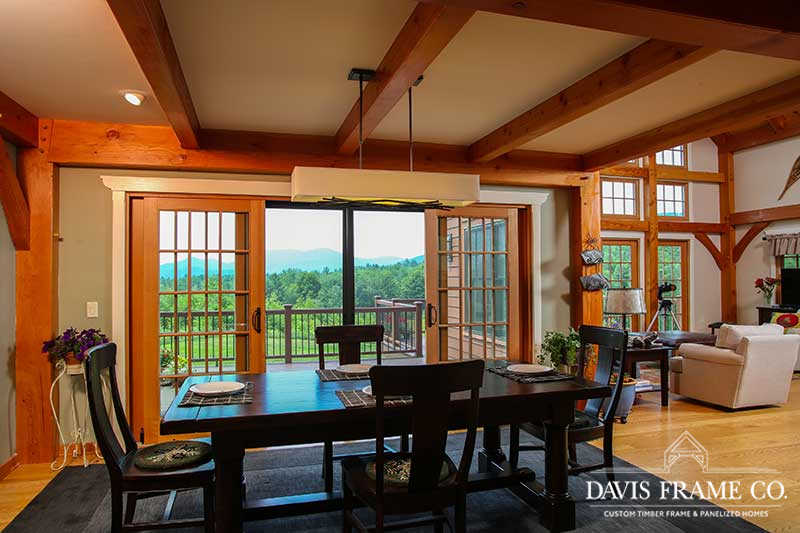 The first question to ask yourself is, do you want a formal dining room? Or do you want your dining area to be part of a combined living space – like a kitchen and great room combination? Formal dining rooms are not as common as they used to be. Designs trending more towards informal open dining room concepts. If you do still want a separate dining room from the great room, however, you don't need to plan for a discrete, separate room. You can consider incorporating it into the kitchen. There are many design options to consider. Often, homeowners like to interact with their guests while preparing a meal. This is more easily achieved with an open layout. Having the dining room open to the primary living areas of the home also gives it a spacious feel and very comfortably accommodates guests.
Another question to ask yourself when building a timber frame home is if you want cathedral ceilings in the dining area, or are you looking for a more intimate space with standard 8′-6″ ceilings? Many of our clients like to have the dining room open to the other main living areas of the home, but also want it to feel cozy and keep the ceilings at the standard height. Some prefer a more dramatic look and opt for a cathedral ceiling in all the primary living areas.
Once you've answered some of the design questions, you will want to think about the furnishings. What type of dining room furniture do you envision or do you already have a large or small table, rectangular or circular? Are you planning on adding a hutch or another piece of furniture? Determining your furniture and the size of the furniture in advance will help you come up with the size of the space. A few years back, we had one client that had a long table custom made to accommodate her family during the holidays. The dining room was designed and sized around the dining room table dimensions.
Timber Frame Dining Room Examples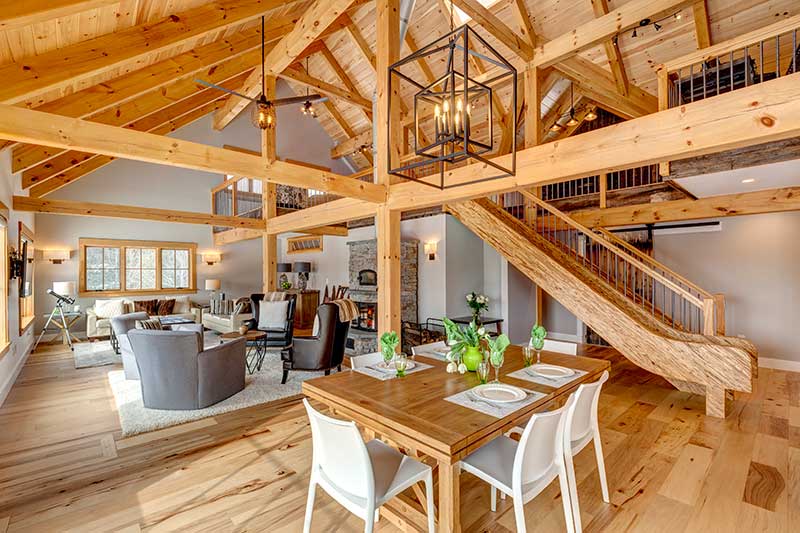 We love this timber frame dining room. The main living area is one large open space, perfect for entertaining. On one side of the dining area is the great room, and on the other is the kitchen. This space can host a large crowd or be an intimate space for a small family gathering. Most of our timber frame homes feature Douglas fir, but this barn home was crafted with Eastern White pine. This is a perfect example of one open space for the main living areas of the home. And what makes this design really work is the dining room still feels like it has its own space while still being part of the main space.
Visit our timber frame picture gallery to see more pictures of this stunning timber frame barn home!
Here's another great dining room to drool over! The space was designed with entertaining in mind, complete with a wet bar and an indoor grill. It also has spectacular lakeside views. This dining room is a distinctly discrete space, separating the kitchen with a large stone pizza fireplace. There is a sitting area that opens to the dining room and is a nice place to relax before or after a meal.
Check out more photos of this beautiful lakeside timber frame home!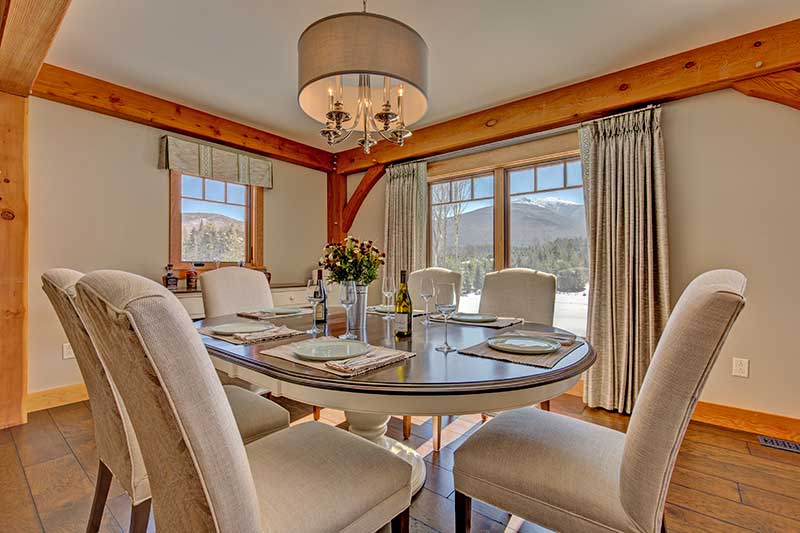 This mountainside timber frame home in New Hampshire has gorgeous views of the White Mountains from many of the rooms, and the dining room is no exception! The dining room flows nicely off the kitchen and the great room.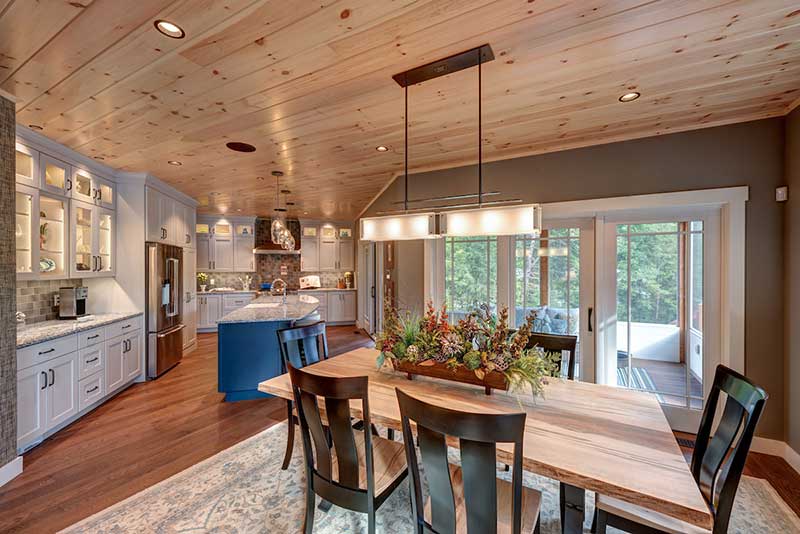 This dining room opens into the gourmet kitchen yet allows for a cozy vibe. A screened-in porch is located off of the dining room, which helps expand the entertaining space.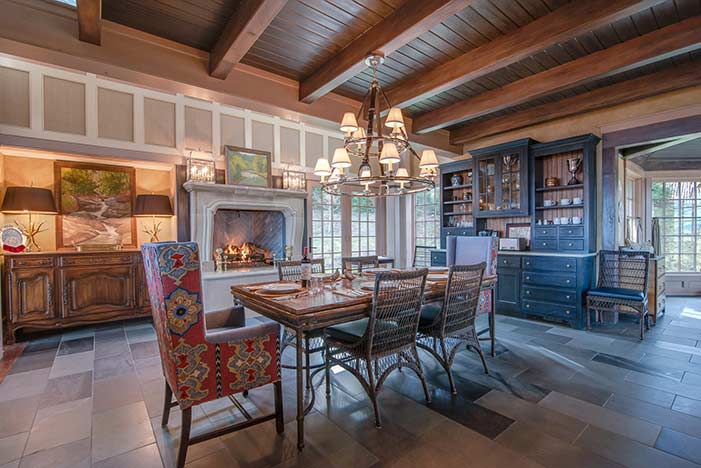 This is perhaps one of my favorite dining rooms. It features an old-world vibe with its decor and beautiful exposed beams above. What is unique about this dining space is the fireplace. Imagine enjoying a nice Thanksgiving meal with your family while fireside. The dining room is in its own space, but the kitchen isn't too far away.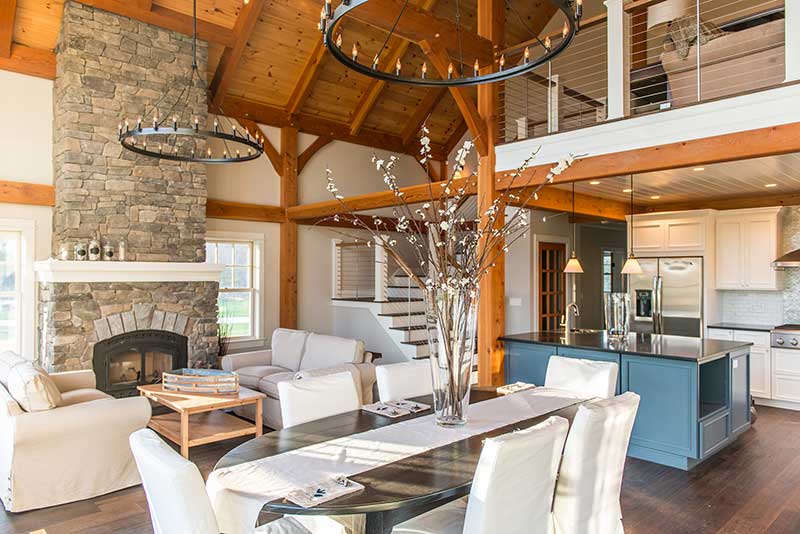 Here is another dining area that is located within one open space. The great room, dining room, and kitchen are all open to one another. This leaves plenty of space to have friends and family over for the holidays.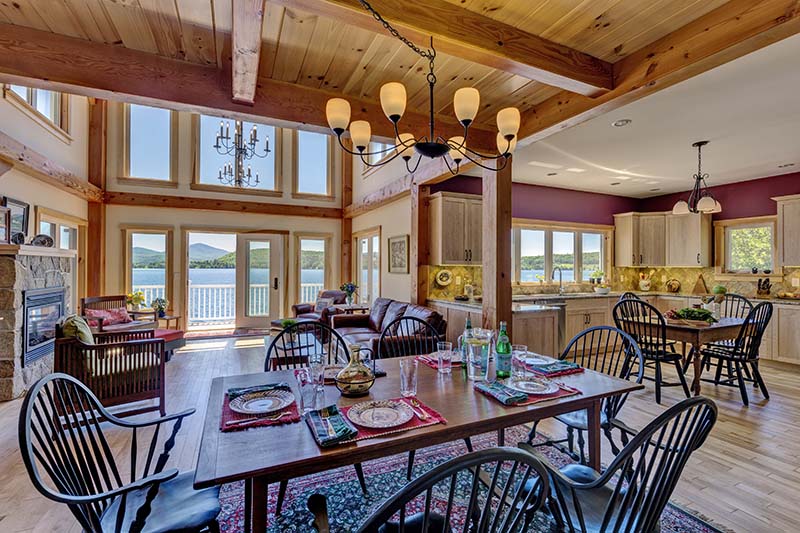 This timber frame dining room also flows into the kitchen and great room. As you can see, there is also an eating area in the kitchen. You can have space for the adults and a kids' table at your next family gathering!
Explore our timber frame photo galleries for more design ideas for your new timber frame home. Interested in learning more about our process? We would love to speak with you about your new home project! Call us today at 800.636.0993 to speak with one of our project managers.