Do you have frequent weekend visitors and need overnight guest space? If you are planning a new custom home, overnight guest space is an important consideration. Many homeowners make accommodations for entertaining, like holiday dinners and parties with family and friends. Planning on sufficient space for these gatherings is certainly important. It is also important, however, for homeowners to think beyond the main living area and think ahead when it comes to extra bedrooms. Do you have grown children, or even grandchildren, who might desire an extended stay, especially during the holidays? Their comfort, and yours, should be considered. And thinking ahead about your future guests will make everyone happy!
Many homeowners who regularly entertain overnight guests like to create separate guest quarters to ensure privacy for all. There are many different ways to achieve this. And while 2020 may be the year of smaller holiday festivities without out-of-town guests, we know that with a new year comes new reasons to celebrate with those from near – and far!
Below are some ideas on how to plan your guest space:
A Timber Frame Plan with the Guest Suite on the Main Floor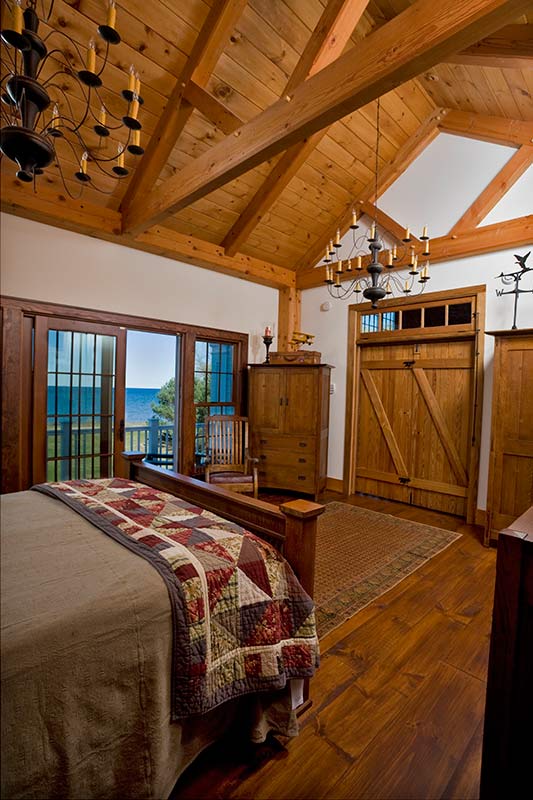 The barn doors lead to a bathroom from the bedroom.
An en suite area is one of the best ways to create a nice, private guest space; guests definitely appreciate a separate bathroom! This is the most common way to accommodate guests comfortably. Many homeowners choose to design the floor plan where the guest suite is on the main floor, often on the opposite side of the house from the main bedrooms.

The Seaside timber frame floor plan, above, is a good example of a floor plan with a separate en suite guest space. Upstairs features plenty of guest space, including a guest suite located in its own space upstairs, away from the other guest bedrooms.
Finished Basement Guest Space
The Breckenridge is a one-level plan with a fully finished basement.
Another cost-effective approach for accommodating guests is with a finished basement. Finishing off a basement is typically much more reasonable than building a separate house wing. Guests will also love having their own private space separate from the main living areas of the house, sometimes with even a separate entrance if you design a full basement.

In our Breckenridge timber frame floor plan above, you see that the main living space and master bedroom are on one level. There is a bonus finished basement featuring two guest suites, each with its own bathroom, and each located on opposite sides of the basement, allowing for maximum privacy. This is a great vacation home plan for those who anticipate frequent visits from adult children.
Garage Guest Space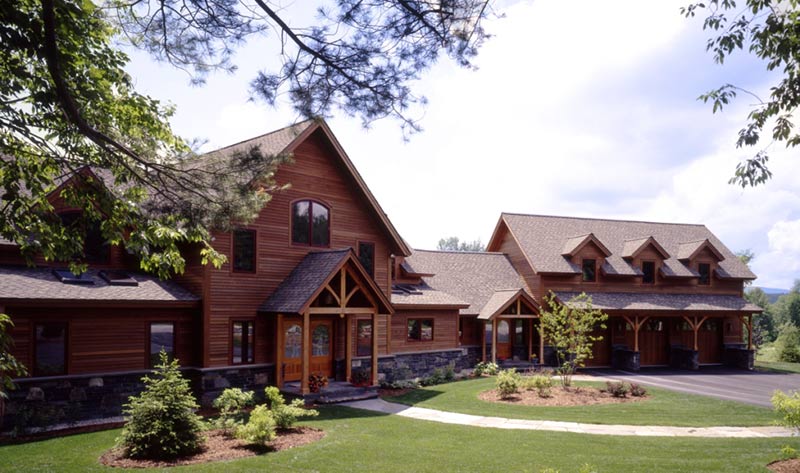 The Forest View has a large attached garage with guest space above.
When designed properly, attached garages can add to your guest space options. Consider adding guest quarters above the garage! This is another great, cost effective way to add private guest quarters. Ideally the space would include a bedroom, bathroom, and small living area, making it perfect for longer stays.

Our Forest View timber frame ski house plan, featured above, offers the perfect setup over the garage. There are two bedrooms, a shared bathroom, and a small living space that connects to a study. During the pandemic this space would be great for a long-term visitor working remotely (think children or relatives traveling from out of state).
Consider a Guest House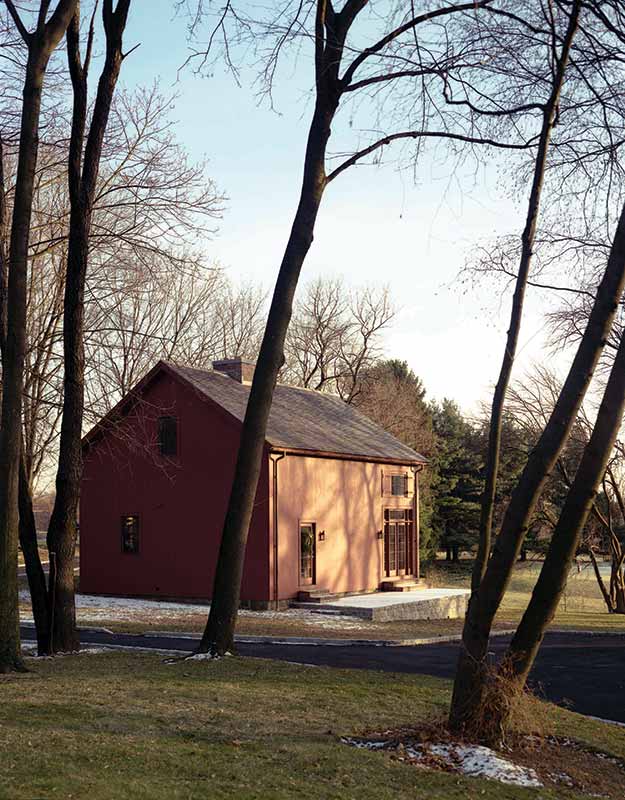 This studio is the perfect size for a guest house at just under 1,000 SF.
Have the budget to create a completely separate structure for overnight guest space on your property? Consider building a carriage house or a small studio, perfect for extended family who visit often.

Our Classic Studio 3 timber frame floor plan is the perfect size for a guesthouse, studio, or for anyone interested in building a small home. The architectural style resembles a small barn and nicely complements most home styles.
If you would like to discuss your design ideas with us, call us today by calling 800-636-0993!