The holidays are approaching and many homeowners are planning holiday dinners and parties with family and friends. Homeowners are also entertaining overnight guests visiting for the holidays, whether it be their children and grandchildren or parents and siblings coming in from out of town.
With the growing trend of people traveling during the holidays, it's important to think about entertaining overnight guests, especially if you're frequently entertaining throughout the year. If you're planning to build a new home, intend to remodel or add space to your current home and entertain a lot of overnight guests, you will want to plan your floor plan carefully. Many homeowners who entertain overnight guests like to create separate guest quarters to create privacy for both the homeowner and the guests.
Below are some ideas on how to plan your guest space:
Have a limited budget and a separate wing for guest quarters are not an option? Create a guest en suite, guests will appreciate a separate bathroom! This is the most common and affordable way to accommodate guests comfortably.
Another cost-effective way to add space for guests is to finish your basement. Building up and down and staying within a defined footprint is much more cost effective than building out a wing.
Adding a garage to your home design? Add guest quarters above the garage! This is the perfect option to add guest quarters and will give the homeowners and guests their own privacy.
Have the budget to create separate guest quarters in your home design? Plan your guest suite (s) to be on the opposite end of the house, away from your main bedroom to ensure privacy for your guests. Also, think about placement regarding where it is from the main living areas of the home. Are you an early riser and you don't wake your guests while brewing a pot of coffee? Often homeowners will create a wing connected by a hallway opposite of the bedrooms and main living space to create a quiet place for guests.
If you have the space and entertain guests for longer stays (a long weekend or more) think about creating a guest suite that includes a bedroom, bathroom, and small living area. This is ideal for those who have guests throughout the year that plan to stay a long weekend or a week.
Below is a sample floor plan showcasing the timber frame home showcased above, and the guest friendly home the homeowners had designed and built.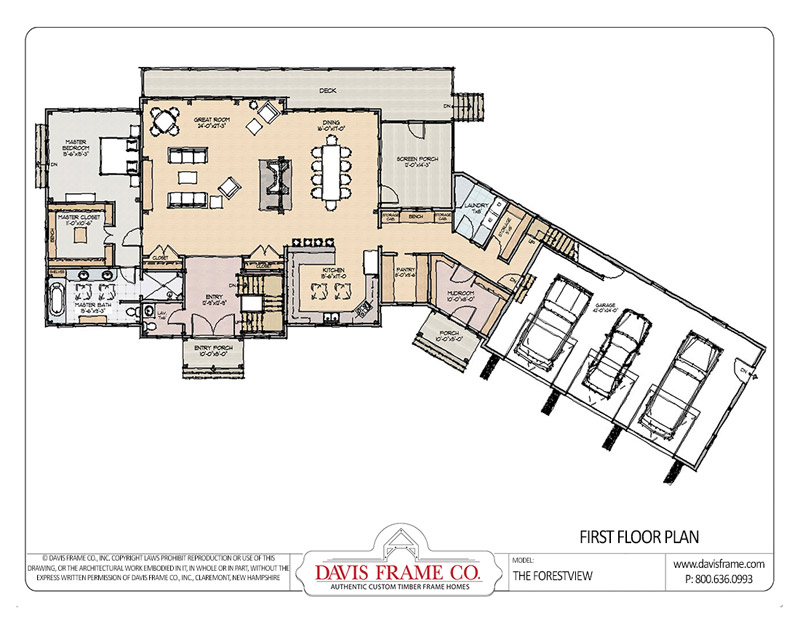 The first floor features a spacious main living area and a 1st-floor master bedroom. To the right side of the home, there are stairs that lead guests to their own private headquarters above the garage.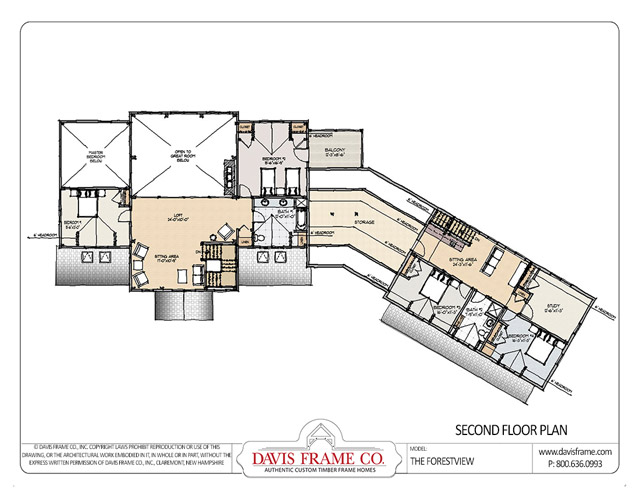 The second floor hosts two bedrooms for the homeowner's sons. To keep the guest quarters separate over the garage, the connector of the house to the garage is storage space. The guest quarters are only accessible by stairs on the first floor, making this an ultra cozy and private space for guests.
Want to see more of this home? Visit the Forest View Timber Frame Gallery!
If you would like to discuss your design ideas with us, call us today by calling 800-636-0993!