The open and airy style of timber frame homes is a driving factor for homebuilders to choose this construction style, and the beauty of a timber frame great room is the icing on the cake. Most timber frame homes have soaring cathedral ceilings featuring exposed wooden beams above. This central room serves as the centerpiece of the home. It often opens to other main areas of the home – the kitchen and dining room -making it an impressive space to host family gatherings. There is no other style of construction that offers an enormous wow factor like a timber frame home (except maybe a log home, which is a similar yet more rustic option).
Tips for Designing Your Timber Frame Great Room
Purpose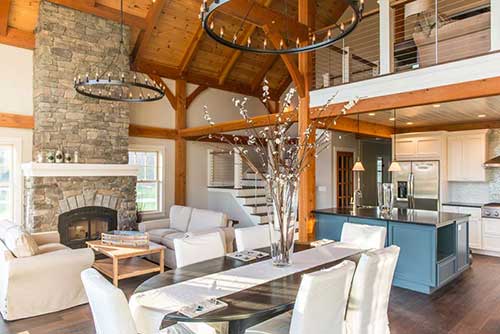 Before deciding about the design of your timber frame great room, think about the purpose you want the room to serve. Do you like to host large get-togethers or will your home be used for more intimate gatherings for your immediate family? Do you want a large great room to easily accommodate friends and family for entertaining during the holidays? In other words, think about your lifestyle and how often you entertain. This will ultimately help you decide on the size and what features you want to incorporate into the room. Many of our client's timber frame great rooms are large and open – some as large as 20'x20' plus – perfect for entertaining, yet some prefer a smaller space around 14'x16'.
Aesthetic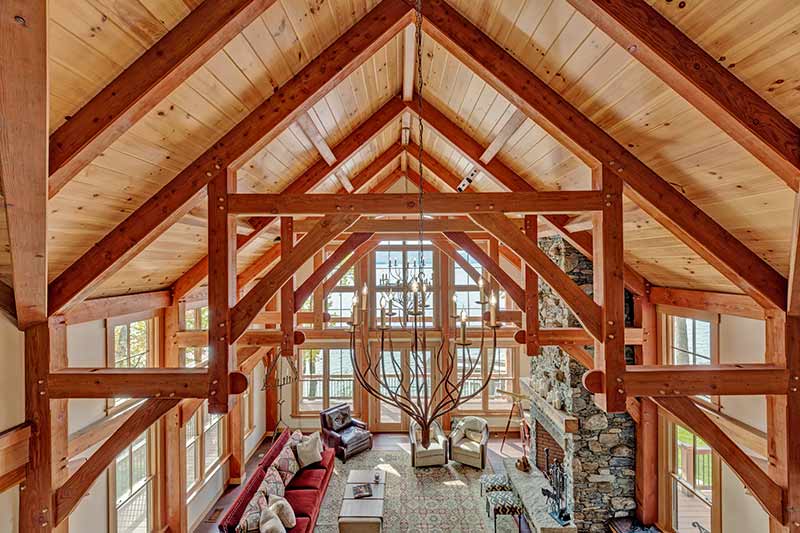 After considering the overall size, you'll want to think about the overall aesthetic. There are many things to think about when deciding how to design your timber frame great room. There are a variety of timber frame systems and they all offer a slightly different visual appearance. Do you want to look up and see timber frame trusses? Or do you want a simpler look? Do you like a more elegant look? A hammer-beam timber frame truss is often requested. Or do you prefer a minimalistic look? If so, we would recommend a bent system over a timber frame truss system. Complex or simple, timber framing truly adds warmth and space to any room, especially to those areas where you entertain.
Wall of Windows
Majestic great rooms almost always include large areas of windows, another important part of your great room design. Many Davis Frame timber frame owners incorporate an entire wall of windows in their cathedral ceiling timber frame great rooms as it works well with a tall gabled wall. A wall of windows also can bring natural light into the room. A wall of windows also can bring natural light into the room. If you have a nice view of the mountains, water, or even just the countryside, a wall of windows is a great addition to capture the nearby beauty.
Interior Design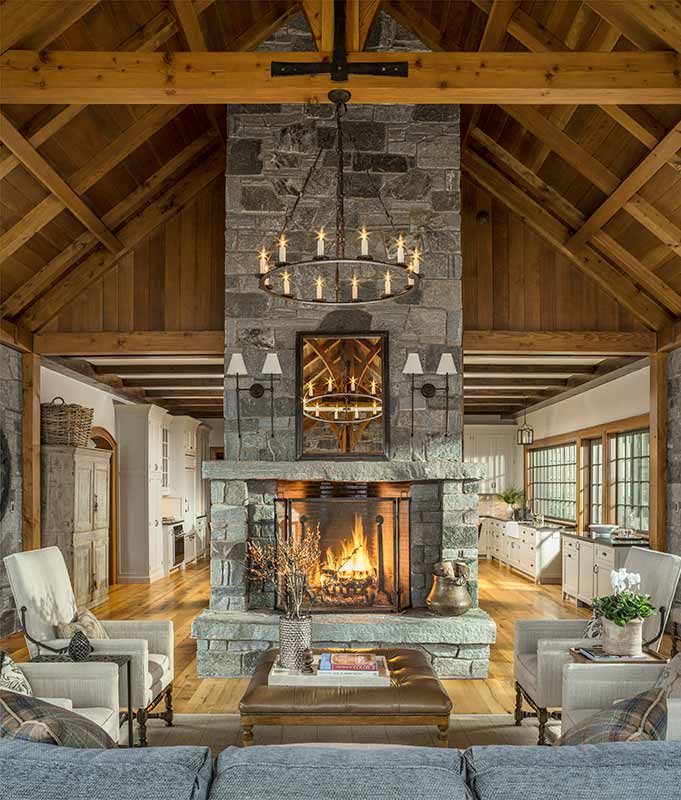 Timber frame construction is a versatile building method regardless of your preferred home style – cape, colonial, barn, etc. – and Davis Frame has crafted hundreds of timber frame homes ranging from traditional to contemporary. Your exterior home style might also impact your interior design style, including interior decorating. Timber frame great rooms are always fun to decorate since the wood can really accentuate a variety of décor tastes. Picture a beautiful chandelier in a great room with a cathedral ceiling. Chandeliers not only add a lot of light to the room in the evening, but also shed light on the timbers. Some homeowners add track lighting, which is typically installed on the timbers facing down to provide light for the room. It all depends on what type of look you are after and how much light you would like to add to your space. Another consideration for your great room is a fireplace. Most of our client's timber frame homes feature beautiful masonry, stone, or some even a simple gas fireplaces.
Loft Space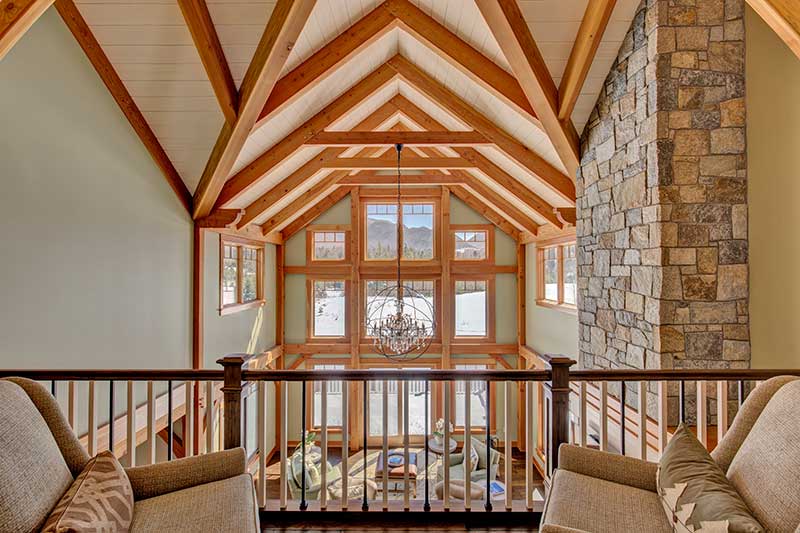 If your timber frame home design includes a second floor, there is usually a loft space that overlooks the space below and the gorgeous timbers. The lofted area also is another way for homeowners to enjoy the beautiful views from the great room wall of windows. If small and intimate is what you want, the loft is truly the coziest place to read a book and provides similar beautiful views that the great room provides.
The great room has become the heart of the home, a place where the entire family can gather. Interested in learning more about Davis Frame timber frame homes? Call us today at 800.636.0993!