Did you know that there are a couple of different ways to enclose your timber frame home? At Davis Frame, we offer structural insulated panels to enclose your timber frame house with walls and a roof, a conventional panelized wall with a precut roof, or a hybrid blend of both. We believe in the superior performance benefits of Structural Insulated Panels (SIPs) and would strongly recommend this option for full timber frame structures. While we also construct a 2x panelized wall, which is also a great option, we recommend it more for hybrid timber frame construction or to be used as an independent system.
In today's blog post, we will go over the options and why you may choose one over the other or use them both together to create the perfect structure.
Structural Insulated Panels (SIPs)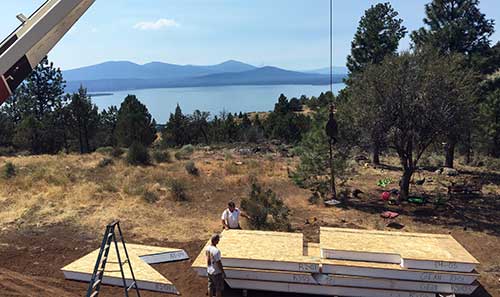 Structural Insulated Panels (SIPs) feature some of the highest R values on the market today. There are many advantages to going with SIPs over other wall and ceiling materials, including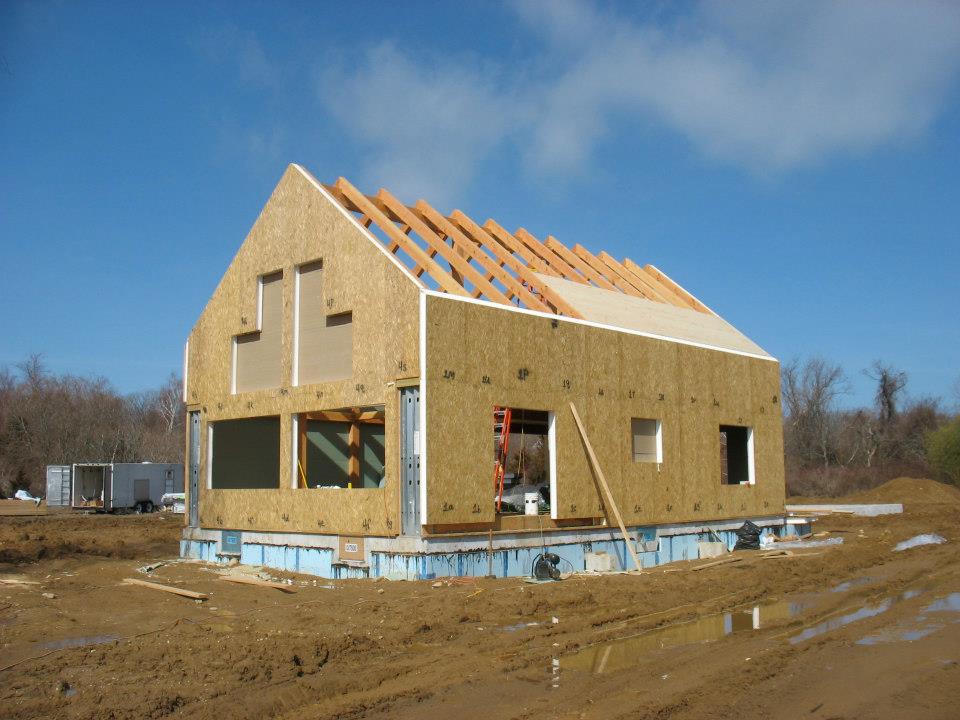 draft reduction and better thermal and sound insulation. However, the largest single benefit is energy efficiency because SIPs provide a continuous thermal barrier between the interior conditioned spaces and the exterior environment. This continuous thermal barrier is possible because of the way SIPs are constructed.
What are SIPs made of? Basically, a SIP is like an ice cream sandwich. They consist of a core of rigid insulation with sheathing on one or both sides. There are many thickness options for the rigid insulation to ensure you get the r-value for which you are looking.
SIPs provide extremely well-insulated buildings. They also allow for substantially less air infiltration and exfiltration, which contributes to their higher performance compared to conventional construction. They can resist lateral loads, such as those caused by wind, as well as seismic and gravity loads like snow. SIPs work so well with a timber frame because they can resist these loads and transfer them to the timber frame, to the foundations, or to another resistive structure.
Structural Insulated Panels (SIPs) offer the same factory-built benefits by minimizing waste, offer factory-controlled quality, and help cut down the time on-site.
If you are incorporating a full timber frame into the structural design of your home, we highly recommend using SIPs. SIPs and timber frame construction complement each other and go together like peanut butter and jelly!
Conventional Panel Construction (Panelized)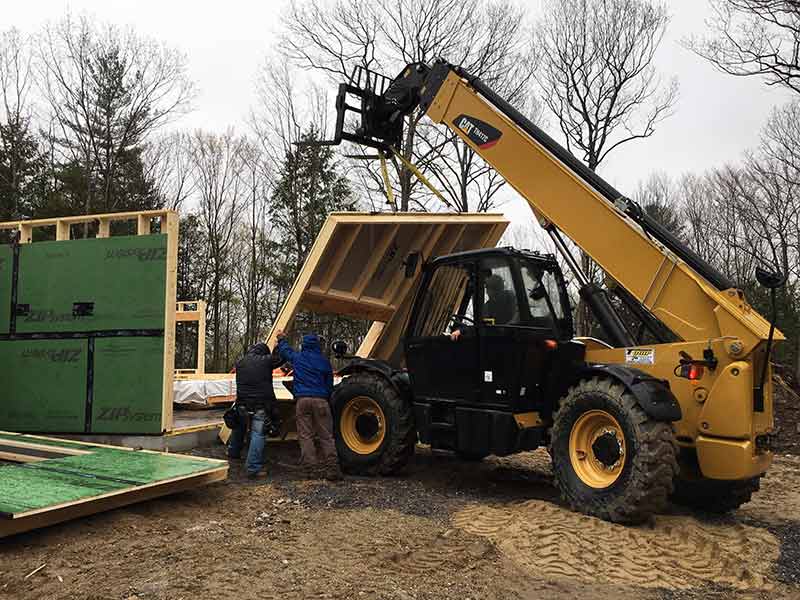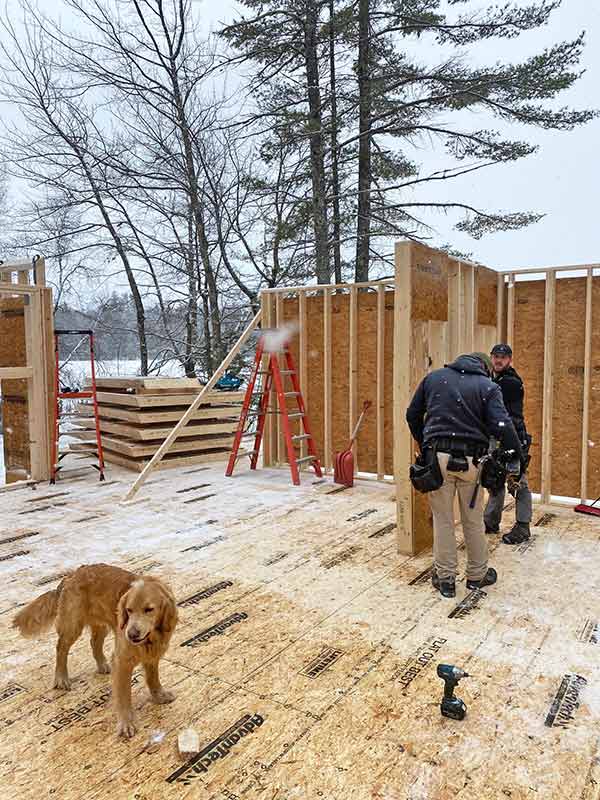 In addition to timber frame construction, we also build our own conventional panelized wall panels. We assemble our wall and roof panels in a factory using 2x Premium SPF lumber and sheathing. Many enjoy the familiarity of panelized construction because it's closely related to traditional stick frame construction. Prefab panelized walls enable a fabricator to shelter the framing from the weather elements at the factory. We cut everything on a machine with precision in mind. It also reduces the chance of weather delays on-site, miscuts, and cuts down the on-site waste factor dramatically. Plus, the minimal waste that is created is reused by heating our facilities.
Panelized is a great alternative way to build when compared to conventional stick frame, on-site construction. This type of prefabrication is more traditional and familiar to builders. For builders, it also provides a solution to the ongoing labor shortage. They can take on more projects with a small framing crew. It's a great alternative to stick building your home on-site!
Hybrid Blend of Both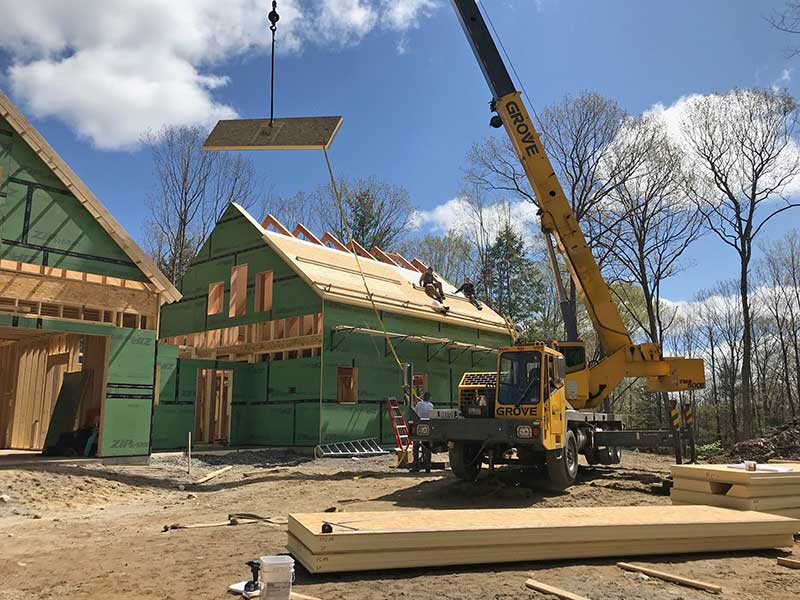 What is an example of a hybrid timber frame home? A hybrid home may feature a timber frame center section wrapped in SIPs, while the wings use panelized construction. In fact, here at Davis Frame, this type of hybrid home is becoming a popular option. While you can use panelized construction with a full timber frame home, it's not structurally necessary and SIPs may make more sense.
So how do you choose between the two options? If you are building a conventional style home, but want it built quicker on-site, then panelized is a great option! If you would like the entire structure to be timber frame-constructed, or would like optimal energy performance, SIPs are the choice. A hybrid timber frame home is a great option too, blending all these awesome structural options to create a beautiful, high-quality custom home!
To learn more about your building options, call us today by calling 800.636.0993. We can help determine the best type of construction to use with your design ideas. And, we can offer a one-stop shop for your new home's weather-tight shell!