There is something magical about a timber frame home – this home style offers warmth and old-world charm. Discover the timber frame difference and check out the photos below to see how warm and cozy a timber frame can be!
History of Timber Frame
First, we thought we would provide a background on the history of timber frame construction. Timber framing evolved concurrently in many cultures that had access to viable timber for harvesting. Some of the earliest examples can be found in Egypt as early as 2000 B.C., but historically, timber framing was much more prevalent in Japan and Europe than in Africa. European timber framing is at the root of the American tradition, starting as simple structures with posts buried in the ground and then developing toward its pinnacle in the late Middle Ages. American architectural history saw the near complete abandonment of the craft in the 19th century but, fortunately, we've been witnessing a grand resurgence of it in the past four decades.
Cozy Timber Frame Rooms
Over the years, we've been a part of some very cool projects. With the cold weather upon us, we thought we would share some of our coziest timber frame rooms!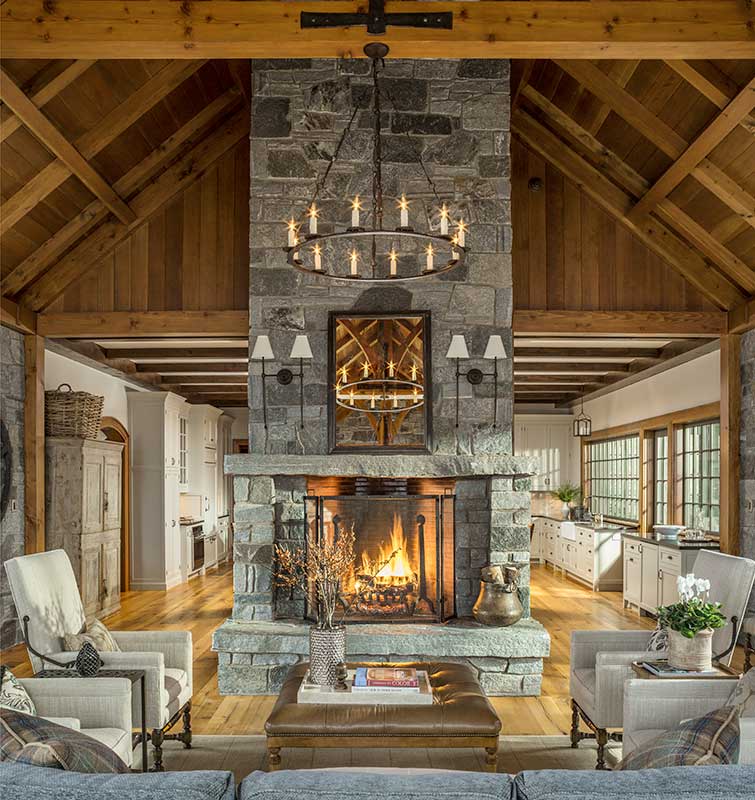 Isn't this space just gorgeous? This room has become an instant favorite among our clients and staff. This timber frame great room was incorporated into a conventionally built home in Stratton, Vermont. The great room, kitchen, and dining room feature exposed wooden beams, while the remainder of the house was conventionally built. What we love most about this space is the gorgeous stone fireplace. The simple decor and soft colors harmonize well with the beauty of the natural wood.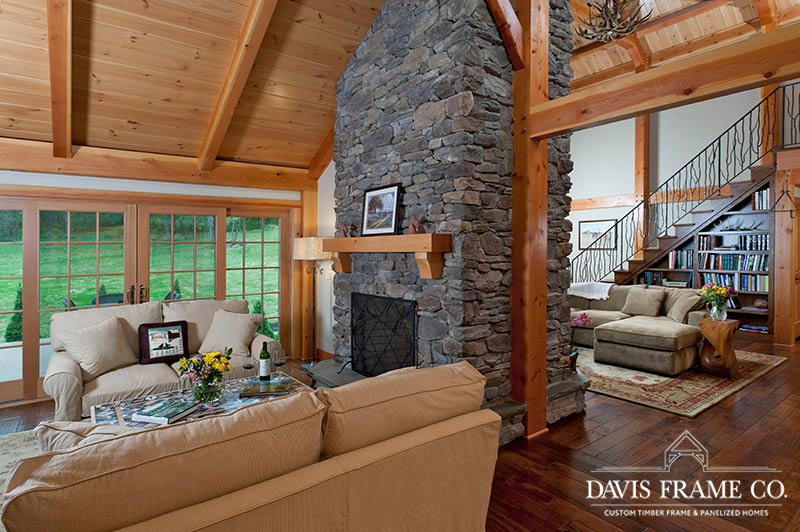 This unique space features a living room and a great room divided by a double-sided stone fireplace. A design like this uses the beautiful stone fireplace as a design element that divides the space nicely without closing it off with a wall. It allows for great flow, especially if you enjoy entertaining. While both spaces are great, we love the living room that is showcased in this photo. What a great space to enjoy an intimate conversation with friends and a glass of wine.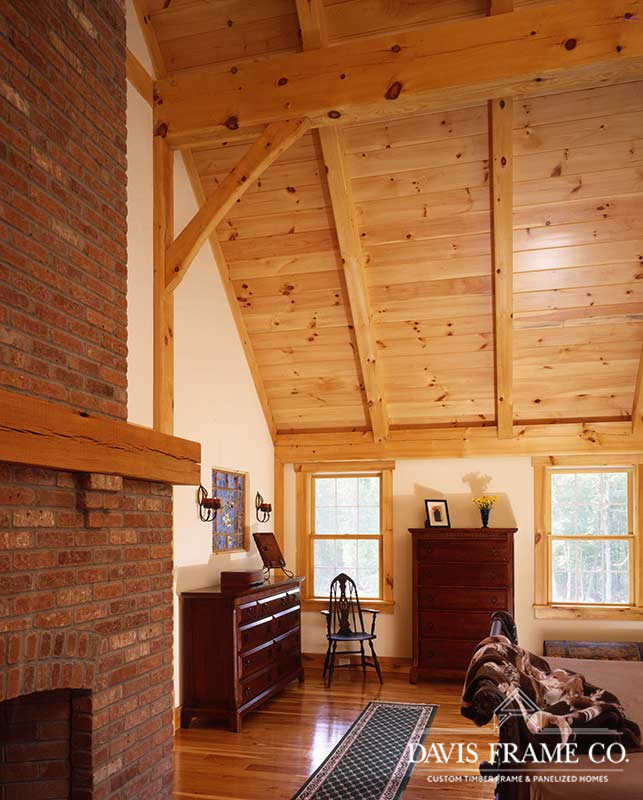 Check out this farmhouse timber frame master bedroom! The homeowners chose rustic eastern white pine for their timber frame, which looks great on a farmhouse with the extra knotty wood. Pine also tends to check more (crack), which adds a nice rustic charm to a space. What we love most about this master bedroom is the gorgeous brick fireplace that is central to the room. What a great space to retreat to after a long day at work. Cozy up and start a fire while reading a book in peace!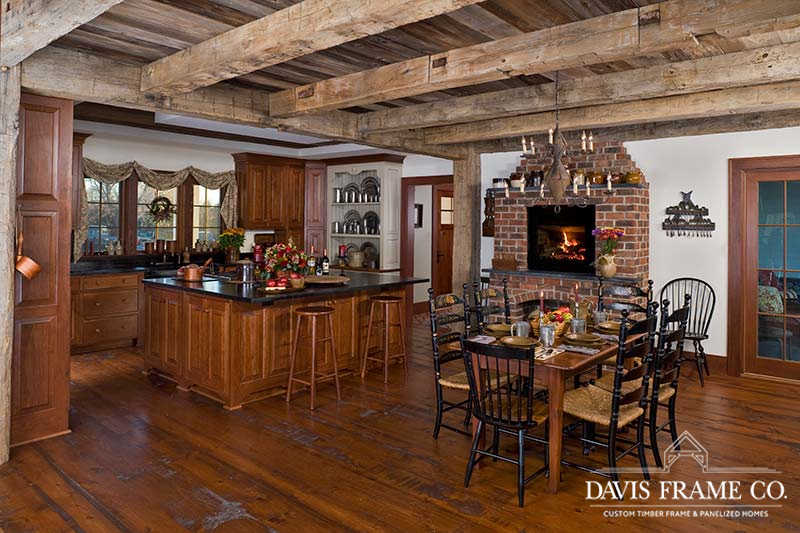 Look at this gorgeous eat-in timber frame kitchen! Our client loves old-world decor and chose to add reclaimed timbers to this space. The floor also is reclaimed and the kitchen cabinetry features a traditional look that blends in nicely with the other old-world features, and the brick fireplace is a perfect addition. Can you picture yourself preparing a meal while entertaining family and friends like the good old days? I know we sure can! Visit our reclaimed timber frame home gallery for more photos!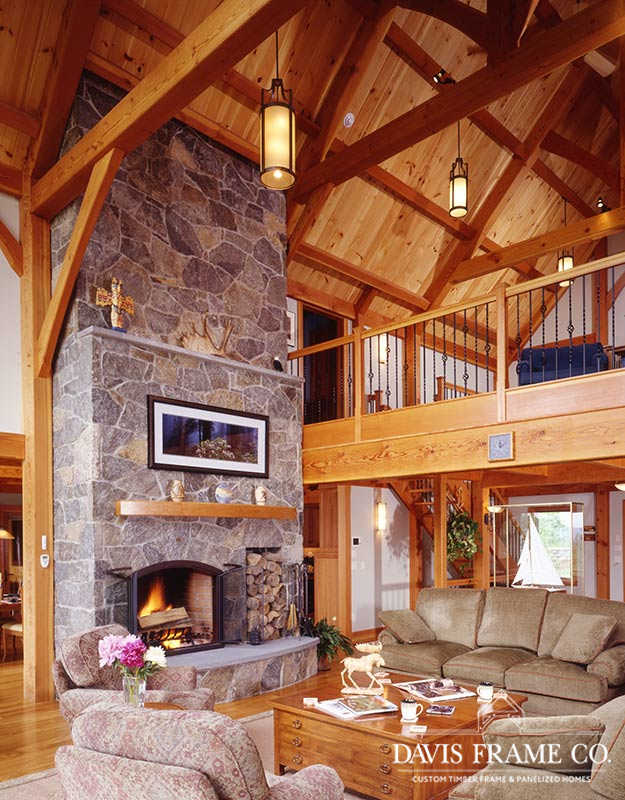 Check out this gorgeous great room! This timber frame home is located in Vermont and offers classic Vermont charm. The stone fireplace is double-sided and can be enjoyed in both the great room and the dining room. We love how the fireplace features a nook for storage, making this space feel like true Vermont living.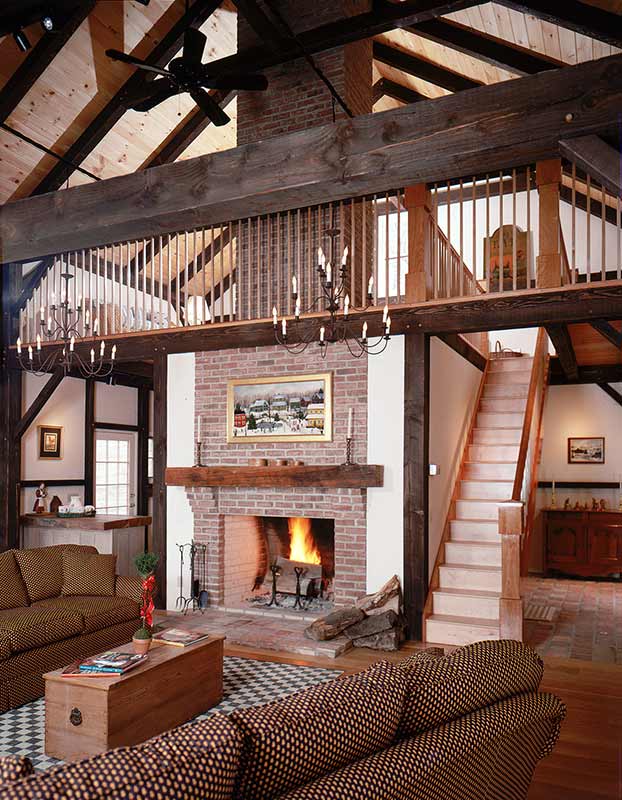 There is something warming about this space with its dark stained wood and brick fireplace. It offers traditional Vermont charm and is the perfect place to relax and enjoy a fire. Although most of our older timber frame projects feature natural wood, we are seeing increased interest in stained timbers. Stain adds a unique touch and can really make a space pop!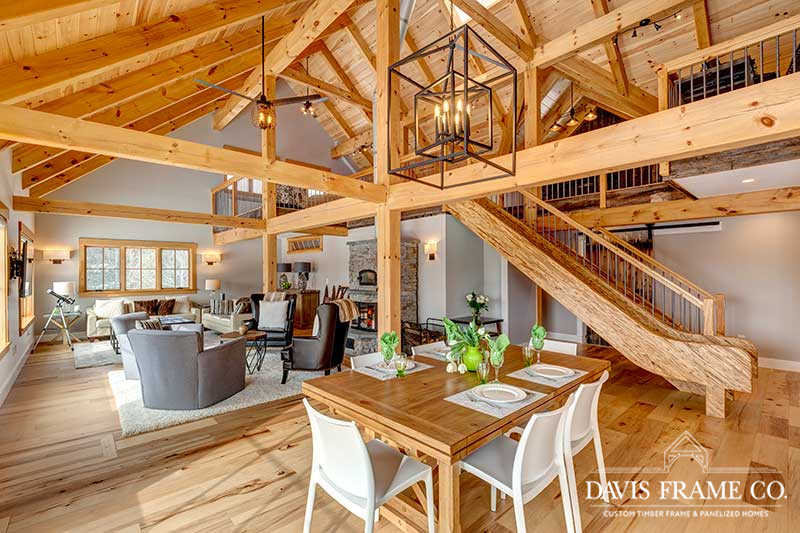 There is nothing like Vermont barn home living! This gorgeous barn home offers a nice wide open space that's perfect for entertaining. Although it's basically one large open space, it's very cozy with the wood accents and the neutral decor. This is the perfect place to host the whole family for the holidays. Check out the amazing slide from the loft to the main floor!
Interested in learning more about our timber frame homes? Call us today at 800.636.0993!