Over the last 13 years, the residential and commercial construction industry has been on a roller coaster ride. The big 2007 economic crash affected all industries, including the construction industry. Thankfully, the economy is now relatively healthy and new construction is on the rise. This year, the year of COVID, we have seen a vast increase in inquiries from folks interested in building a new home. But, while interest is increasing, challenges exist. Unfortunately, builders with whom we work say that there is concern over a lack of on-site labor, specifically framing crews. So the pendulum has swung nearly all the way back during this COVID summer, but many builders are scrambling for laborers to manage the workload.
Why is There a Labor Shortage?
Interestingly, this lack of workers is not related to the pandemic. Younger generations are not going into the trades like past generations. Did you know the average age of framing carpenters is mid-forties, and the average age of specialty sub-contractors, such as plumbers, electricians, and masons, is mid to late 50s? That's concerning!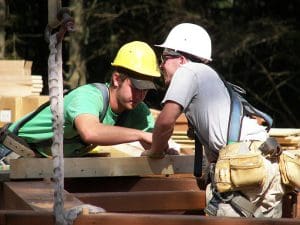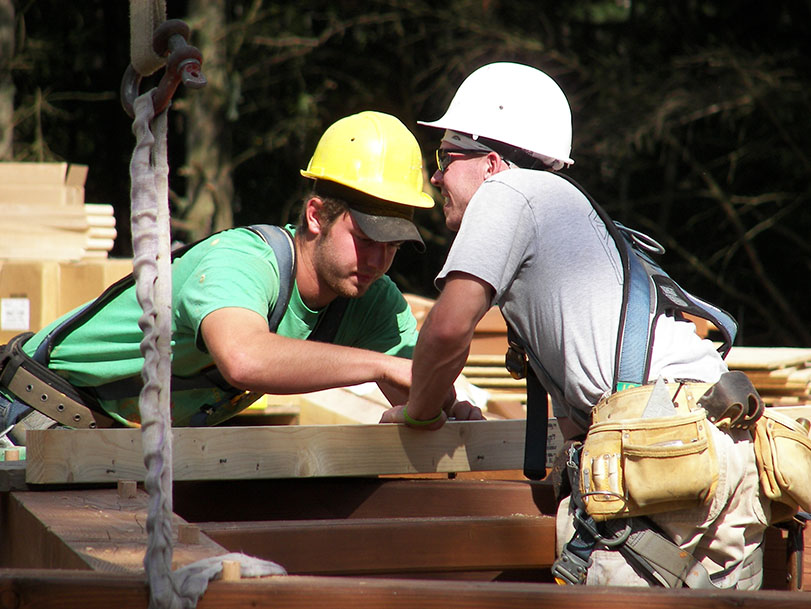 Why is this happening? Well, according to the research, there are a few different reasons. One reason is the elimination of vocational programs in more and more high schools due to budget cuts. Schools are also pushing kids to go to college. In today's society, a four-year college degree is more coveted than ever before. According to recent statistics, 65-70% of high school seniors intend to go to college. Yet the trades can be a viable path for those looking for a career and to earn a nice income.
Given the disparate costs associated with a 4-year institution compared with a trade school, those going into trades are starting out with little to no debt and position themselves for success early in their career. College isn't for everyone and doesn't necessarily equate to success. You can be just as successful in a trade if you put in the time to learn the skill.
Affects from the 2008 Housing Crisis
One other reason builders cannot find workers is that research shows 30% of laborers left the workforce during the housing crisis. Ten years ago there were a million laborers. Now it's down 40% and it still hasn't recovered. A lot of these workers haven't returned to construction because it's perceived as too unstable and too risky an industry. In reality, this isn't true. Now more than ever construction workers are in demand. There is good money to be made for anyone seeking a career in the trades.
So how do we fix this problem?
The Future of Construction
This is where prefab construction comes in. Many companies offer prefabricated options that cut down on the number of carpenters needed on-site. It's a great option for builders and reduces on-site labor time significantly.
Here at Davis
Frame, we have several structural prefabrication packages. With our timber frame construction which is typically wrapped in Structural Insulated Panels (SIPS), a home goes up in a matter of 2-3 weeks. For those looking for a more conventional look, our 2x conventional panelized wall and roof system and the shell can be built in a matter of 2-3 weeks, too. We've had many builders approach us, especially over the past couple of years. Prefab is appealing to help with their on-site labor shortage. Our prefab panels enable builders to take on more projects. Without the help of prefabrication, many builders will continue to be booked up, and wait times for new homes will continue to climb. Plus, not only will wait times increase but, due to demand, so too will prices.
Why Prefab Construction?
Our prefab home packages not only contribute to a faster build, but they also reduce on-site waste significantly. All our materials come pre-cut and ready to be fit together like a puzzle. And there is minimal on-site cutting needed, if any. The quality of our prefab building systems is also top of the line. For example, our 2x panelized wall and roof panels are very similar to stick framing,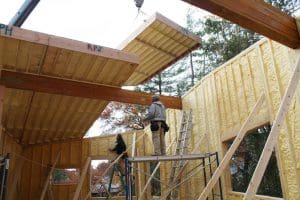 but the panels are built in a controlled environment with precision in mind. We use CNC machinery to make precise cuts, and the 2x components fit nicely. With our timber frames, we take pride in the quality and craftsmanship. Timber framing is unique and produces much tighter joinery when using CNC machinery.
Manufacturing Jobs
At Davis Frame, we have seen an increase in young people interested in working with us and learning what we do. They like the idea of a manufacturing setting, where they are protected from the weather and they don't need to travel from job site to job site. Because of this, we believe construction manufacturing versus traditional on-site labor will continue to grow. Obviously, both are very much needed today and in the future, but with prefab packages, less manpower will be needed on-site.
We predict that over the next few years we will continue to see a shift to prefabricated construction because of the laborer shortage, as well as the efficiency of the building process.
If you are a builder or homeowner looking for high quality and fast construction, we invite you to call us at 800.636.0993 to learn more about our building systems.