In this week's home for the holiday's blog feature, we are sharing our popular Classic Barn Home floor plan! We have a few tried-and-true floor plans, including our Classic Barn Home plans, that stand the test of time and we get repeat interest in them. Our line of Classic Barn Home is very popular due to its resemblance to a New England barn from decades past. Throughout New England you will find gabled barns, many often in red. That familiarity is what drives many homeowners to explore building a barn home. While some people will choose to find an old barn to turn into a home, building a new barn home could actually cost you less, and incorporating timber frame construction will give you the same old-world feeling.
We've designed and crafted several variations of our 28'X52′ barn-style floor plan. Our Classic Barn Homes can be found in New Hampshire, Vermont, Massachusetts, New York, New Mexico, Oregon, and beyond! We actually have two variations of the Classic Barn Home – our Classic Barn 1 and Classic Barn 2 models. Discover the difference between the two to see which plan is right now you!
Classic Barn Home 1 Floor Plan

The Classic Barn 1 floor plan is our most popular layout. It featured the front entrance on the eave side of the home. Upon entering there is a closet, perfect for hanging coats and storing shoes. To one side is the master bedroom suite and on the other side is the open concept great room and dining room. Towards the back center portion of the house is the spacious kitchen and to the right of the kitchen is a mudroom/laundry room and powder room.
The second floor features two generous-sized guest rooms, a shared bathroom, and an open loft that opens to below. There is a small cove right next to the bathroom that could be a nice area for a small desk and chair. This is a great floor plan to consider due to its functional floor plan, as well as its architectural charm.
Classic Barn Home 2 Floor Plan

Showcased above is the Classic Barn 2 floor plan. Like the Classic Barn 1, the front entrance is on the eave side. With this version of the Classic Barn, there is a timber frame farmer's porch. It's a nice feature that gives the front of the home additional character. Straight ahead, upon entering, is the dining room and kitchen. To one side of the entry is the great room and the other side includes two bedrooms and a shared bathroom. This is a nice first-floor layout to consider if you are looking for two bedrooms on the first floor. There is no mudroom, however, and that can be a downside for those building in New England. Mudrooms are a must during the spring mud season and the snowy winters.
The second-floor plan on the Classic Barn 2 features a large 16'x20′ master bedroom. Also included is a full master bathroom. In addition, there is a loft that overlooks the first floor. In the loft, there is plenty of space for an office. What a great option if you are working from home! And one of the best features of this barn-style home floor plan—the loft! This would make a great private office or even a playroom for kids.
We've also had folks add a connector and garage to the backside of the home, which is a great option to consider, especially if you are already considering a garage. In my humble opinion, a garage is a must!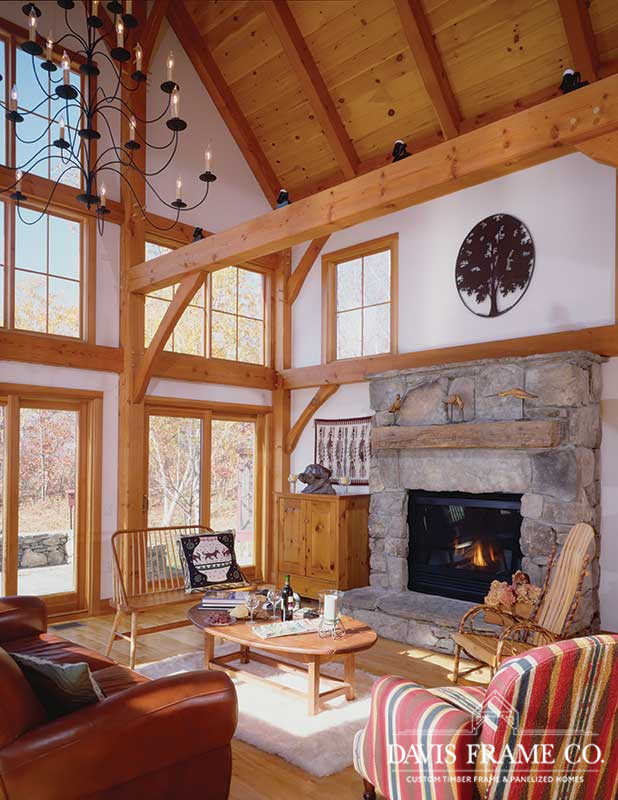 Be sure to check out our barn home photo gallery for photos of this beautiful timber frame barn home! 
Interested in learning more about our timber frame barn homes? Call us today at 800.636.0993!