Are you working on your new timber frame home construction budget? The design of your home is one of the most important things to consider when budgeting for your project. The house design you choose can make or break your budget. If you are hoping to keep your costs down, start with a simple house design and be aware of which design details will add complexity to the construction and, in turn, building expenses.
What Makes a House Design Complex?
Typically, complicated roof designs such as hip roofs, gables, and dormers will lead to added costs, as well as bump-outs, porches, and special architectural details. It doesn't mean that you can't add some of these details to your home design if you are on a limited budget, but knowing that these design elements can drive up the cost of construction will enable you to look at each one with your overall budget in mind. For example, you can design a simple house with a rectangular shape and add a couple of dormers, but know up front it will cost you a little more. Our advice? If on a limited budget, only add special details that add space and value to your home.
Check out our barn home line for cost-effective design ideas. Also, check out below some examples of simple designs versus more complex ones.
Simple Designs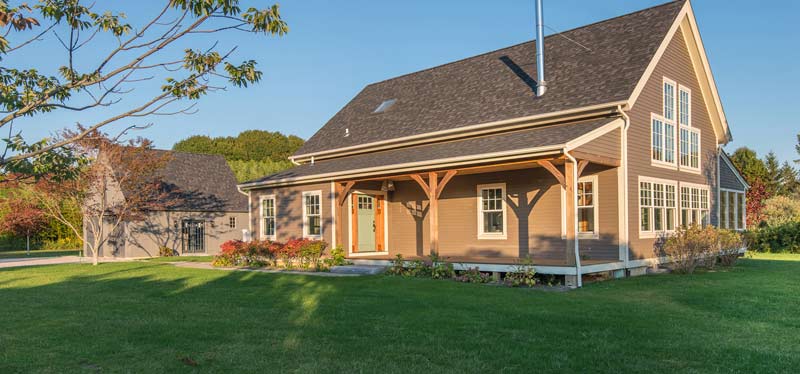 This modified 1,800 SF Classic Homestead is a great example of a cost-effective timber frame design with its simple shape and a small dormer on the second floor.
Our Classic Barn home is another wallet-friendly design that is also a great example of how simple can still be stunning! The addition of the cupola does add to the cost, but it gives this rectangular barn home a nice architectural flare without going overboard on the design. This model can be built with or without the cupola.
Complex Designs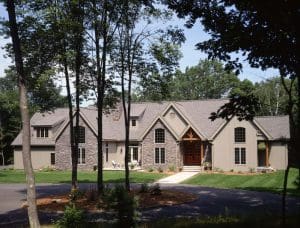 We worked on the above French country timber frame home several years ago and we love the outcome, but warn that this is not as budget-friendly a home design because of the more complex roofline. In addition to the multi-peak roofline, this timber frame home features one level living with cathedral ceilings, 9 gables, and many angles and corners, which all adds to the square foot costs. It doesn't get much more complicated than this design!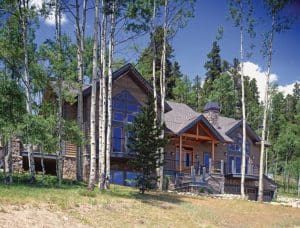 As you can see, this Mountainside home features 3 eave overhangs to give it architectural interest. Those overhangs are a nice design feature that also add complexity to roof design, resulting in higher building costs. Any time you add or change the roofline, you can expect costs to go up. 
As you can see from the above examples, home design can make a big difference in the overall cost to build a timber frame home. At Davis Frame Company we like to understand a client's construction budget early in the process so we can better assist and guide them on viable timber frame designs. Over the years, we've designed and crafted 100s of homes, giving us the experience in knowing how much a home might cost to build.
Check out our website to see our simple and traditional barn home plans and also be sure to check out our signature timber frame plans!
Want to learn more about our timber frame and panelized homes? Call us today at 800-636-0993, we would be happy to answer questions you have.