Our latest project is a new energy-efficient hybrid timber frame home in New Hampshire! While all of our timber frame homes are extremely energy-efficient, these clients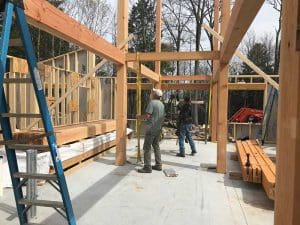 took the extra steps to make their new home super energy efficient. From foundation to insulation to choosing an efficient heating system, they carefully thought through every detail to ensure their new home would stand the test of time with exceptional performance for many years to come.
We interviewed our client during the design phase of the project to gain insight into how they came to choose a timber frame and what steps they took to make their new hybrid timber frame home energy efficient. The family always knew they wanted to build a home incorporating traditional construction methods with modern technology. The structure was to be of high quality that would last for generations. After years of research, they concluded that timber framing offered exactly what they wanted, an old-world way of building with sturdy "bones."
The Insulation
Regarding the insulation for this hybrid timber frame home, our clients chose a Structural Insulated Panel (SIPS) roof and 2×8 conventional panelized walls fabricated here in our shop using 1.5″ R-Zip exterior sheathing. They will flash the interior cavity of the walls with 2.5″ of closed-cell spray foam and the remaining portion of the cavity will be filled with batt Rockwool. The final R-value for the wall will be an R42 and the SIPS roof will rate an R40.
Windows
Windows are another important decision when planning for optimal energy efficiency. Some of the best windows on the market today are European-based windows. Our clients chose Zola Windows for their excellent energy ratings and performance. Zola Windows also offers triple pane windows with a U factor of .14 which surpasses what US window manufacturers can offer regarding performance. Another neat feature is that the Zola Windows offer tilt and turn to make the functionality of the window flexible.
Foundation Details
Now onto the unique foundation system that adds to the super energy efficiency factor of this home. When researching foundation systems and what would be best for efficiency, our clients learned it was best to forego a traditional basement as they are a waste of energy unless you finish them 100%. Although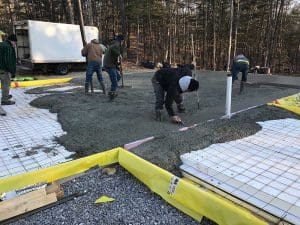 skeptical at first because most homes in New England have a basement, their extensive research proved eliminating the basement was the way to go. The foundation system they chose is a shallow frost-protected slab by WarmForm. The slab can "float" without footings. It will also meet a high level of insulation and is in line with their energy efficiency goals. The system is a foam-based form system pre-coated with a cement coating. Once the forms are in place, they poured the concrete in only a single concrete pour. The WarmForm system is a perfect slab-on-grade system for folks building in the Northeast. It works really well also when combined with radiant heat. In case you are curious about storage, our clients opted to build an oversized garage with storage above instead.
Heating System
The heartbeat of any home's energy efficiency rating is the heating system. Our clients will implement a heat pump/heat recovery system using either Mitsubishi or LG. The entire home's projected heating and cooling load is 36k Btu/hr. This will also combine with a ventilation system to provide continuous fresh air to the home. This is an important consideration in all of Davis Frame homes because of the tightness of the structure.
Extreme Energy Efficiency
Overall, the client expects their HERS rating will be a 39. This rating is almost 60% more energy-efficient than a standard new home. When a home goes through testing for HERS rating, it includes testing exterior walls, floors, ceilings, roofs, windows, doors, vents, ductwork, and HVAC system.
This hybrid timber frame home is perfect for raising a family. We hope our clients will enjoy it for many years to come!
Visit our website to see more pictures of this timber frame home under construction. To learn more about package options, call us today at 800.636.0993!