Looking to build a timber frame home, but don't want it "fully loaded" with timber? Discover the beauty of hybrid timber frame homes! Hybrid timber frame homes are becoming more and more the popular choice. I'd say at least a third of the timber frame homes we design and fabricate are hybrid. Hybrid timber frame homes are great for those who do not want a home full of timber. It also can create nice savings compared to a full timber frame design. Personally, I've visited a few hybrid timber frame homes during our photoshoots and hybrid homes give the feeling that the home is a "timber frame," I don't feel like there is anything conventional about them.
What is a hybrid timber frame home? A hybrid timber frame home is a house that incorporates some timber, structurally or decorative combined with conventional construction. Often the timber frame is featured in the main areas of the home, particularly the great room, and sometimes the kitchen and dining room. You can add timber to whatever area you would like, but most of our clients want the wow factor in the rooms they entertain in. Other areas in the house such as bathrooms and closets need not feature timber frame. Timber frame definitely doesn't have to be an all or nothing!
We will go over a few examples of hybrid timber frame homes:
Hybrid Design with Center Timber Frame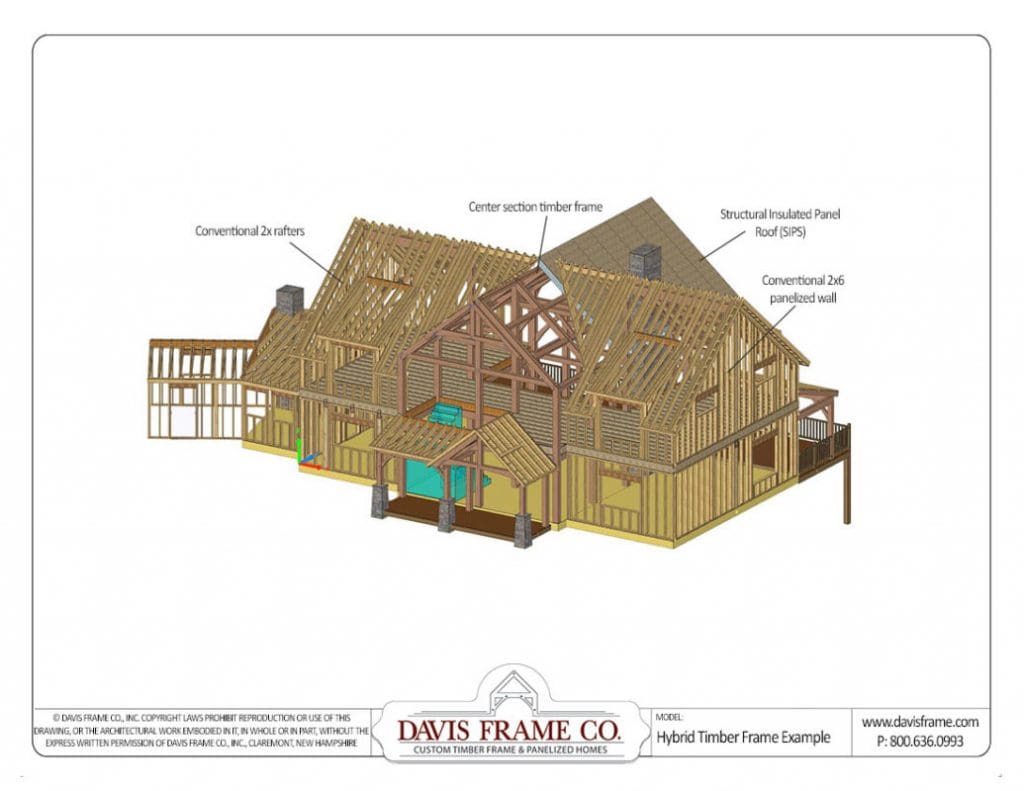 The above drawing shows a classic example of what most of our hybrid timber frame homes feature for a timber frame design. The style of this design is what we call a cross gable. What does it mean when we say it's a cross-gable design? Cross gable houses are perfect for hybrids as they feature two or more gable roof lines that intersect. For example, if there is a center gable that is timber-framed, we can frame the wings with conventional framing tying in the ridges perpendicular. This allows for the two different framing systems to blend easily. It's more difficult to tie in conventional roofs to a timber frame roof if they run parallel to one another.
The drawing above shows a gorgeous hybrid timber frame home that uses timber frame construction and a Structural Insulated Panel (SIPS) roof over the timber frame. Our 2x panelized wall system and pre-cut conventional roof rafters are used for the wings. This home features the perfect hybrid mix of materials. At Davis Frame Company, we can supply you with all the components for your hybrid timber frame home.
Hybrid Design with a Timber Frame Roof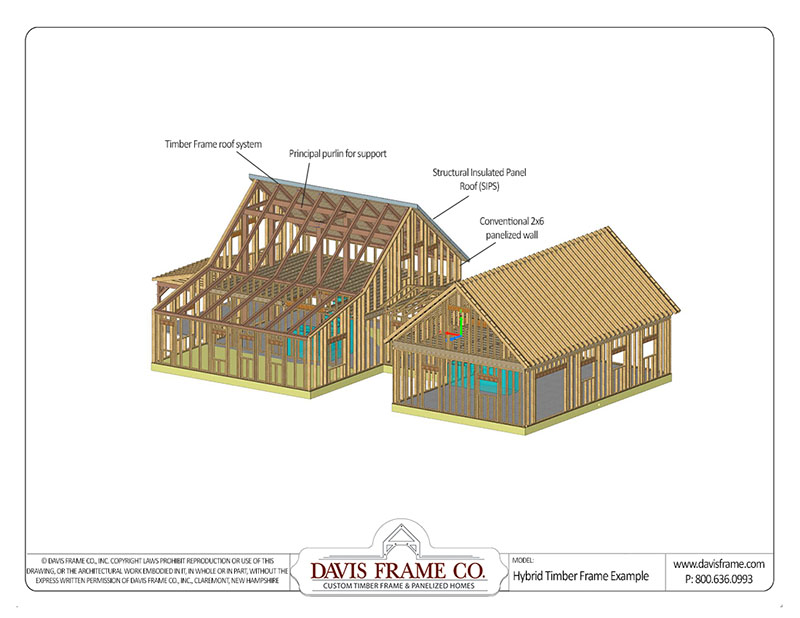 Another popular hybrid timber frame design is a timber frame roof system. In the above drawing, you will notice timber framing in the roof. Because of this house design, there are some posts on the gable ends and in the center of the house to carry the load. However, the posts are eliminated on the eave walls. Going with this kind of hybrid timber frame design is a great option for those that want to minimize posts and create savings.
With a timber frame roof design, we still use Structural Insulated Panels (SIPS) to insulate the roof. SIPS still by far the best option for a timber frame. The conventional components of this design are the 2x panelized walls. The 2x panelized walls also act as a support for the roof rafters that sit on the eave walls.
Hybrid Design with Center Purlin and Conventional Roof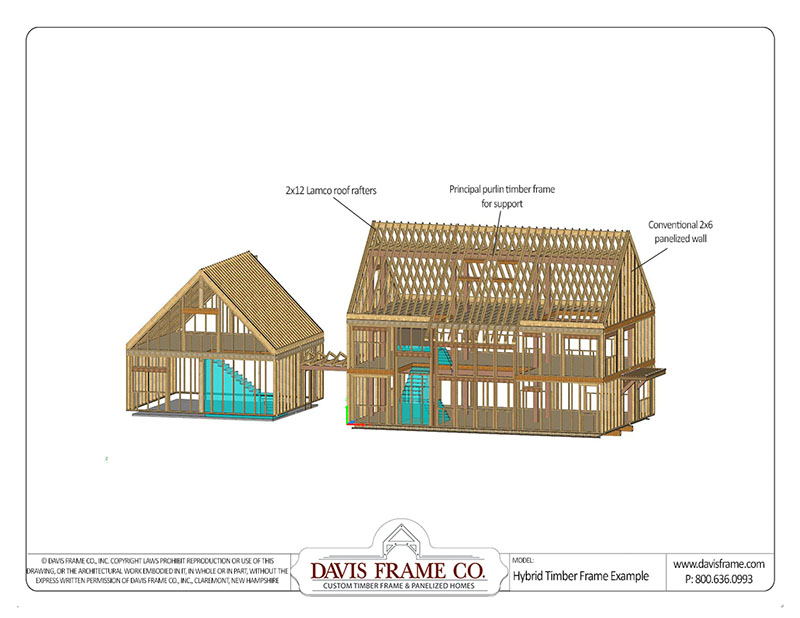 This modern barn home shown above is a hybrid and features very minimal timber is in the center portion of the house. The principal purlin timber frame adds a touch of timber while supporting the ridge. The exposed timbers can be enjoyed in the living, dining room and kitchen featuring a minimalistic look. To enhance the modern and clean look, our client added a white stain to the timbers. Conventional 2x panelized walls are featured for the entire wall structure and we used 2×12 Lamco rafters and Advantech on the roof.
Hybrid Design with a Timber Frame Room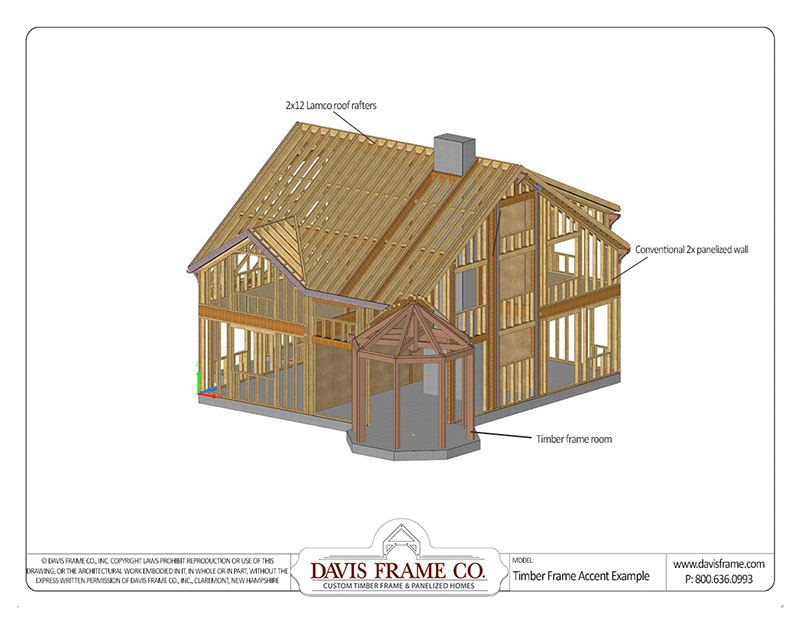 Sometimes our clients just want a timber frame room added to their new conventionally built home. Above is a custom panelized home we worked on a few years back. We prefabricated the panelized walls and pre-cut roof here in our shop and also provided our client with an octagon timber frame sun porch. The timber frame portion of this panelized home is the highlight of the home and features a gorgeous lakefront view.
Again, a timber frame does not have to be an all-or-nothing situation. You can add as much or as little as you would like. Some folks even add nonstructural decorative timber accents. Other popular ways to add a touch of timber frame include porches, entries, and exterior brackets.
Interested in learning more about our hybrid timber frame home options? Call us today at 800.636.0993!