Welcome to our Industry Interview series. Every so often, we will interview industry professionals, including realtors, builders, architects, and interior designers. Through our interview series, we hope you will gain some great ideas as you plan and build your new home, whether it be a timber frame, post and beam or panelized home. In this week's interview, meet Interior Designer, Tricia Tobey of Tobey Design in Portsmouth, NH.
Tricia is a seasoned interior designer who works both on commercial and residential interior design. Tricia is working with one of our client's in the White Mountains of New Hampshire planning their timber frame ski house interior design. We've been clued in on the design planning and it will be gorgeous! The beautiful timber frame home is still under construction, but once it's complete, we will share finished photos showcasing Tricia's work! Tricia works not only in New Hampshire, but she also travels to meet with her clients!
What got you interested in Interior Design?
When I was 8, I would visit my neighbor, who was a brilliant builder and we would spend hours reviewing plans and discussing life. It just felt natural, and it still does. I love creating something on paper and watching it come to life.
What would you say your design style is?
I don't think I have one; I worked within so many styles, transitional, contemporary, lodge, beach, casual- I design with my clients taste in mind, not mine.
What are some top trends you are seeing for 2016? 
Gold is back…But I don't think it will be as popular in New England. I'm still seeing a lot of beautiful rustic natural elements – wood and stone mixed with metals, both smooth and rustic.
What is/are your go-to paint color(s)? 
Sailcloth by Benjamin Moore is my favorite neutral – depending on the light it has both a Tan and Grey undertone.
What are your favorite brands/product? 
I'm obsessed with Crystorama they have a great variety of styles – I love how they twist up traditional design. CR Laine is my go to furniture company for the same reasons. For that special one of a kind piece, I look at 1stdibs or Etsy depending on the client. Just to name a few – too many to list all my favorites!
What is your favorite space in a home to decorate? 
All of them, but if I had to pick one, it would be the living room. It's where we spend the most amount of time gathering with family and friends.
What is your favorite tech tool to collaborate ideas with your clients?
Pinterest – I'm constantly looking for images to express my design ideas – a picture speaks a thousand words!
How do you get inspired?
Travel – Travel – Travel – there is nothing like being dropped into another space/culture surrounded by another language, sights and smells.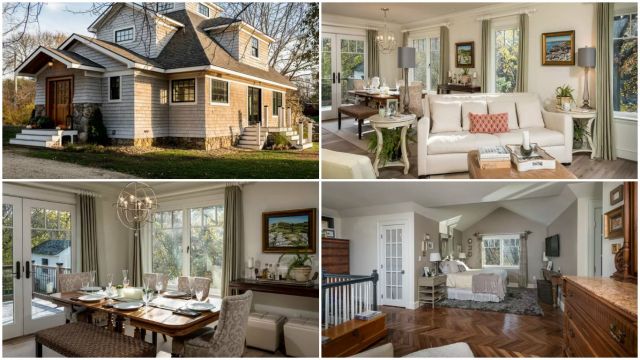 Check back often for updates on Tricia's latest project with us, a timber frame home in the White Mountains! Interested in learning more about Tricia's interior design services? Visit her website at Tobey Design or you can call her at 603-430-7621. Also, be sure to check out her Pinterest page as she has many fabulous design ideas!
Interested in learning more about our timber frame and panelized home options? Call us today at 800.636.0993!