Over the years, we've worked with many wonderful builders on our client's timber frame projects. We plan to interview builders and other industry professionals on our blog so you can get to know some people we've worked with. We also hope you will learn helpful tips and information to help you as you plan your project.
Our first builder series interview is with a local builder, Northcape Design Build based out of beautiful Sunapee, New Hampshire. We've had the pleasure to work with Brett and his team over the past year! Northcape is an experienced and detail-oriented builder that services the Lake Sunapee region and the Upper Valley.
Tell us about Northcape:
Northcape Design was the vision of the talented Everett Pollard over 40 years ago. In 2015, Everett invited Brett Cusick and Geoff Martin to take the baton and carry on his legacy. Our award-winning team of professional designers, builders, and custom craftsmen are committed to creating homes, additions, and large renovations with exceptional quality. Northcape Design uses sophisticated 3D modeling computer programs and other technology to ensure that our clients have a wonderful building experience.
What geographical area do you serve?
We will travel within 30 miles of Sunapee, NH
Do you specialize in a particular type of home design?
We customize all of our homes to fit the exact needs of our clients
What got you interested in the building trades?
Growing up, I always wanted to be an architect. I went to Roger Williams University and received my degree in Engineering. The business of building custom homes is a perfect marriage between these two passions. I wake up every day excited to come to work.
Are there any go-to building products you always recommend?
As a true design-build custom home builder, we completely customized each project for that client. That being said, certain brands stand the test of time. Therefore, we'll often use brands or lines that have been successful in past projects. Building products from Huber Engineered Woods, Schluter-Systems, and Coastal Forest Products are standards in our product library.
What are the latest trends you are seeing in your area for new builds?
Some trends we see often include curb-less European shower enclosures, open concept design, and single-level living. As a Certified Aging in Place Specialist (CAPS), we are seeing more folks staying in their existing home. We work with them to make long-term alterations to ensure a comfortable lifestyle without the compromise of leaving their comfort zone.
If you were to build your own house, what is an absolute must-have feature?
A vaulted great room with timber frame details and a long view.
What is the most valuable tip you provide your customers with regarding building a home?
When building or remodeling, always do it for yourself. We often plan for resale purposes. Focus on your needs and not the fictitious person who might buy the home one day. None of us know the taste of the potential buyer, so it is pointless to design something for someone else.
What is your most memorable building experience/project?
A beautiful custom home on Lake Sunapee that has many one-of-a-kind details. We sourced a lot of our products locally so we can do our best to be sustainably conscious. But there are also some neat products that were shipped in from halfway across the country that really make this home beautifully unique.
Check out Northcape's website for photos of the beautiful homes they've built!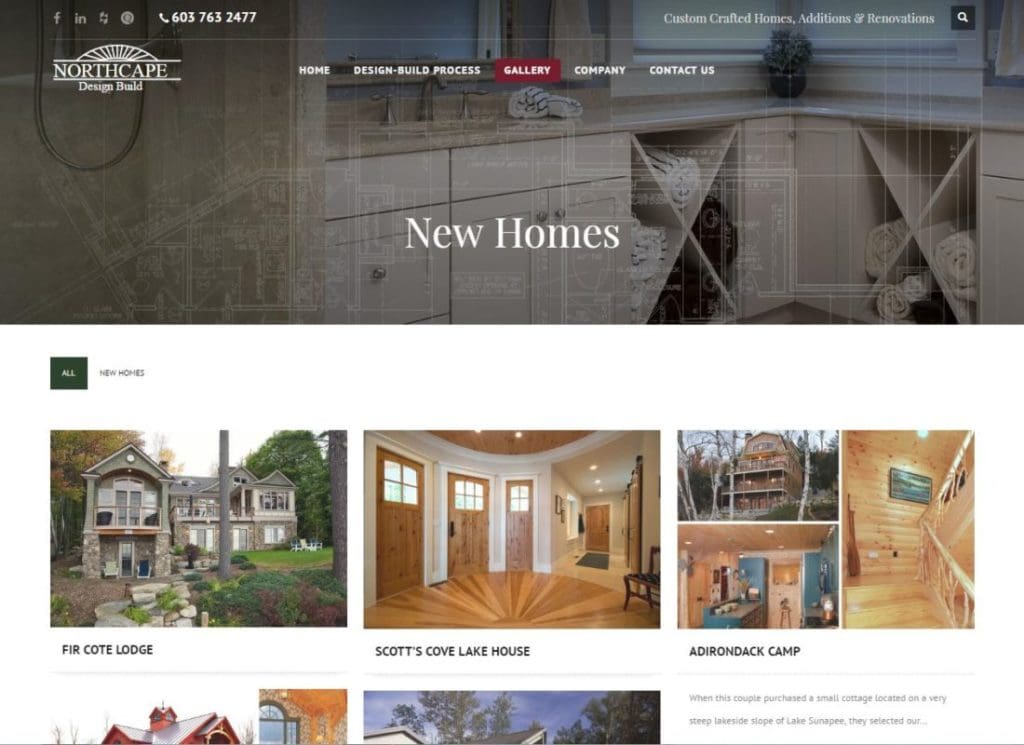 Interested in learning more about how we can work with you and your builder on your new custom home? Call us today at 800.636.0993!