Explore this beautiful high-performance modern barn home in the charming, picturesque town of Weathersfield, Vermont. The "Morning Glory," as it's officially known, is on 138 acres and boasts spectacular views of the valley below. Our clients had two goals for their new timber frame home. First, they wanted a barn home that would blend into the Vermont landscape but also have a more modern design. Second, they wanted it to be super energy-efficient.
To create their super energy-efficient home, our clients chose an R40 for the walls and R54 for the roof. They also chose triple-glazed windows to further enhance the home's efficiency. This home rates off the charts for energy performance and will definitely keep the heating bills down during the harsh Vermont winters!
Vermont Barn Home
First Floor

The design of this barn house is simple, using a traditional New England design, however, the interior features unique modern finishings and an open first-floor plan. The entire first floor is open, with no interior partition walls, including open stairs designed to be floating. The combination of the warm exposed timber frame beams and the modern touches make this a welcoming timber frame home and a perfect place for entertaining.
European Tilt and Turn Windows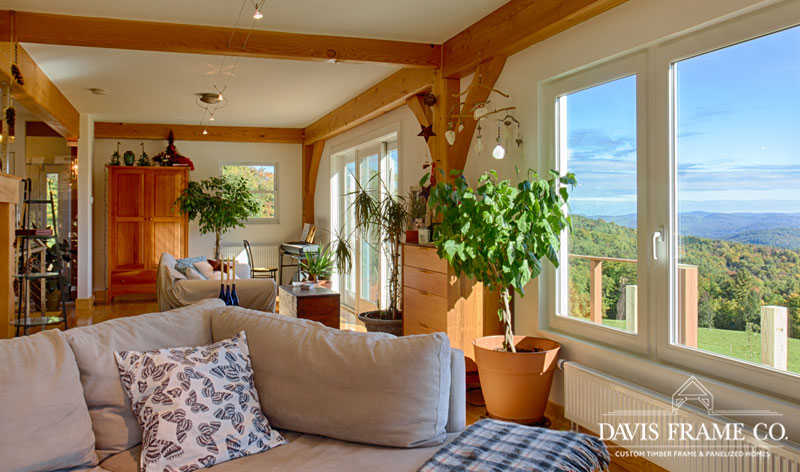 The modern barn home features lots of windows, to take advantage of the Northeast facing views of the valley. And the living room windows are an added design element. They are tilt and turn windows, a common window style found in Europe. Tilt and turn windows can swing in like a door and tilt in for ventilation – perfect for enjoying the views and the mountain breezes.
Second Floor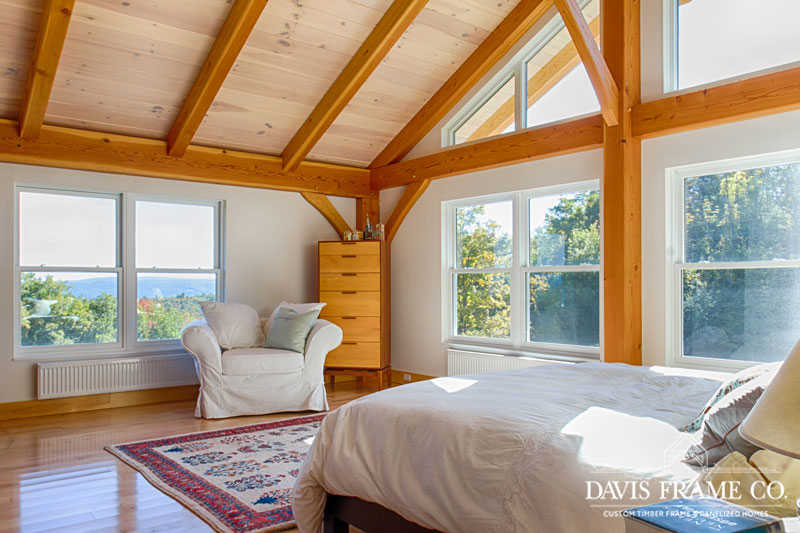 The second floor features a grand master suite with vaulted ceilings and a wall of windows, letting in lots of natural light. If you are a morning person, you'll love this design.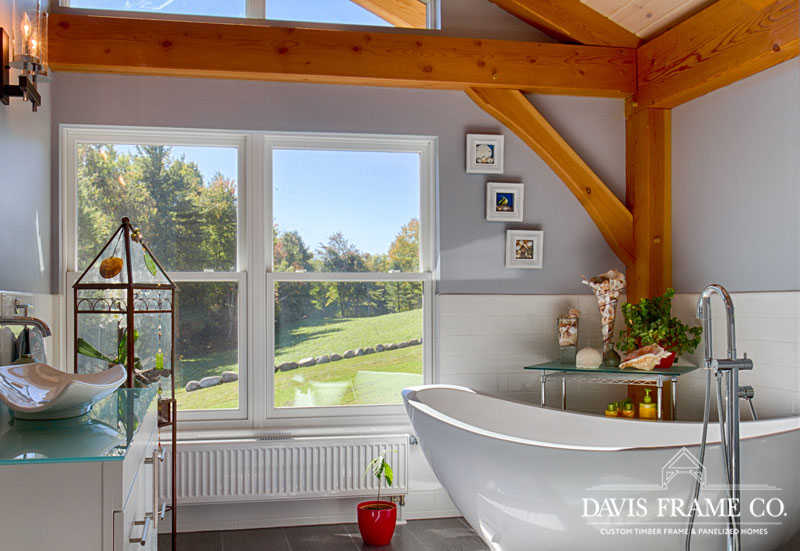 The luxurious master bathroom features a soaking tub with the wall of windows continuing on into this space, perfect for relaxing after a long day and taking in the gorgeous views of the rolling hills.
Also on the second floor is a guest bedroom, bathroom, as well as a loft space that is used as the homeowner's personal library.
Finished Basement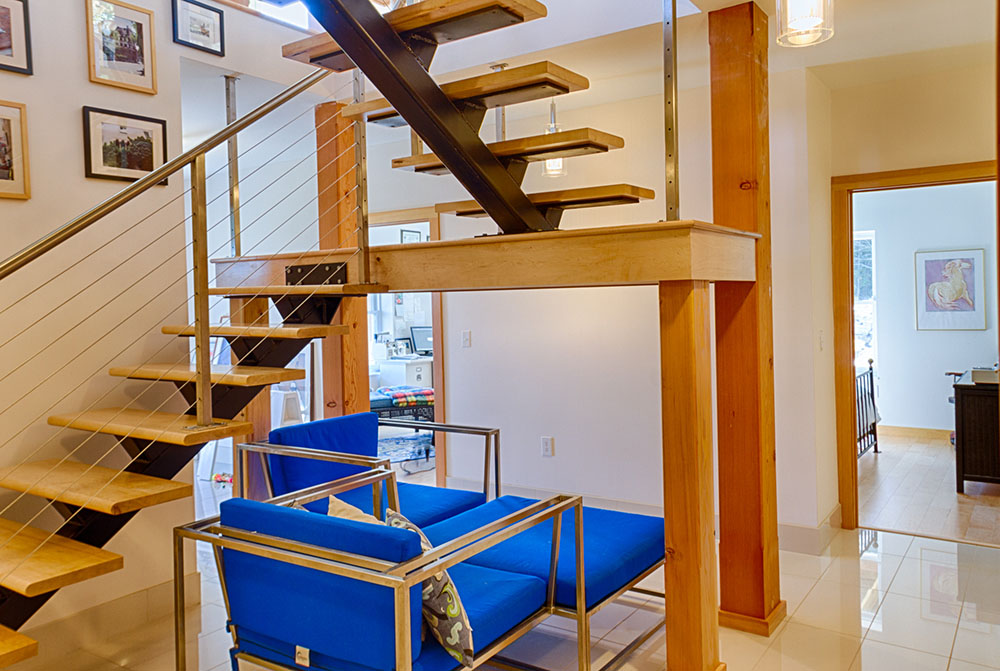 This home also features a walk-out basement that expands the living space. Plus, the way the clients finished this space, it certainly doesn't feel like a basement! Located in the basement are two guest bedrooms, a bathroom, and office space for both of the homeowners.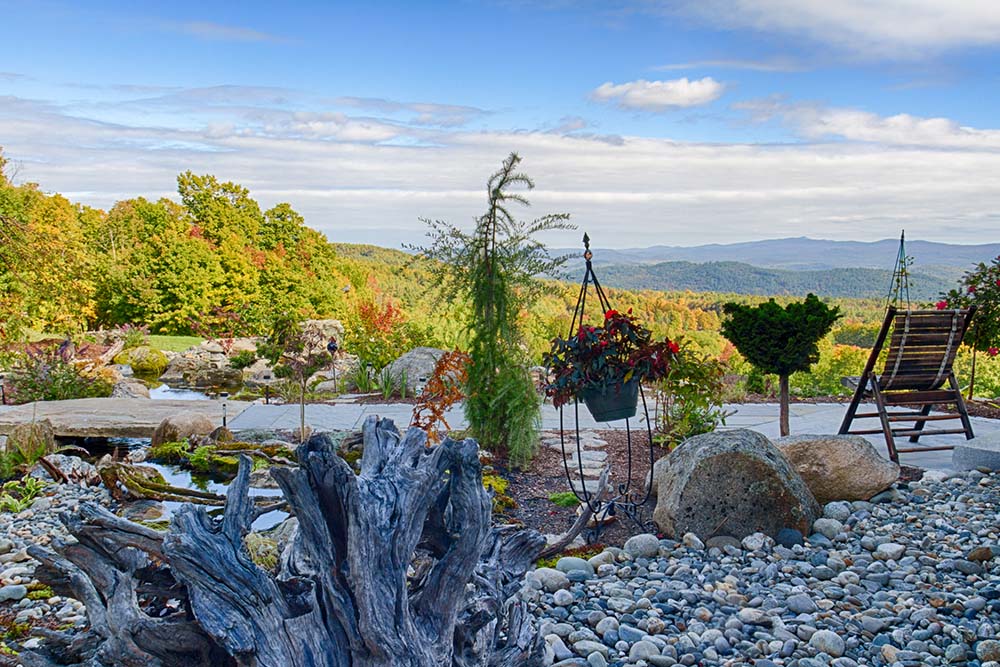 Catch a glimpse of the beautiful valley by walking out onto the stone patio leading out from the basement. The views from this home are breathtaking and probably one of the best I've seen over the years.
Interested in learning more about our home building options? Call us today at 800.636.0993 and speak with one of our project coordinators!