Say goodbye to rustic timber frame homes from days gone by and hello to twenty-first-century timber frame homes! That's right – now timber frame construction does not automatically equal a rustic outcome that looks like it came out of the 1980s. Instead, the timber frame business has entered the 21st century, evolving and modernizing the timber frame product. Because of the versatility of timber frames, the results go from rustic and traditional to ultra-modern. The possibilities for timber frame modernization are endless – let's take a look.
What is a Timber Frame Home?
So what is a timber frame home? They are beautiful, energy-efficient homes that feature warm exposed wooden beams. These exposed beams or timbers are designed to be the structural integrity of the home but also serve as nice visual accents. In fact, conventionally built homes will oftentimes incorporate decorative, not structural, timbers to create a pop of wood in the home. Often the beauty of the wood draws people into wanting to build a Davis Frame Home. Sounds nice, right?
Natural wood accents are nice, but some people like the idea of timber frame but think too much wood is too rustic. Others label a timber frame as a log home. However, we like to think of timber framing as a more versatile and a less rustic option to a log home. And how much wood you add, is really up to you!
Modernizing Timber Frame
There is a perspective that timber framing and its beautiful natural characteristics are only suited for the countryside, mountain, or rustic lakeside homes. Right? Well, that perception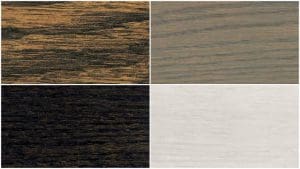 couldn't be any more wrong! Timber frame homes can be modern, traditional, luxurious, industrial, shabby chic, or rustic. We craft timber frames in the country, in urban areas, on lakes, and in the mountains. We can design and craft your home with an elaborate timber frame system or one that features minimal timbers used only as accents.
Want a more industrial look? We recommend going with glulaminated timbers and/or adding black steel accents to the timbers. Not sure you like the look of the natural wood? Stain your timbers black, gray, espresso, or whitewash. Paint or stain the tongue and groove decking that is painted, stained, or leave the natural wood. Don't like the wood accent on the ceiling? Sheetrock is always an option! Any or all of these ideas contribute to modernizing a timber frame home.
Timber Frame Photo Examples

Examples of stained timbers.
As you can see, there are many design options to consider when building a timber frame home. We can help you design a home that is as modern or as rustic as you would like. We will get you started and your finishing touches will finish your home in just the style you want. Let us help you to find your perfect style.
Check out a range of examples of timber frame homes we've worked on, many of which have a more modern timber frame look. Remember, twenty-first century timber frame homes are not your grandfather's log cabin!

Black painted timbers for a mountain modern timber frame home in Vermont.

This mountain modern Vermont home has a lot of natural wood, but designed with clean lines, no chamfered edge and also features steel brackets giving it a more modern vibe.

Modern timber frame studio. Although the timber frame is natural, the decorative accents and timber design give it a modern flare. 
Check back often as we have many new timber frame home projects on the horizon that will feature stained timbers.
We would love to learn more about your new home project and encourage you to call us at 800.636.0993 to brainstorm your new home ideas. Whether you are looking for an elaborate timber frame, minimal timber frame, or no timber frame, we can help!