Over the past several months we have seen increased interest in smaller timber frame floor plans, especially plans designed by MossCreek. Who is MossCreek? They are an independent residential design firm that specializes in rustic American craftsman style home designs. They also now offer several modern home designs too. While we at Davis Frame have designed hundreds of timber frame homes, our partnership with MossCreek allows us to expand our offerings for pre-designed floor plans. The MossCreek plans can be constructed as a timber frame or panelized home and the designs feature unique architectural details that distinguish these homes from all others.
MossCreek Floor Plans Under 2,000 Square Feet
Oak Carriage House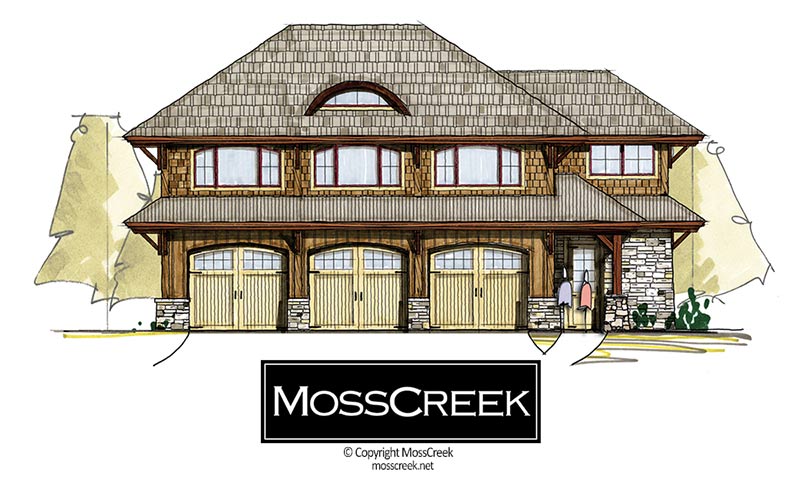 Carriage houses, featuring a garage with living space above, have become quite popular of late. Its a great option for homeowners who frequently host overnight guests. Some homebuilders choose to start with a carriage house and live in it while the primary house is being built. Once both are done, the living quarters within the carriage house makes a perfect space for guests. The Elm Carriage House by MossCreek (rendering above and floor plan below) is a great example of a carriage house. It offers a stunning design that can certainly serve as a small yet beautiful primary residence.

The lower level garage is designed for 3 spaces or garage bays. There is a separate door leading into the foyer that leads to the upstairs living space. The upstairs footprint is small, at 864 SF, but the living room, dining area, and kitchen are all open, making the space feel larger. There are two small bedrooms, one with a connecting bathroom. This living space is perfect for a weekend getaway or, ultimately, as a guesthouse. The floor plan can also be modified from 2 bedrooms to one larger bedroom suite. There are many possibilities for customization of the Elm Carriage House to meet your needs!
The Fiddle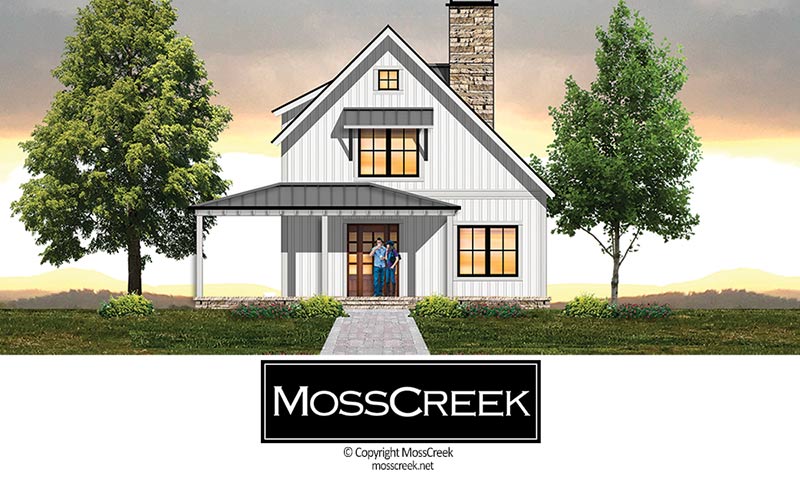 The Fiddle (above and below) is another great MossCreek floor plan that is space-efficient (1,240 square feet). It feels larger than it is because of its open floor plan. In fact, this design, with its carefully thought out layout and modern architecture with white vertical siding and black windows, has garnered a great deal of increased interest lately.
The plan includes an open concept kitchen, dining room, and great room on the first floor. The first floor also includes a bedroom and full bathroom. The second floor features a spacious master bedroom, bathroom, and a loft area that opens up to the below space and can be used in many ways.
The 3-sided wrap-around porch is another great part of this plan, extending the living space to the outdoors – perfect for the warmer months.
The Concertina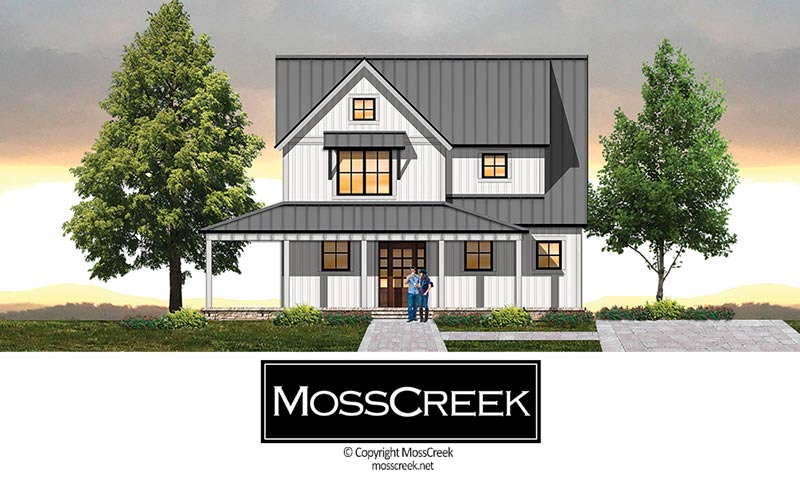 The Concertina (shown above and below) is perhaps my favorite plan by MossCreek. I love how it offers a smaller footprint at 1,630 SF but feels so much larger because of its open floor plan. Bedrooms are generous in size and a family of 4 can certainly be accommodated. The architecture is simple yet elegant. It can be built as-s with its clean exterior lines or the exterior finishes can be modified to be more rustic, like its twin plan the Cumberland Trace by MossCreek. A wrap-around porch is also included in this plan extending the living space to the outdoors. The Concertina also shows a fireplace on the porch, which is a very cool feature to consider adding.

The first floor offers a nice layout with the kitchen, dining room, and great room flowing to one another. The space can easily accommodate large holiday gatherings. Off the great room is the spacious master suite. The bathroom is large enough to include a walk-in shower and a full bathtub. A half bathroom is also on this level for guests, keeping the master bathroom space private for the homeowners.
The second floor features two decent sized bedrooms and a shared bathroom.
If you would like to learn more about Davis Frame Company and the MossCreek designs, call us today at 800.636.0993!