With each year trends shift in house plans and designs. Through the years, we have seen increased popularity in certain timber frame home floor plan styles and decreased interest in other styles. Topping the list nearly every year though are our timeless Classic Barn and Classic Homestead barn home floor plans. But in 2021 these popular barn home floor plans got knocked down a peg (get it, peg?). For the first time in years, we have a new list of floor plans that have emerged as top sellers! Check out our most inquired about floor plans for 2021 below.
The Lakeland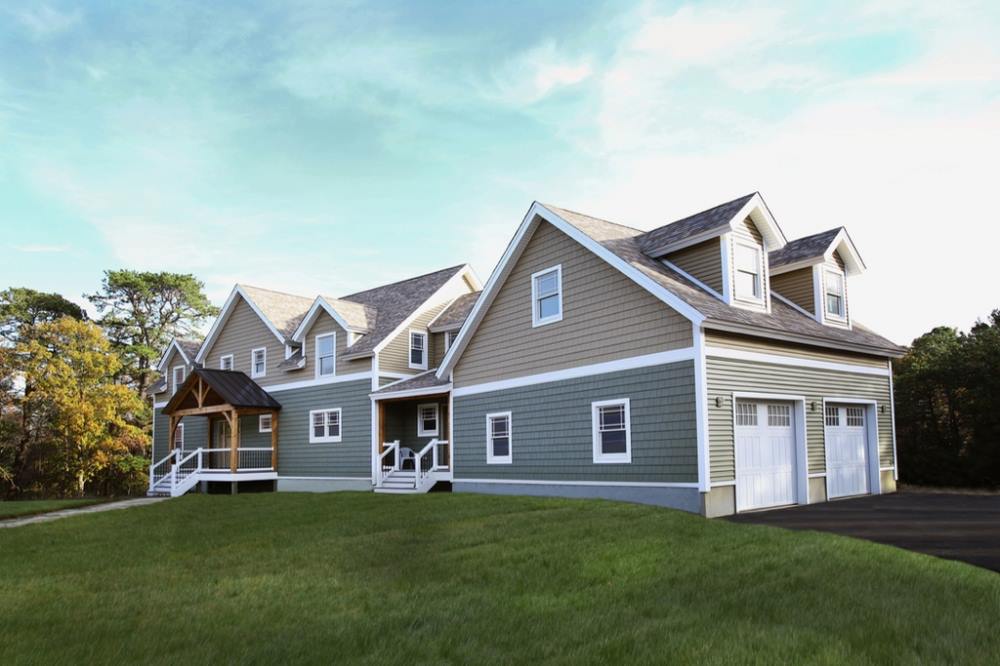 This Lakeland timber frame home shown above features a different garage layout than the plan showcased below.
Originally designed as a lakeside retreat, this timber frame floor plan offers a comfortable layout and is a perfect plan for a primary home or vacation home. The Lakeland is a great timber frame home plan to consider if you are looking for a 3,000 square foot home.

The first floor of this floor plan has an open concept living with a spacious 20'x26′ great room that flows into the kitchen and dining area. This floor plan offers the ideal entertaining space to host a gathering! The great room features a wall of windows capturing a view of the outdoors. The master suite is also on the first floor, a common request. The space features a spacious walk-in closet and master bathroom. A mudroom is a must have in New England. This plan nicely incorporates the mudroom with laundry, pantry, and bathroom included in the space. Having an area like this is perfect for visitors and will help keep your main living space tidy (shoes off at the door)!
The second floor features plenty of space for your children and/or guests with three bedrooms and a shared bathroom. Also on this level is an office, but this flex space could be anything – a bathroom, playroom, den? The choice is yours!
The Dash Landing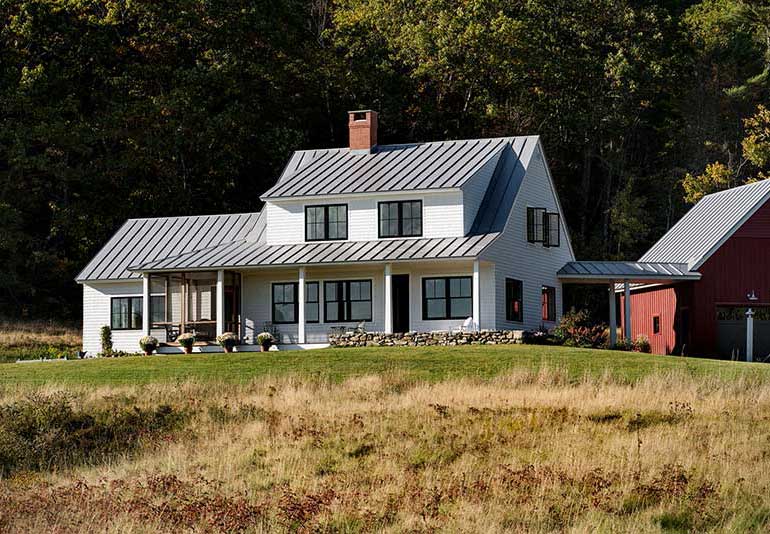 The Dash Landing modern farmhouse, drawn by New England-based Whitten Architects, has become a very popular timber frame floor plan. In fact, we've received dozens of inquiries for this gorgeous modern farmhouse floor plan. And the popularity is understandable — the design comes in at just under 2,500 SF, not too big or too small. It has simple and clean lines, modernizing the usual farmhouse to crisp, contemporary standards.

The first floor features a nice functional entry and mudroom, perfect for snowy and muddy boots with plenty of room to hang coats and more. A powder room and laundry area are on one side of the mudroom and straight ahead of the entry space is a nice spacious kitchen equipped with an island and a walk-in pantry. Walk-in pantries are in high demand these days as they are ideal for non-perishable food and provide storage for miscellaneous kitchen items such as mixers, blenders, and entertaining serve ware that's not in daily use. Also, with pantry-loading a significant outcome of our current pandemic, who hasn't wished for a sizable pantry to store extra food and paper goods? It's a must have! The dining room flows openly off the kitchen, allowing for easy entertaining, and then continues into the living room.
The first floor also features a corridor separating the spacious master suite and office. Located off the office is a nice-sized screened-in porch. Mosquitoes are quite a problem now in New England during the summer months and screened-in porches are the new must-have amenity for enjoying the outdoors, bug free.
The second floor includes two good-sized bedrooms and a shared bathroom. The bedrooms incorporate shed dormers on the exterior, expanding the interior living space and functionality of this 1.5 story design.
Check out the Dash Landing Farmhouse photo gallery!
The Fiddle by MossCreek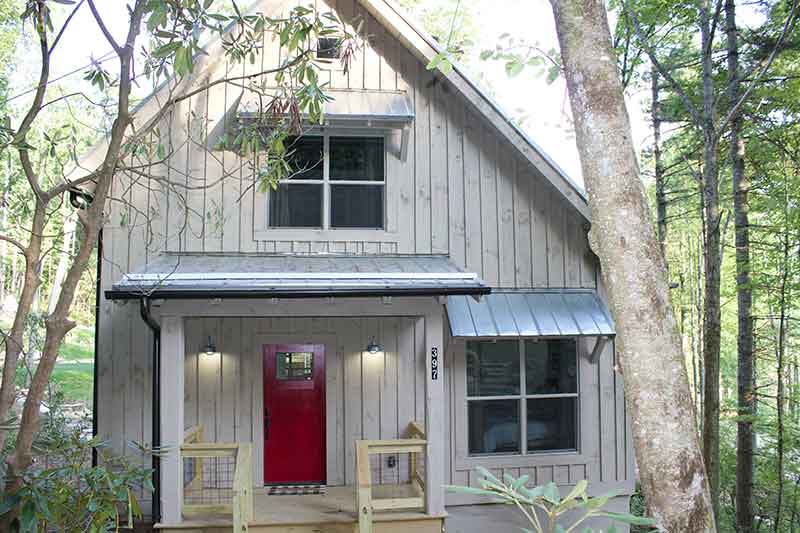 MossCreek Fiddle house pictured above. Photo credit: MossCreek
While we haven't built a MossCreek Fiddle yet, this floor plan has been a wildly popular choice over the past year. It has a cute and compact floor plan, which is likely a huge draw. The Fiddle Farmhouse by MossCreek is a re-imagined version of the farmhouses of the 1800s. Minimalist modern elements combine nicely with a historic farmhouse massing.

Even though its smaller footprint only comes in at 1,240 square feet, its open floor plan with the kitchen, dining room, and great room open to one another, it lives much larger. A bedroom and full bathroom are also located on the first floor. The stairs to the second floor lead to a master bedroom with a walk-in bathroom on one side and a decent-sized loft space (great for a play area or home office) that opens up to below on the other side.
Is this small MossCreek floor plan drawing you in? Be the first Davis Frame client to build it!
Visit our floor plans section to gather more ideas for your new home! Interested in talking to us? Call 800.636.0993!