Check out this mountain modern ski home in Vermont! Back in 2016, Davis Frame Company worked with Architect Austin Design on this unique project. Austin Design worked on the architectural design and floor plans of the home and brought us on board to assist with the structural shell of the home. To go with the modern vibe of the architectural design, we used glue-laminated beams on the roof that were painted black which were designed to be exposed in the home. Davis Frame also prefabricated the 2x wall panels which allowed the home's structure to go up much faster when compared to on-site stick frame construction.
The First Floor
Austin Design designed a 7,000 + square mountain modern ski house using exposed wooden beams, glue-laminated in particular for strength and for a modern look. Upon entering the home your vision directs you to an expansive open concept main living space featuring the living room, dining room, and kitchen. To the right of this space are a media room and a spacious master suite. Also on this level is laundry space and a large ski room where the family can hang their snow gear and ski helmets. The ski room is also accessible from the garage.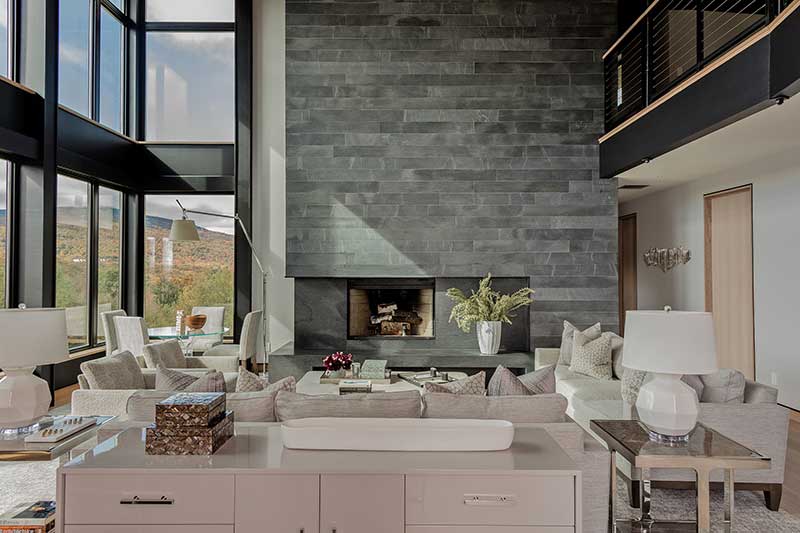 A view of the modern designed fireplace and a gorgeous wall of windows in this great room.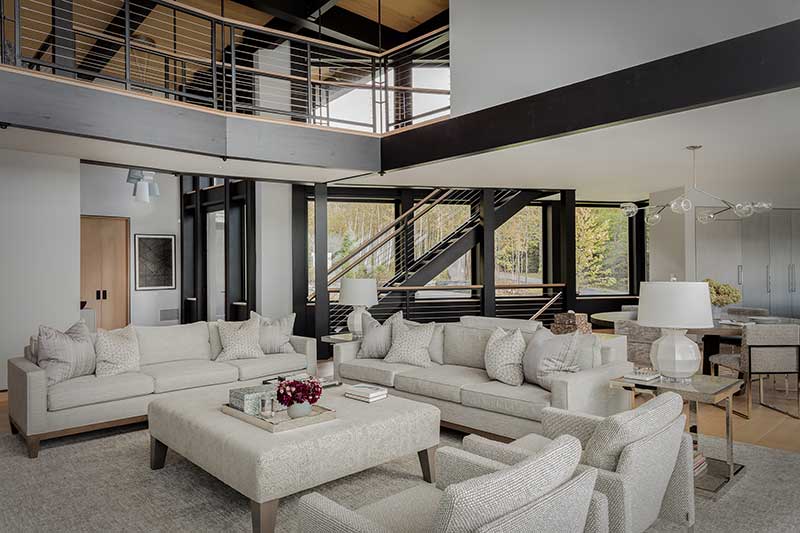 Another view of the great room, looking into the dining room. A glimpse of the second-floor loft can also be seen, and the beautiful exposed black-painted glue-laminated beams.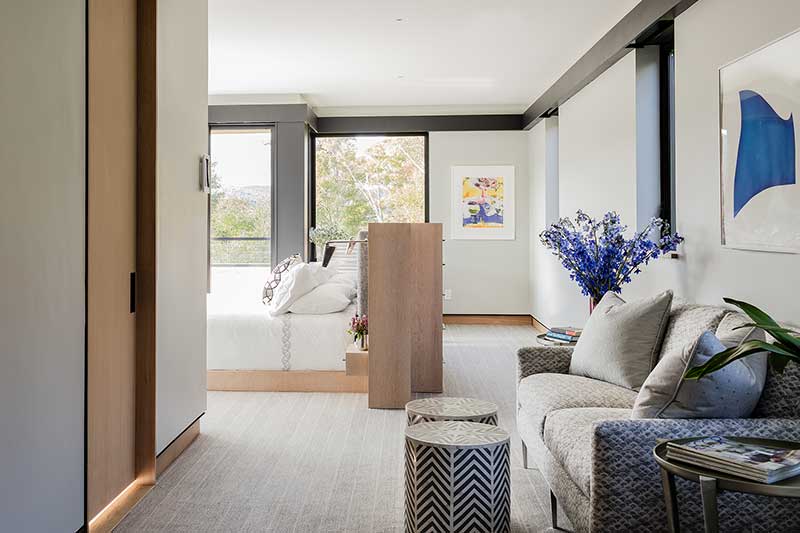 A view of the master suite.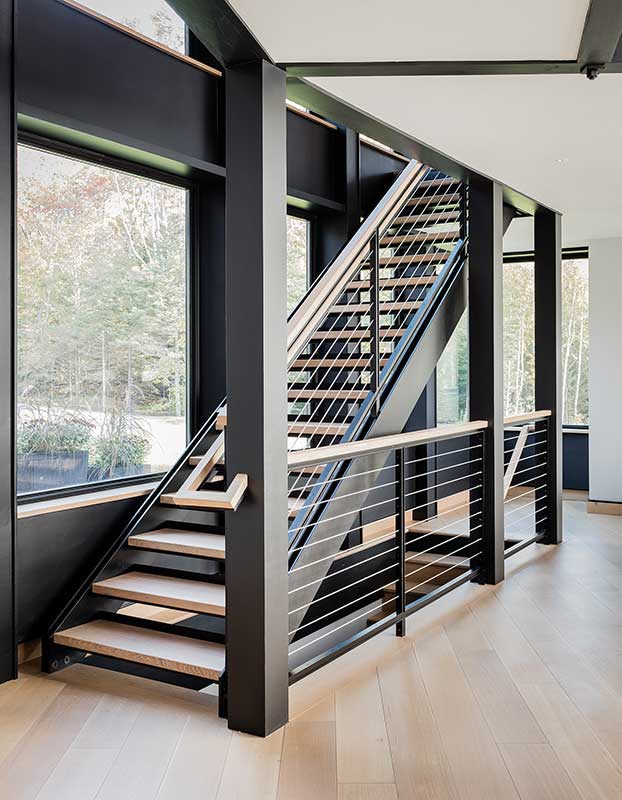 The modern designed stairs leading up to the second floor.
The Second Floor
The second level features 4 bedrooms for their family's children. Upon walking the stairs you will see there are two bedrooms and a bathroom to the right and two bedrooms and a bathroom to the left. A loft space also opens up to the main level and the beauty of the exposed black-painted glue-laminated beams can be seen.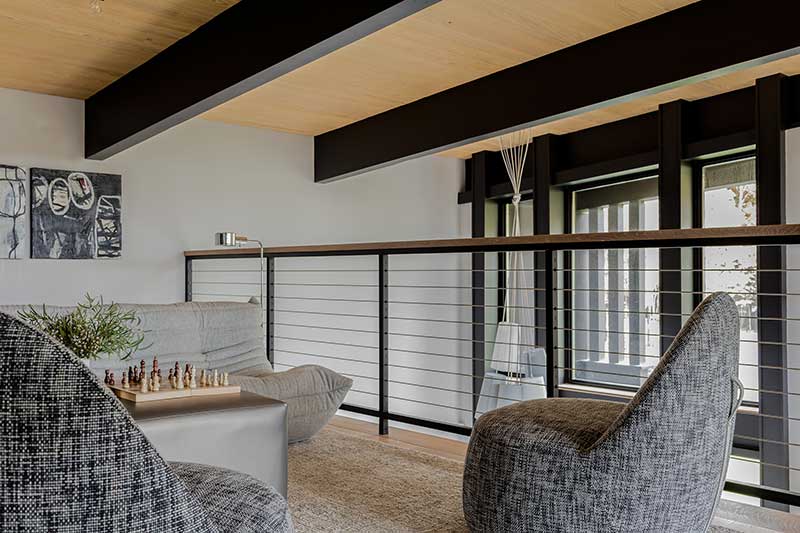 The view from the loft looks out through the wall of windows. The black-painted beams add to the modern vibe of this home.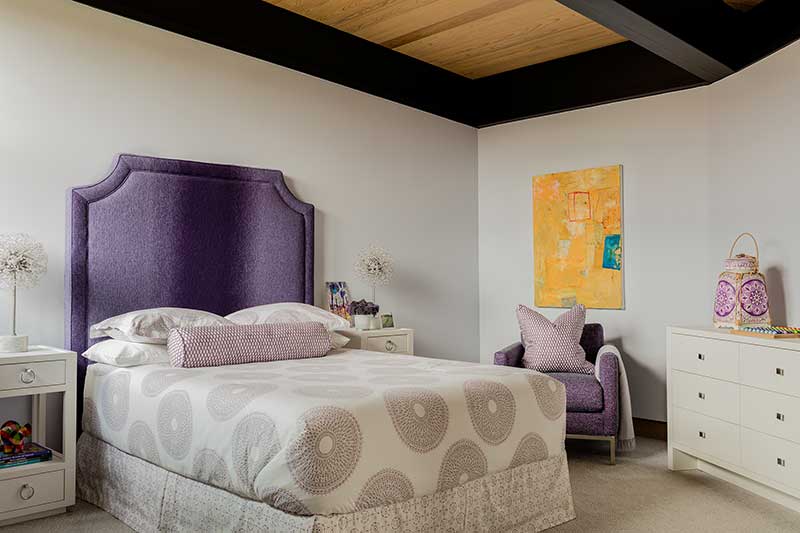 Here is a view of one of the 4 bedrooms on the second floor.
The Finished Walkout Basement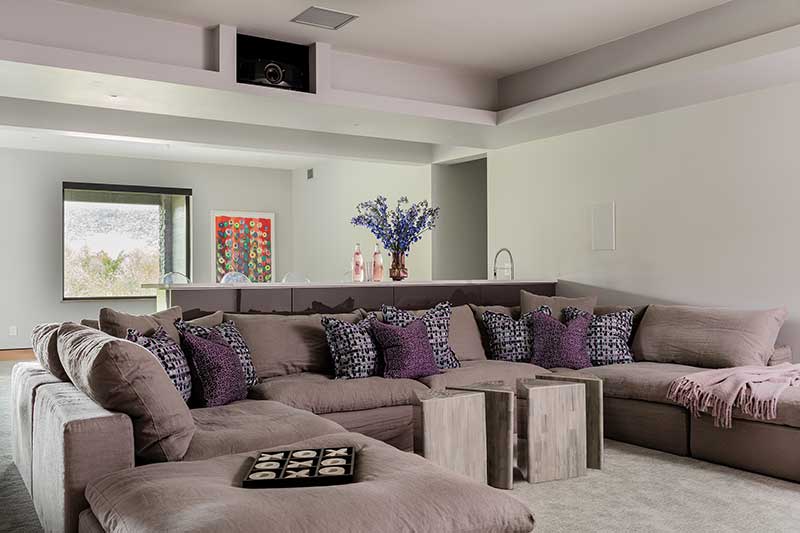 A bonus to this floor plan is a walkout finished basement. This space hots a game room and a home theater, perfect for enjoying the evening with friends and family socializing. A guest suite, a sauna, and a hot tub are located on the lower level. The lower level also hosts space off to the right where the family stores their snowmobiles.
Also featured outdoors is a fire pit, where toasted marshmallows and a warm fire can be enjoyed. This family ski home is the perfect place to enjoy all four seasons, especially winter!
Are you looking to build a mountain modern home using timber frame or prefab walls?? Call us today at 800.636.0993!