Some of the wood in Leanne Smith's timber frame, off-grid timber frame home in Sisters, Oregon has a unique story.
"That's my uncle's barn that blew down," says Smith referring to the century-old Douglas fir in her kitchen cabinets, living room floor, foyer ceiling and fireplace mantel.
The 2,900 square foot home, chosen as "This Week's Green House," used other recycled materials, such as stainless steel with a shimmery patina for a kitchen countertop.
Its greenest feature may just be its 27 rooftop solar panels which provide all of its power. Since the house, on 27 acres, was so far from public utilities, Smith decided to go off-grid. The 5.1 kilowatt system cost $54,000 before tax credits and about $24,000 after them.
We're demonstrating to people that even though we're off-grid, we don't live in a closet," she says, citing the home's openness and modern amenities.
Smith, a retired Department of Energy chemist, and her husband Doug, a former DOE nuclear engineer, are now Oregon representatives for Davis Frame Co., a New Hampshire company that provided the home's timber frame and exterior shell package.
Davis Frame began making timber frame homes in 1987 by hand in a converted dairy barn. In 1997, the company moved to a bigger, mechanized facility in Claremont, New Hampshire.
"Timber frame is an age-old craft," says Jeff Davis, company president, describing the exposed natural beams and traditional wooden joinery.
Davis says his homes are not only beautiful but also energy efficient, because he combines timber frames with structural insulated panels or SIPS. Together they provide an envelope that's at least twice as efficient as most homes. The walls have an insulating value of R26 and the roof, R40.
Smith says her home has additional layers, including air space, that provide more insulation. Its exterior arrived in panels on a flat bed truck.
"It went up very fast," she recalls. The interior finish work took another four months and the house was completed on Halloween Day in 2008.
Davis timber frame homes don't come cheap. Jeff says they're mostly custom and the exterior shell, which he sells throughout the United States,. The cost is $60 to $70 per square foot. Once the homes are completely finished, they typically cost between $250 to $300 per square foot, not including site and land costs.
Smith estimates her off-grid timber frame home cost $640,000, including the solar array and the road they built, but she says its zero energy bills and its lovely finishes are worth every penny.
"You should see the Travertine floors against the Douglas fir. You need heart medicine," she gushes.
Her house also has in-floor solar heating, a cistern, low-flow plumbing fixtures, Energy Star appliances, efficient LED/CFL lighting and high-performance Eagle Windows by Anderson.
It has no air conditioning. "We don't need it," she says, adding that its SIPS panels keep the heat out in the summer.
Their home won the platinum certification from Earth Advantage, a Portland-based nonprofit group that rates homes for eco-friendliness.
Smith says they lived in Colorado for many years but never plan to move again. "This is where we were born," she says. "This is home."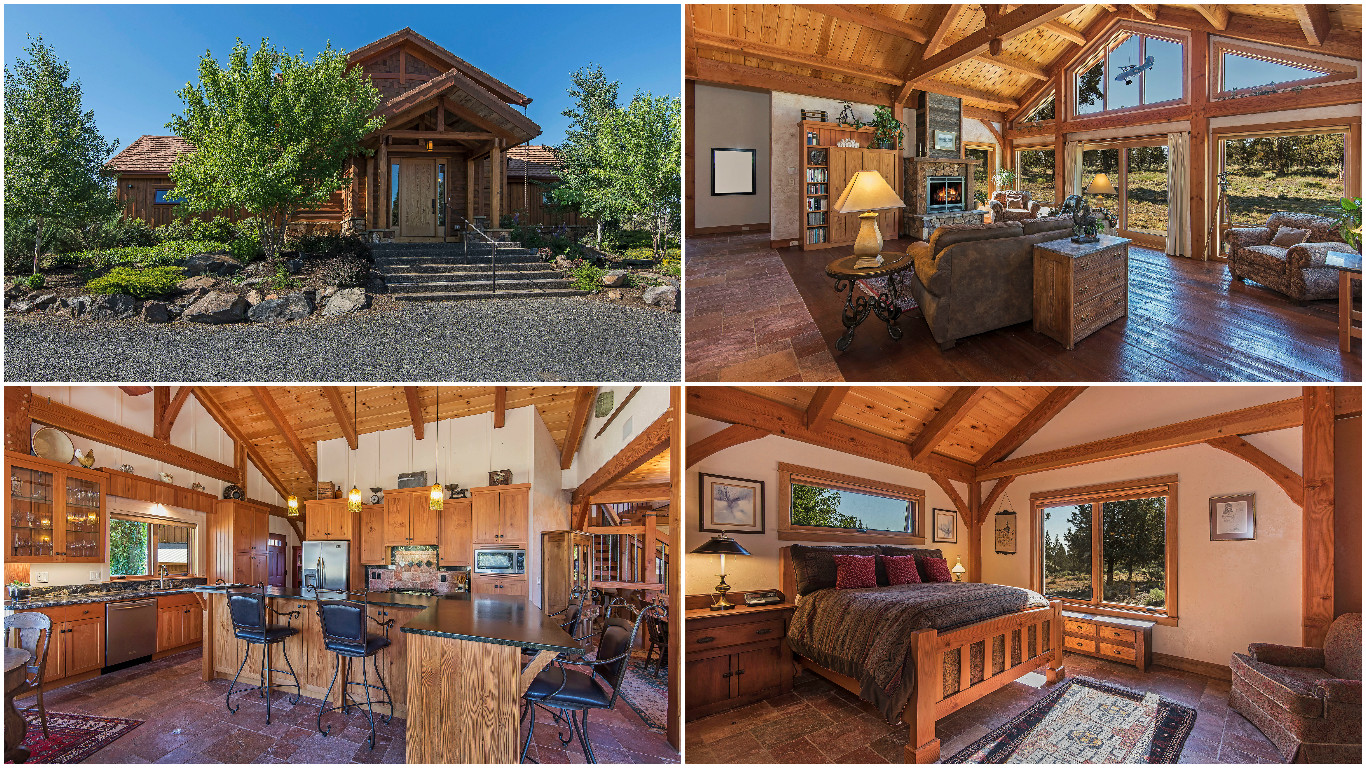 Interested in learning more about this off-grid timber frame home? Call us today at 800.636.0993!
Reprinted from: USA Today Online
Story by: Wendy Koch