Sheltering in place and social distancing is a reality for most of us around the country. I thought I might look at some of our favorite timber frame rooms where we all might want to take a shelter in place vacation! Maybe these unique and comfortable timber frame rooms will give you some cool ideas for your own new timber frame home.
Below are several of our favorites!
Expansive Mountainside Great Room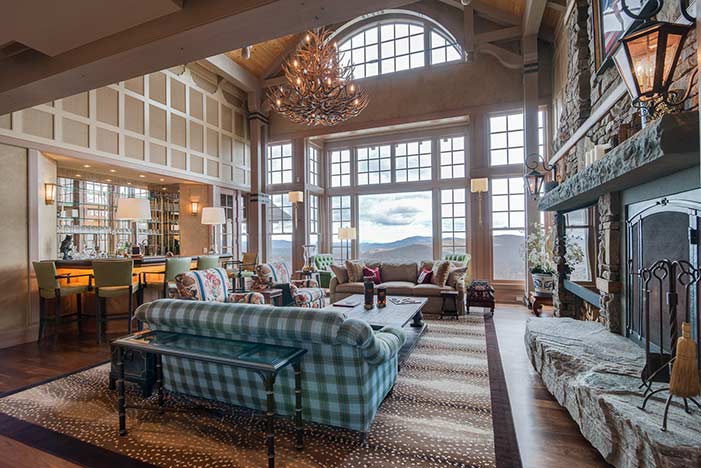 There is nothing like an expansive timber frame great room. Check this one out, showcased above. It features a picturesque wall of windows looking out on the green mountains. Also incorporated into this room is a minibar and a large stone fireplace. Start up a fire and enjoy the view and good company (hopefully you are isolated with your family!). I certainly wouldn't mind some social isolation in a timber frame great room like this.
Outdoor Living Space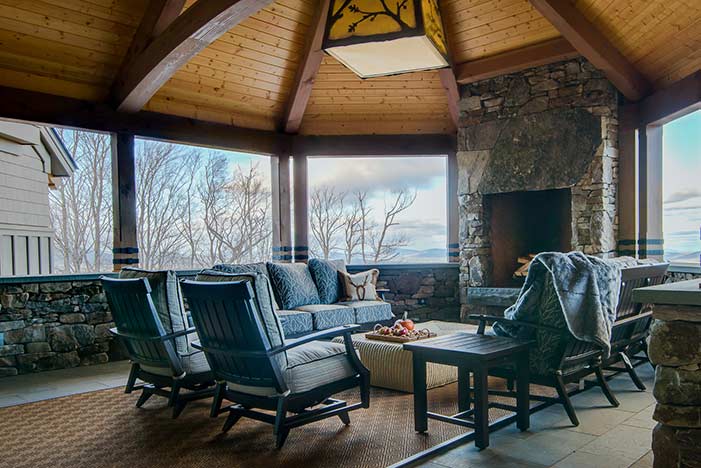 This outdoor room is part of the same house as above and is an extension of the main house. I love the outdoor fireplace! This is a great place to safely sit and enjoy the pretty views alongside a nice fire. Not a bad place to be in isolation, huh?
Crafting Room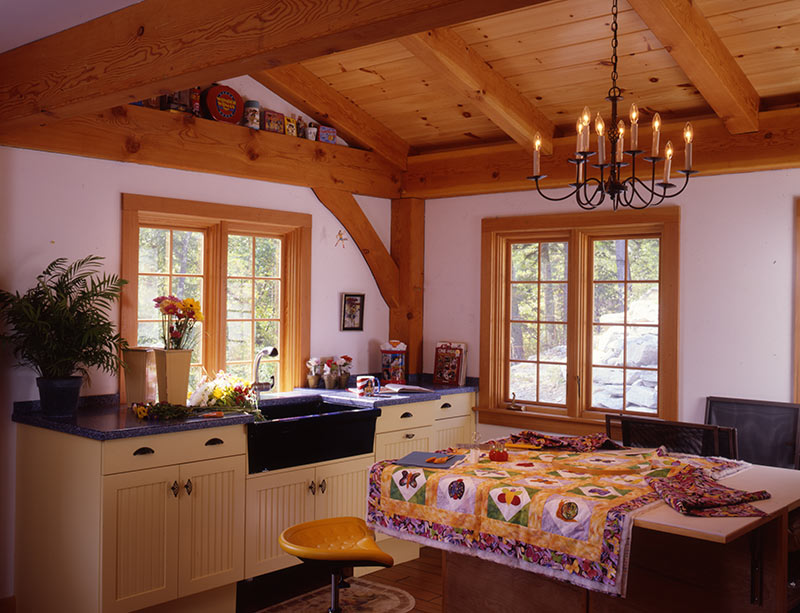 If you are crafty, this timber frame craft room is for you! This room was specifically designed for our "wonder woman" client. For all you crafty people out there, a sewing room like this could be just what you need and a great comfort in times like this. What a great place this would be to hunker down to make some cloth facemasks!
Bathroom with Soaking Tub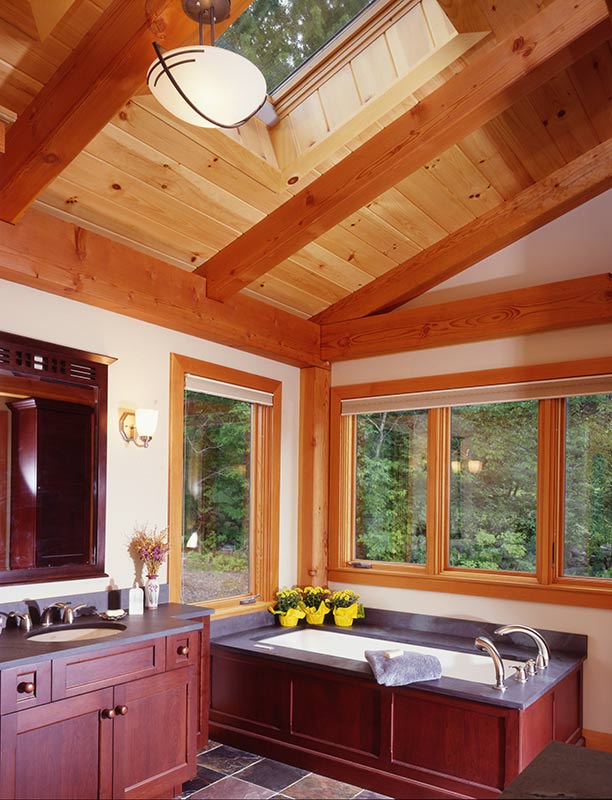 How about a nice bath? When you are stuck at home, one way to relax is to soak in the tub. It is a great way to take away the day's stresses. Most of our clients like to add a walk in shower as well as a bath to their master suites.
Play Loft for Kids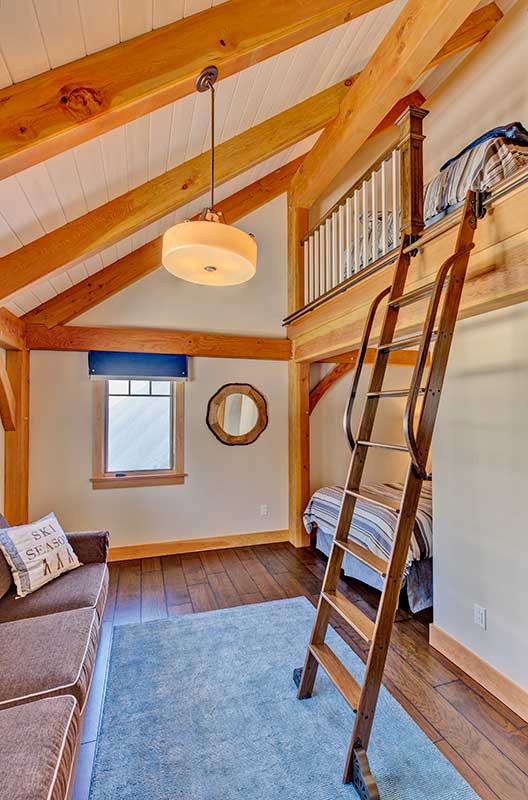 Unfortunately, kids are sheltering (and vacationing) in place too. While I, along with many of you I'm sure, love being home with my kids, maybe our kids aren't loving being home with us so much! Is there a kid in your life who would want to hide away in this timber frame bedroom with the accessible loft above? Heck, even as an adult I would love this! This loft space is a great place to add a beanbag or comfy chair for curling up and reading a good book. What a great space to escape to and enjoy alone time while being isolated at home with your family.
Gourmet Kitchen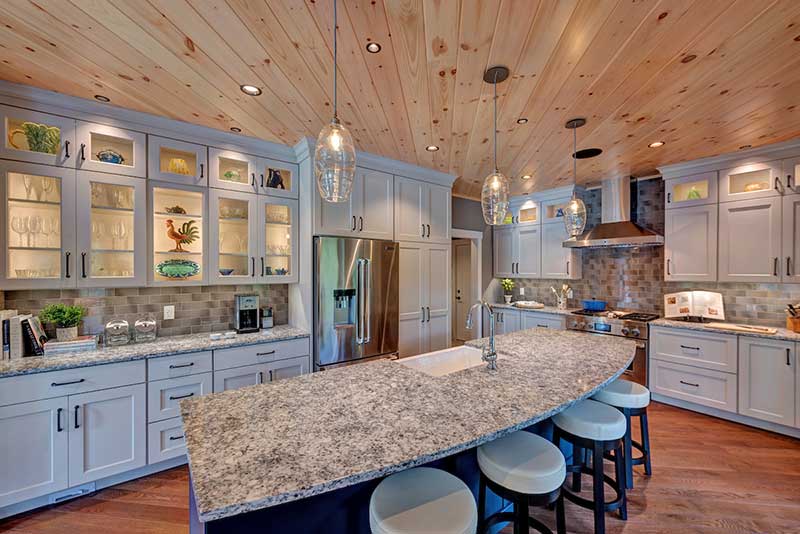 If you are an amateur chef or even a real chef, you may not mind being stuck home with a kitchen like this! This kitchen is large and offers tons of counter space so the whole family can easily help when cooking a feast. Or, if your family is like mine, they can sit at the large island and keep you company while you prepare the feast. Who needs takeout with a gourmet kitchen like this?
Finished Basement Game Room
A finished basement like the one above is a great bonus area for sheltercationing. This lakeside timber frame retreat is the ultimate house for entertaining with a walkout basement with this amazing flex space, featuring a large bar and billiard table. Although you can't see it, just beyond the bar is a door that leads into a home theater. It's equipped with speakers to turn your binge watching up a notch!
How About a Slide?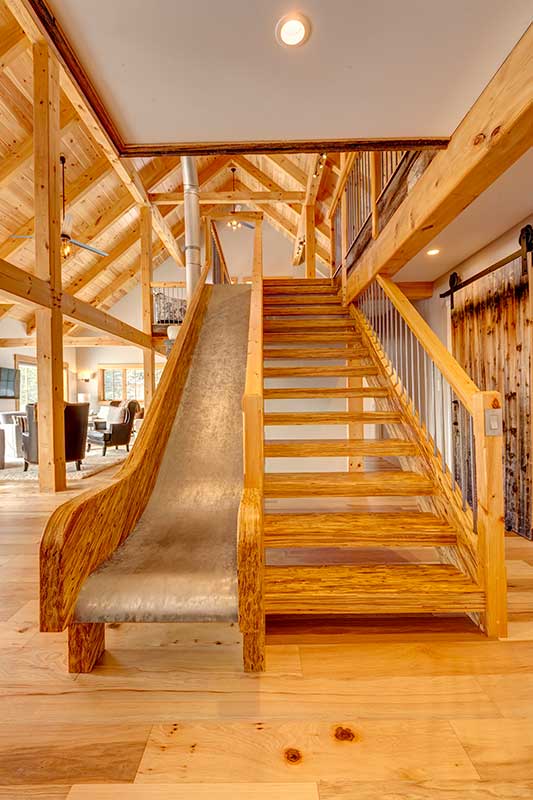 This is without a doubt the coolest photo from the Davis Frame timber frame home archives. Imagine being able to slide right from the upper floor loft to the main level to grab a snack in this beautiful barn home in Southern Vermont! Kids, and adults, won't get bored quickly with this internal feature! By the way, this slide photo has gone insanely viral, garnering thousands of views over the years.
Timber Frame Pavilion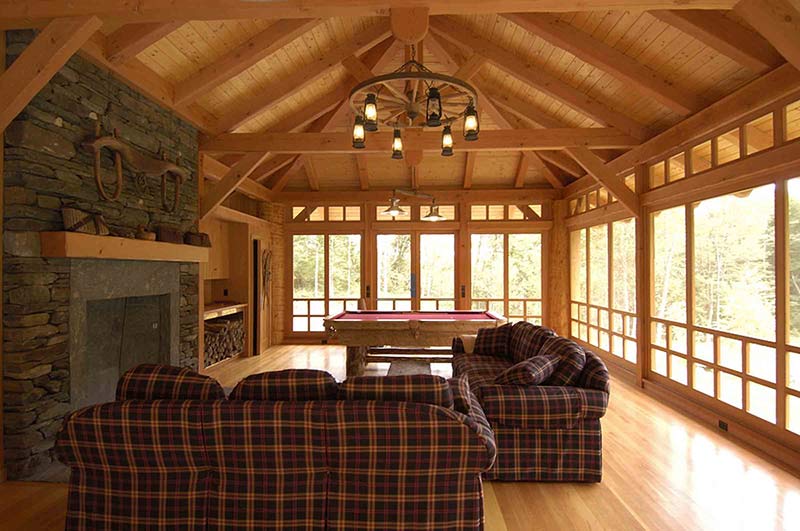 This timber frame pavilion was added as a bonus entertaining space and inspired by the traditional design of a Japanese timber frame tea house. When you walk down from the main house, you come across this cozy tea house. Its surrounded by a beautiful man-made pond and a stone deck with an outdoor kitchen. There is no need to leave the family compound when you have your own oasis like this. Start a fire or a barbeque, play a game of pool, or curl up with a good book. You won't even miss the outside world!
Timber Frame Barn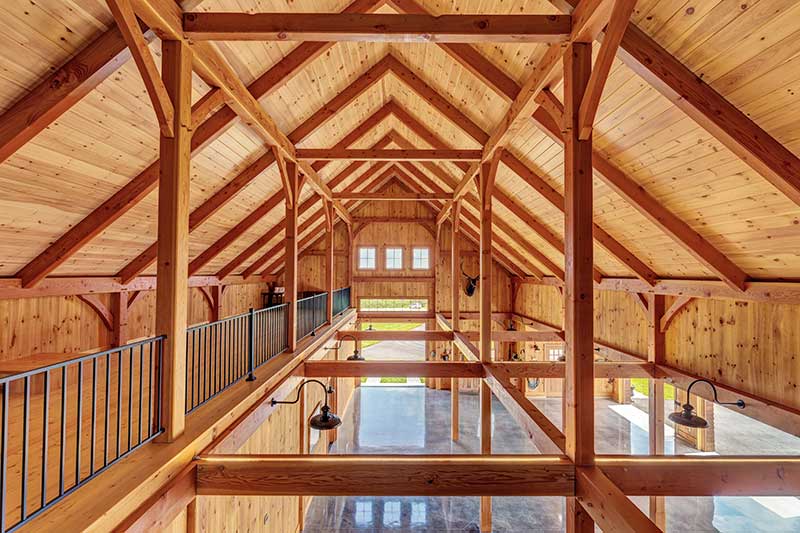 Now for an untraditional space that you may find welcoming in isolation. Do you like puttering around and tinkering with cars, or perhaps woodworking projects? Then a timber frame barn like this one could be a perfect addition to your home! It's sort of like a man cave on steroids. I know many men who like to "hang out" in their garage – this timber frame barn could be a perfect getaway during a pandemic.
Deck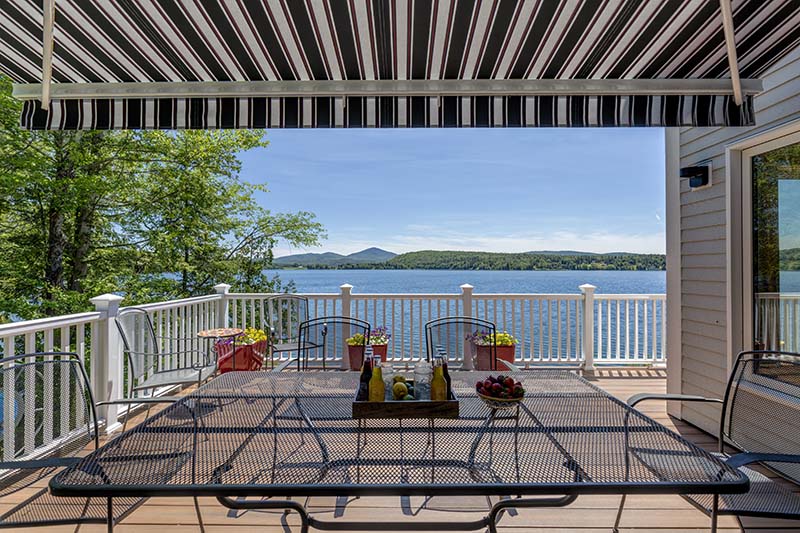 Ok, so this may not be room, per se, but I wanted to share this outdoor space because of the spectacular view. If you are building a new home with views of a lake or mountain, don't forget to plan your outside space! This beautiful hybrid timber frame home, located in the Northeast Kingdom of Vermont, is a perfect place to enjoy lunch and enjoy the beauty that the outdoors has to offer. If you are tired of being stuck in your house, get outside for fresh air and take in the view, especially in times like these.
Interested in speaking with us about your dream timber frame home? Call us at 800.636.0993 or send us a web inquiry. If you are reading this during the pandemic, please leave us a message and we will call you back. Our staff is still working remotely, but we will respond.