Is your house suddenly feeling empty? Now that the kids have flown the coop, does your house still meet your needs? Is it time to rethink your humble home—sans playroom and bunk beds? Now that the kids are raised and gone, maybe it's time to design your dream home, not necessarily bigger (though grandkids could be in your future), but certainly better! Many of our clients find it exciting to finally create an empty nester custom-designed timber frame home, incorporating design details they wish they had in their family abode.
There are a few things about our timber frame home designs that seem attractive to empty-nesters. One such characteristic is open concept living. Many older homes are cut up into small rooms, but timber frame homes are designed around open living spaces, saving on square footage. Another reason people are drawn to timber frame homes is because of their energy efficiency. These high-performance homes keep future costs of living down. And, of course, the main reason folks choose to build a Davis Frame timber frame home is that they love the look of the beautiful exposed wooden beams and vaulted ceiling. Not interested in our timber frame option? We also offer a prefabricated panelized wall system as a package option, as well as hybrid timber frame homes.
Planning Your New Empty Nester Timber Frame Home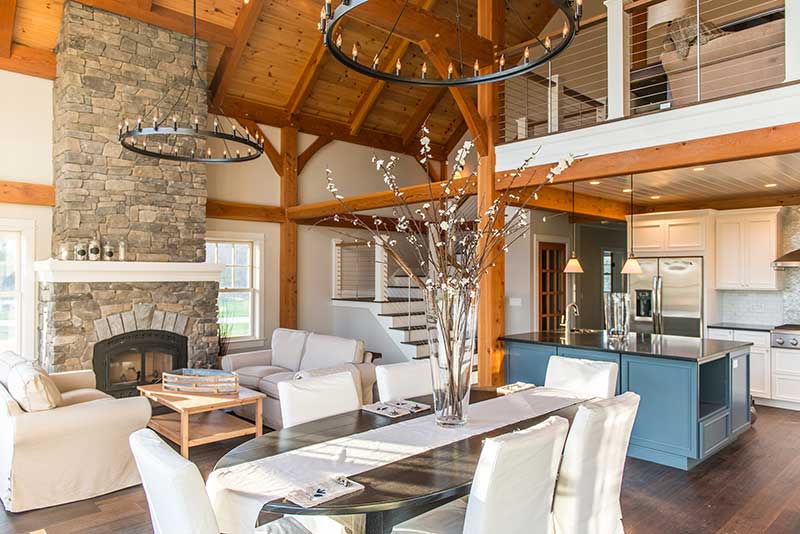 Ready to plan your new empty nester timber frame home? The first step is to determine how much space you need. Below are some questions to ask yourself:
What is your desired square footage?
One level living or two-story home?
Will there be longer visits with family and overnight guests?
How many bedrooms and bathrooms are desired?
Would you consider a finished walk-out basement for additional bedrooms?
Determining Square Feet

We find many of our empty nester floor plans are around 2,000 – 3,0000 square feet, although we've had some as small as 1,500 SF. You may think 3,000 SF is still a considerable amount of living space, but some of our empty-nester clients are downsizing from a 5,000+ SF home and typically have children and grandkids who live out of their area and visit occasionally. When it comes to determining square footage, we recommend thinking about how many visitors you get and how often. Also, consider how much you like to entertain and host gatherings.
One Level Living Vs. Two-Story
When it comes to one level living vs. a two-story timber frame design, it's split 50/50 for our empty nester market. One thing that most of these customers agree on is the first floor master suite location. In fact, most clients, regardless of age, plan a first-floor master suite, even if it is intended for future use. If you are interested in one-level living but like the look of a two-story home, we often design homes to look like a two-story home with steeper roofs, sometimes with only a loft on the upper floor.
Planning Bedrooms and Bathrooms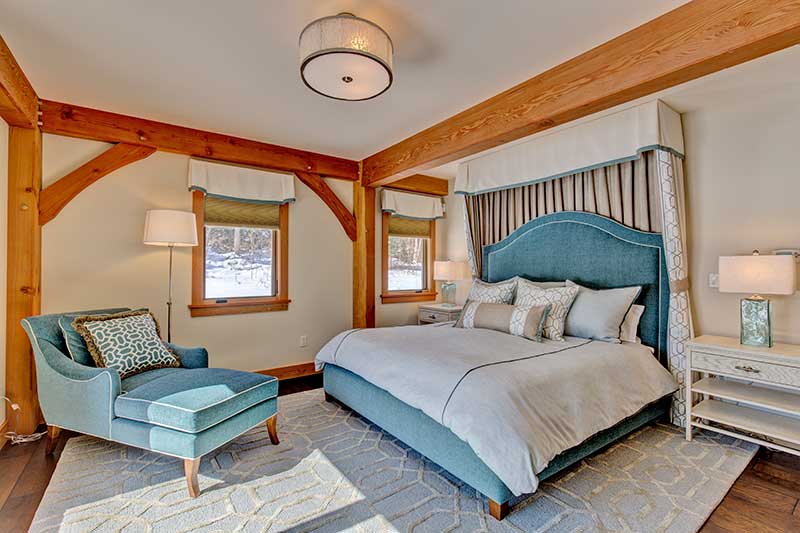 While many empty-nester homeowners need maybe 2 bedrooms, most of our clients plan 3 bedrooms for resale purposes. While planning a forever home, it is always wise to build a home that is appealing from a resale perspective as well.
Assuming a master suite on the first floor, most of our clients then add two guest bedrooms with a shared bathroom, either on the second level or in a finished basement. For those looking for one level living, it may make the most sense to put the guest bedrooms in the basement, as expanding the footprint to accommodate additional bedrooms could add a significant chunk to your overall cost to build. Also, keep in mind, you can plan for 3 bedrooms, but you can always use one bedroom for office or flex space.
Interested in seeing plan ideas for a new timber frame home? Check out the two plans below.
Sample Empty Nester Floor Plans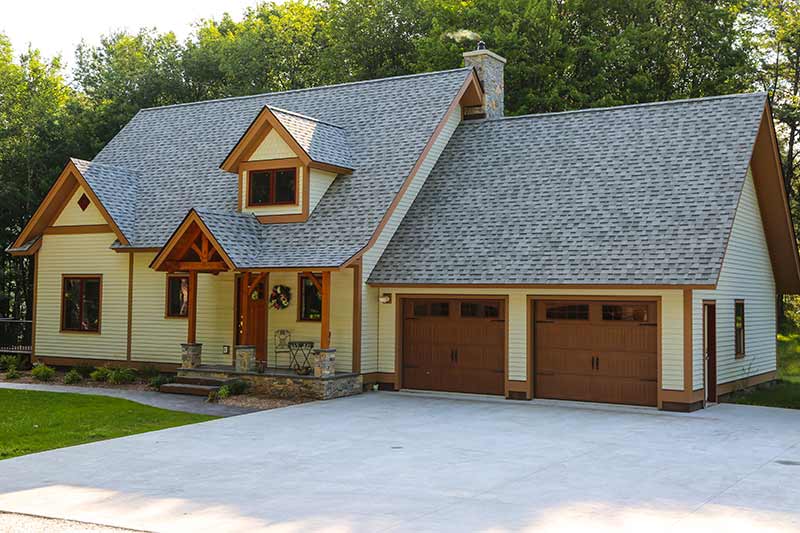 This Davis Frame custom-designed timber frame plan is actually called the "Empty Nester," with two variations. It features a cute craftsman-style look and a footprint of 28'X36′ and 1500 square feet. See the plan below.

The first floor features a spacious and open main living space. The great room, kitchen, and dining area all open to one another. An open floor plan helps a smaller home feel much larger. To the right of the main living area is the master bedroom with a bathroom across the hall. The second floor features a wide-open loft which can be bonus flex space or could be turned into two bedrooms in the future. This is a great plan for a single person or a couple. It still offers plenty of space to entertain and the potential to add future bedrooms if desired. As with most of our plans, this plan can also easily include a finished basement where additional bedrooms can be added.
One Level Timber Frame Home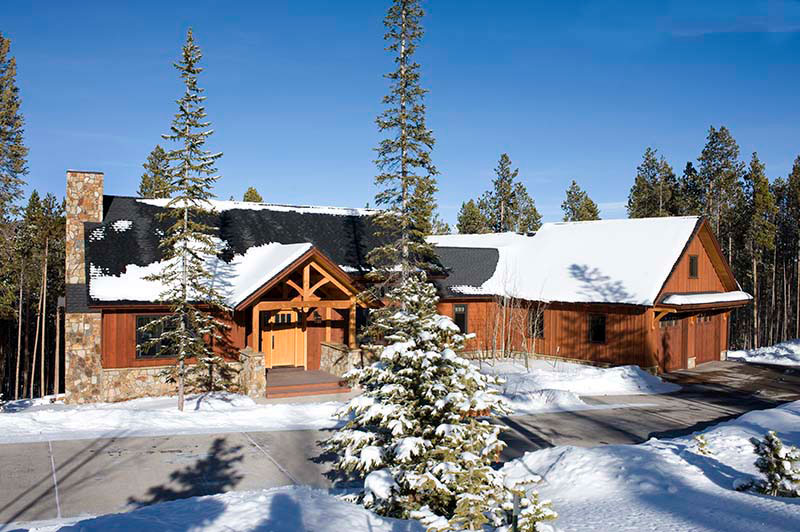 "The Breckenridge" is a one-level-living timber frame floor plan based on a timber frame home for empty nesters originally built in Breckenridge, Colorado. This timber frame model has a great floor plan for those looking for one level living.

The first floor features a nice, spacious open concept floor plan. The great room features plenty of space for entertaining. The master suite is in a separate area from the primary living area. The original owners of this timber frame home added a walkout finished basement equipped with two guest bedroom suites. There is also a large flex space, perfect for their adult kids and future families visiting.
Interested in speaking to us about building a new home? Call us today at 800.636.0993!