For most of our clients, the kitchen in their new timber frame home is one of their main focuses during the home design process. During the design phase, you will want to think about how you envision your new kitchen. Below are some important elements to consider for your
timber frame kitchen
.
1. Are you looking for a large gourmet kitchen for cooking and entertaining? Or are you looking for a modest and functional kitchen for every day cooking?
2. Where do you want to place the kitchen in your new home's floor plan? Are there views you want to take advantage of?
3. Do you want your kitchen to be open to the other main living areas of the home (great room and dining room) or do you want the kitchen to be separate?
4. Do you want to incorporate timbers into your kitchen design or keep it the design conventional?
5. Will the kitchen feature an eat-in area?
6. Are you looking to add an island for additional counter space and seating?
7. Do you want to add a walk-in pantry for extra storage?
All of the above are questions you may want to ask yourself. Most of us who choose to build a new home, only build once and its important to factor in all the different elements.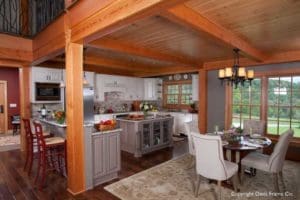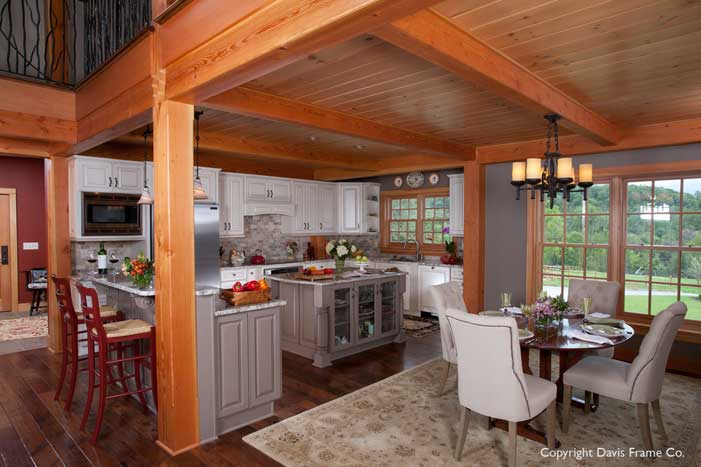 This timber frame kitchen features an open concept kitchen and dining room. The great room is also open to this space, making this the perfect setup for holiday entertaining. A center island increases storage space and is perfect for a food prep area.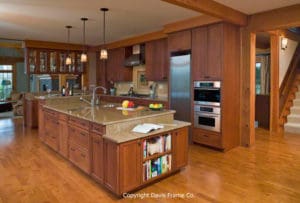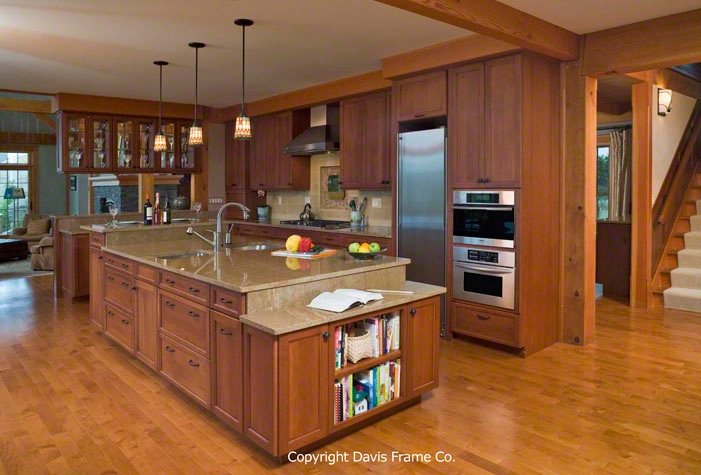 An island is added to this kitchen design to increase the counter and storage space. The kitchen is separated from the great room and dining room, however, it does feature an eat-in area not shown.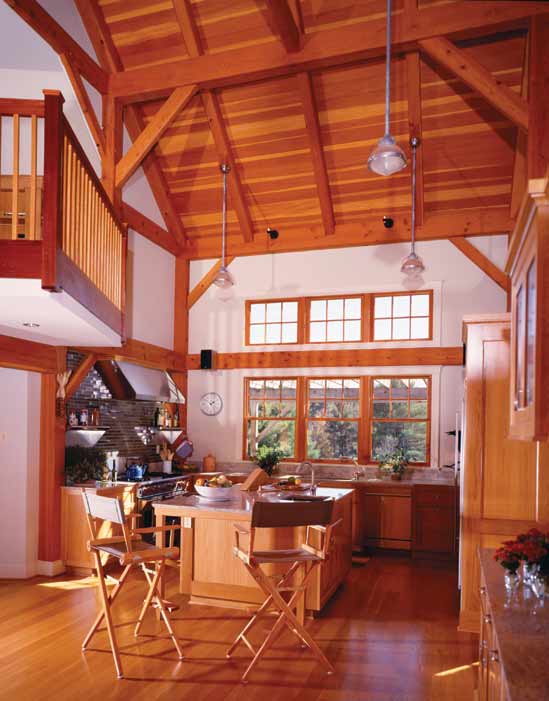 The hilltop timber frame kitchen features a cathedral ceiling and is fully timber framed. The kitchen was also designed to face the south to maximize natural light. This kitchen is also separate from the other main living areas of the home, however, the large doorways
Check out our timber frame kitchen photo gallery today for more ideas! Call us today at 1-800-636-0993 and we will send you a free brochure!