Are you planning to build a new timber frame home? Are you looking to design a unique kitchen that blends in – and stands out – in the open design and with the exposed beams? Over the years, we've worked with hundreds of clients on their new homes. Besides the great room, the timber frame kitchen is usually the next most important room for design considerations. Over the last few years, we've noticed a huge increase in demand for painted cabinets. Today's post showcases some of the most popular kitchen cabinet colors these days – white, gray, and natural wood – all unique yet also timeless kitchen options.
Classic White Kitchen Cabinets
Without a doubt, white cabinets in timber frame kitchens have been the most popular choice over the years. White cabinetry is a great choice to consider breaking up the monotony of exposed wood. White lightens up a space and makes the space feel bigger. It also gives the space a clean and modern look and feel. Many interior designers choose white due to its versatility and effortless simplicity. It's versatile with various decor styles and accent colors, which makes it a great option to consider.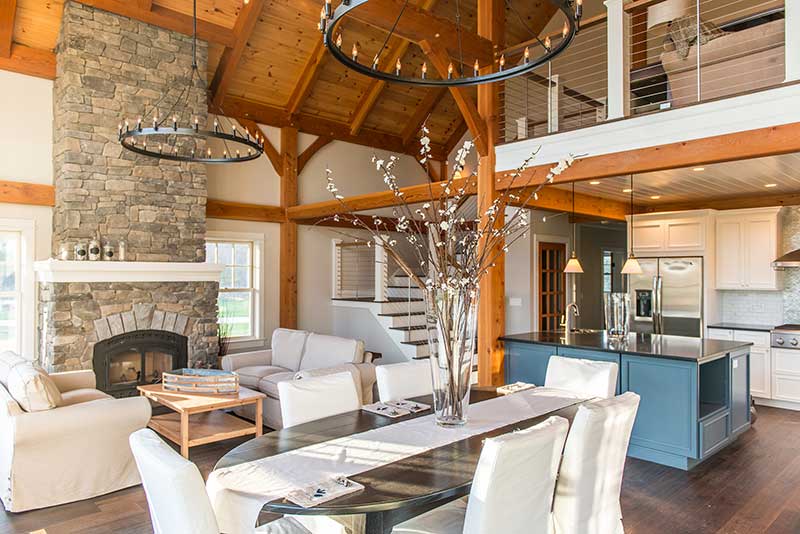 This is one of our favorite pictures! It's hard to get a full glimpse of the design, but you can see the white cabinetry blends nicely in this space. The pop of blue on the island is a nice touch, too! Accenting with color is a nice new trend and blue is a great, classic choice.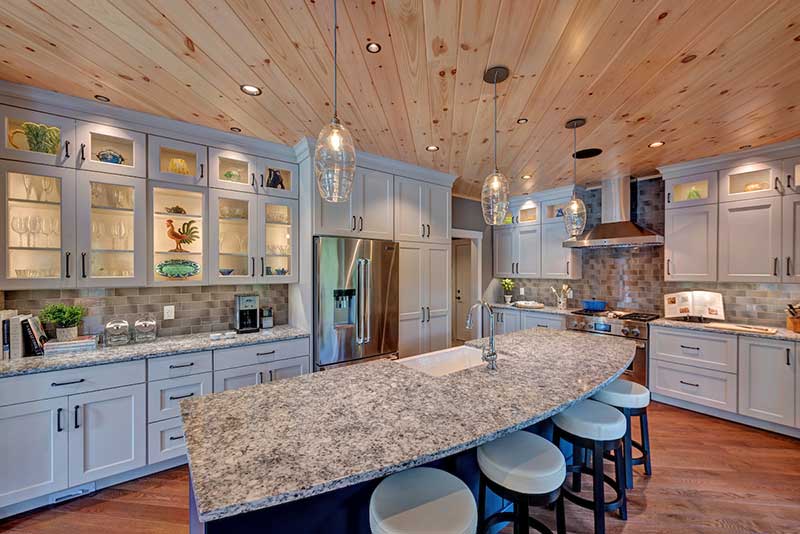 This hybrid lakeside timber frame home features a gorgeous gourmet chef-style kitchen with white cabinets that blend beautifully with the wood ceiling and floors. White adds a nice brightness to the space!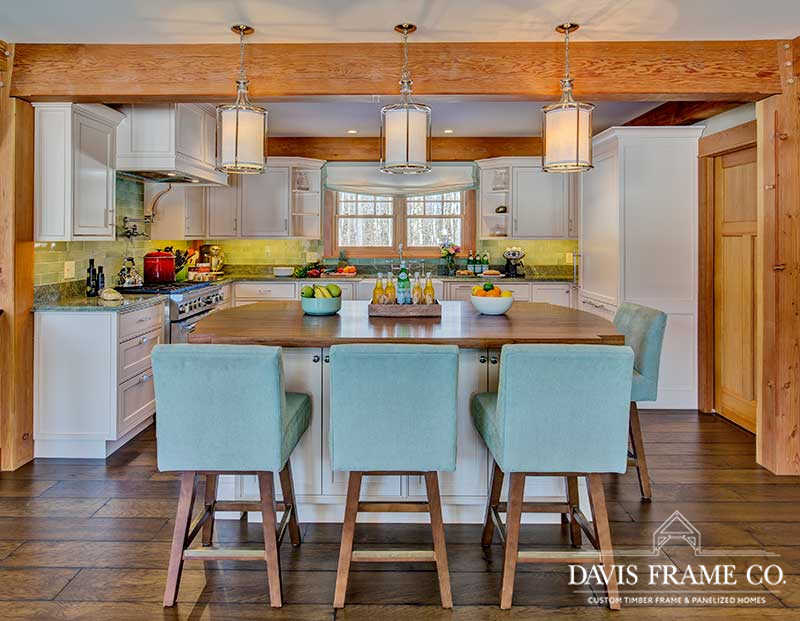 Can you say wow? This White Mountains timber frame home features a great kitchen that offers the perfect blend of rustic and elegance. The white cabinets add elegance to the space. The island is perfect for the family to catch up with each other at breakfast.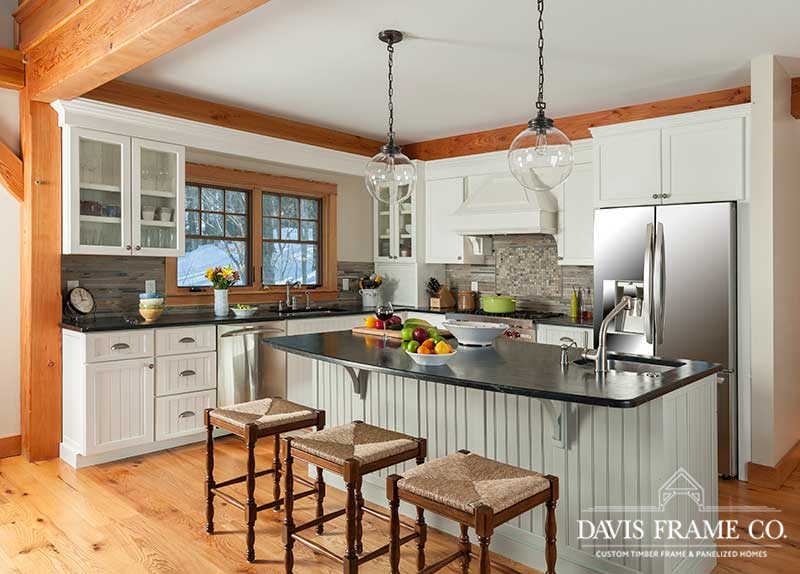 This timber frame kitchen photo is one of our most popular saves on Houzz! We can see why – the white cabinets and black countertops offer such a classic and timeless look!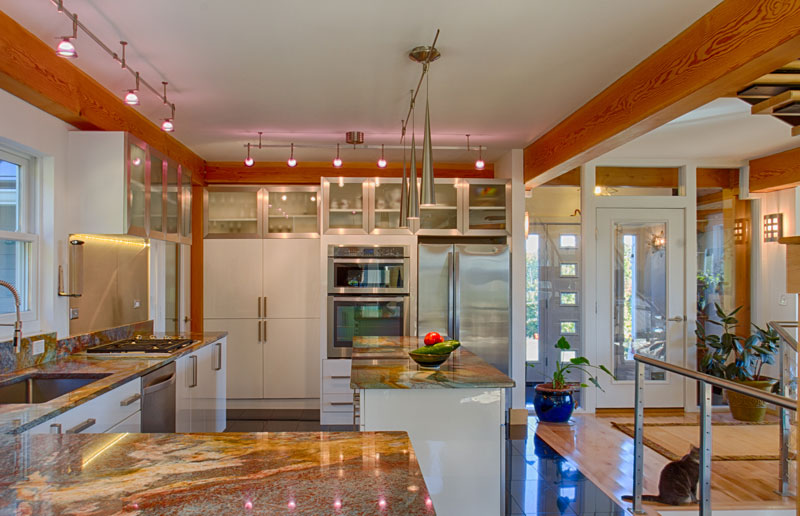 Check out kitchen in this timber frame barn home! This Vermont barn home was designed with more modern details and decor. The white cabinets are minimalist with contemporary hardware.
Gray Kitchen Cabinets
Gray is quickly becoming a popular kitchen cabinet choice that is also classic and timeless. It's a great neutral color and very versatile. If you go with a light gray, it will still give the space an airy and light feel. Gray is also a little more forgiving than white, hiding stains and spills far better than white.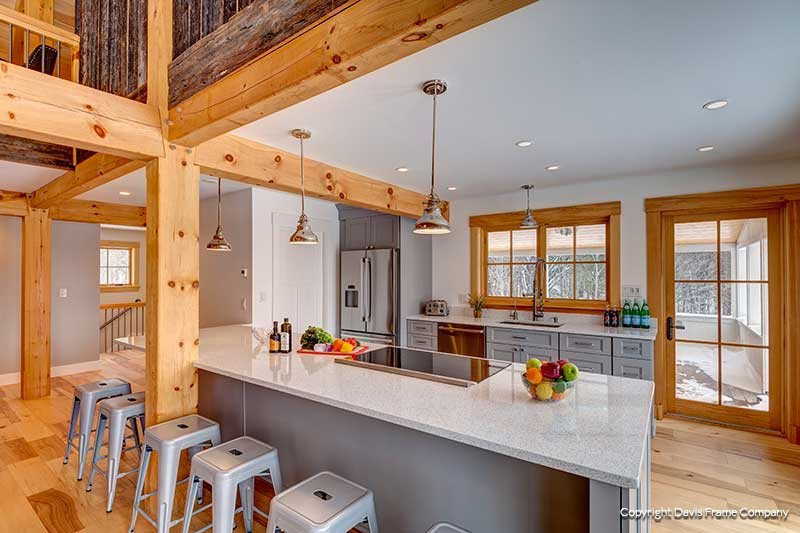 This gorgeous Vermont barn home is just beautiful! It offers a combination of traditional, modern, and industrial. To keep with this theme, the homeowners chose gray cabinets that complement the Eastern White Pine timbers. The combination of the two gives a humble and comforting feel. Enjoy a chat around the bar with the homeowner while they prepare a meal.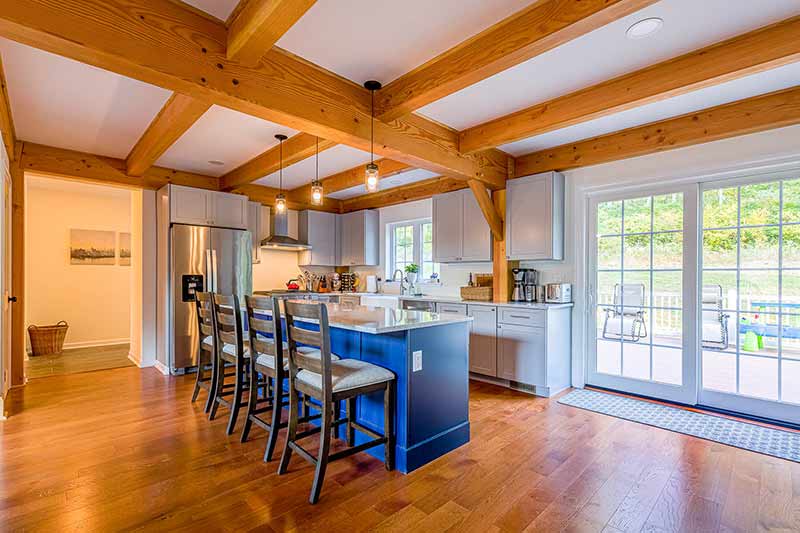 Here is another gray kitchen cabinet example. The gray is very light – in fact, it almost looks white. The homeowners also chose a pop of blue to bring in some color to the space.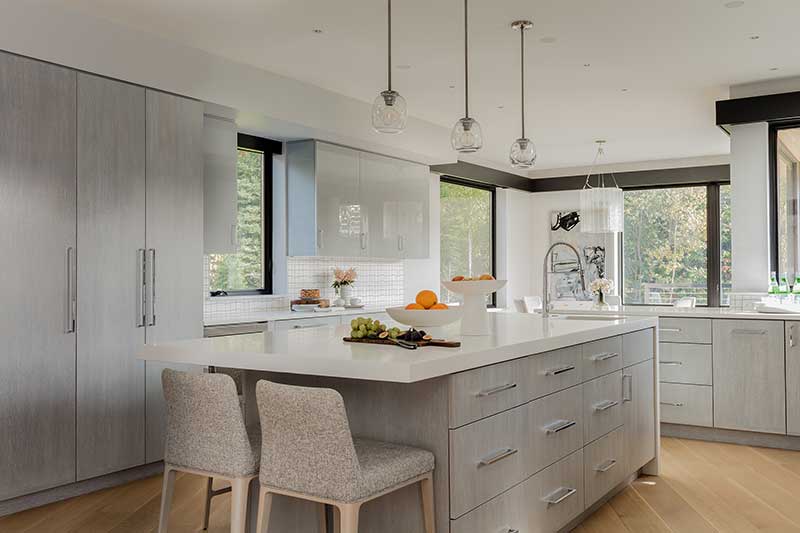 This modern kitchen features a very unique gray colored kitchen cabinet. If you look closely, you will see it looks like it has grains of wood. It offers a contemporary look that will never go out of style!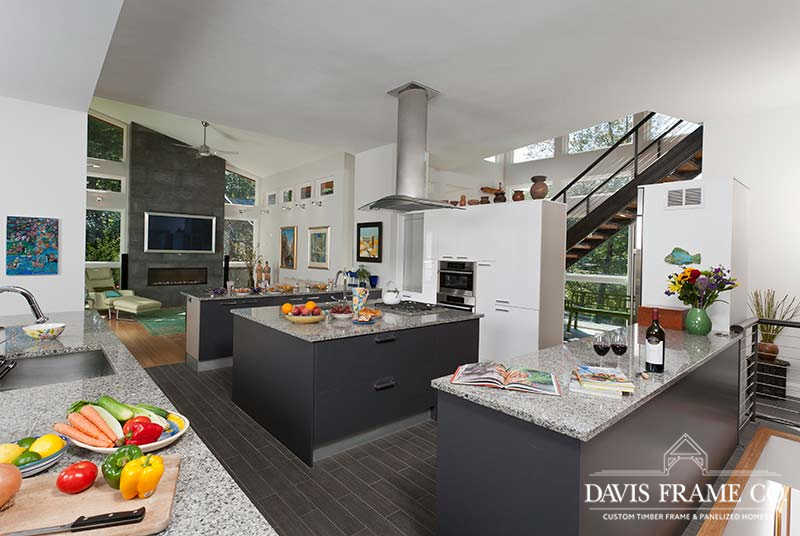 Shown above is one of our panelized homes that our client's built in the suburbs of Boston. The kitchen features charcoal gray cabinets for the bottom and there is a wall of white cabinets. This combination looks amazing together and works nicely with the contemporary home-style.
Wood Cabinets
Wood cabinets are still in too, although we are seeing fewer people choosing wood. I often find wood cabinets in more traditional homes. One trend we are seeing with wood cabinets is light natural wood.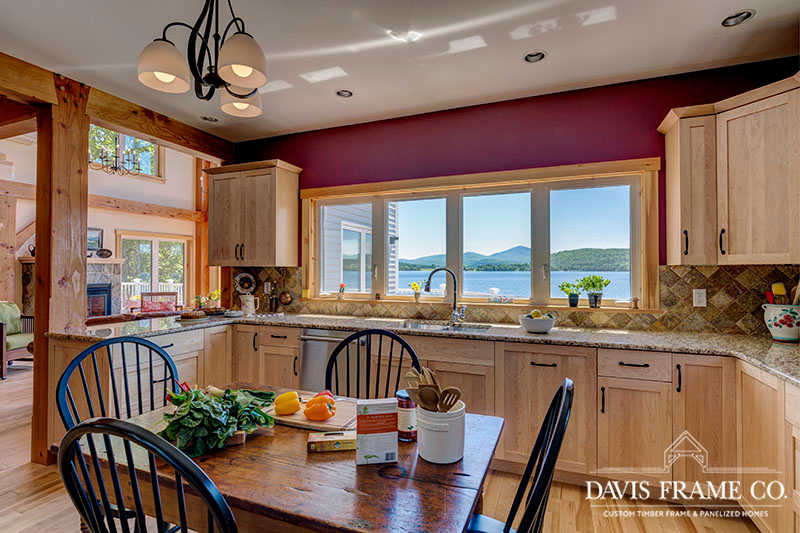 Above is an example of natural wood cabinets. This look is becoming more popular. Many homeowners looking for wood want to keep it in its natural state.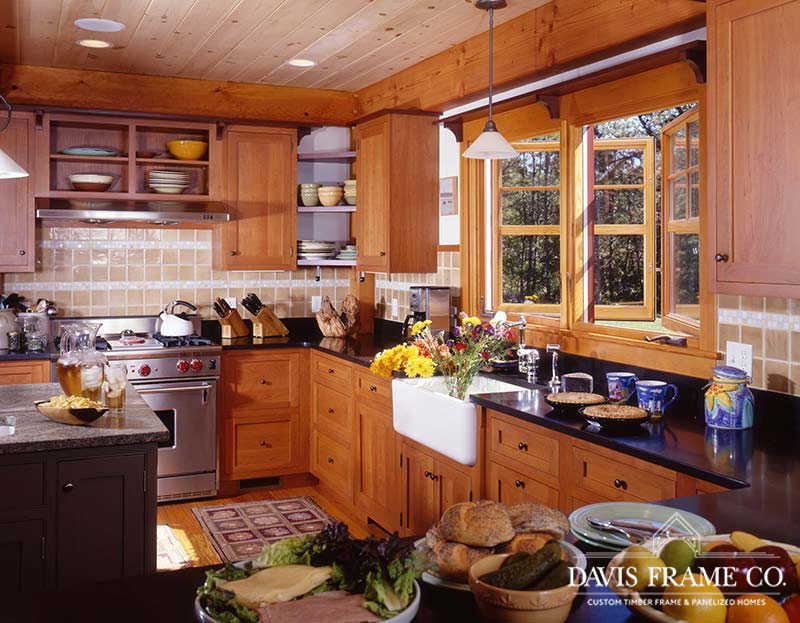 This kitchen features a farmhouse look with wooden cabinets and a farmhouse sink. The kitchen design is a classic look that should stay in style for years to come!
Located in Vermont, this hybrid timber frame home features a conventional style kitchen. It features classic wood cabinets that tie in nicely with the timber frame great room located just beyond the kitchen.