It can be overwhelming to plan a new home, especially with all the details that need to be thought out like, the architectural design of a home, the floor plan layout, as well as planning every finish detail. Often the kitchen is the space that homeowners really pay attention to, but it's hard to know what style and shape kitchen to choose. Some homeowners are limited due to their design, but many times, especially with our open timber frame homes, the design is flexible allowing many kitchen styles to be considered. Depending on how you plan to use your kitchen, will depend on the final style and shape that you may consider. For example, do you like to cook? Do you entertain often? Or maybe cooking isn't your thing and you want a smaller kitchen. There are many different style kitchens to consider for your new home or kitchen renovation. Discover the popular kitchen styles for your new home!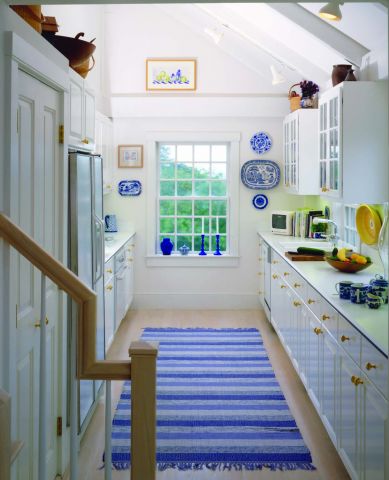 Galley
Galley kitchens were formerly used in small spaces and often were closed in. In the past, this style kitchen featured two walls opposite of each other or two parallel countertops with a walkway between them. The new modern galley kitchens are open concept featuring an open wall, making many homeowners open to the option of a galley kitchen. For example, you may have one section of your kitchen on a wall but the parallel section may only feature bottom cabinets and a counter top, opening the kitchen into the remainder living spaces of the home. The post and beam home above, shows a galley style kitchen that is closed off, but we are seeing a bigger trends with open style galley kitchens. Galley kitchens can feel more crowded if you like to entertain, so it may not be a good fit. However, you can make it work if you open one wall, eliminate upper cabinets and turn this part of the kitchen into serving space.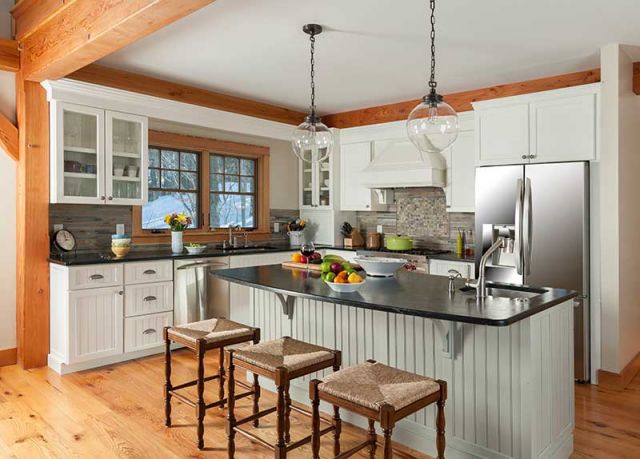 L-Shaped
L shaped kitchens are very popular and are perfect for most standard kitchens. This shaped kitchen allows the space to be open and easy to navigate. This style also allows for the integration of an island or dining space. You will find this style kitchen everywhere due to its flexibility. It's great for smaller homes, larger homes, for those that like to entertain and cook. It really is a style that can fit anyone's needs. There really is no downsize to the L-Shape, but we do recommend integrating a kitchen island to create more working space, especially if you love to cook.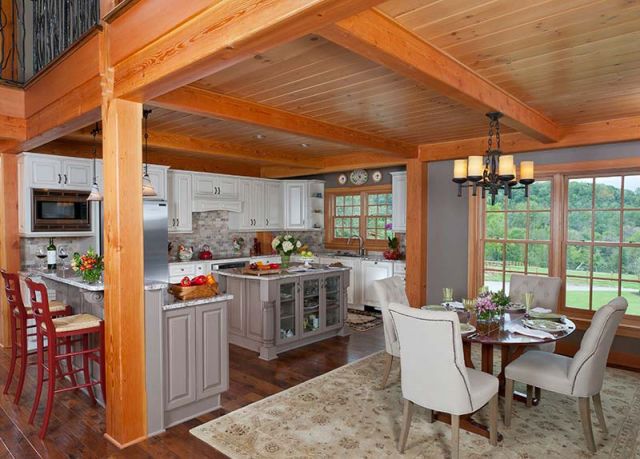 U-Shaped/Horseshoe
U-Shaped kitchens feature three walls, or sometimes, it's similar to an L-Shape, but the third wall is an island. These were commonly found in older homes and were known to be small, cramped and closed off, but, they are making a comeback with new homes. Many modern day U-Shaped kitchens are being integrated with an open wall or two. Also, many modern day U-Shaped kitchens are large enough to accommodate an island, to create the ultimate dream kitchen for the chef and entertainer. This style works for those who want the kitchen to be separate from the other living areas and they also work perfectly for those that want to create a U-Shape with open space. The photo above is a great example of a spacious and open concept modern day U-Shaped kitchen.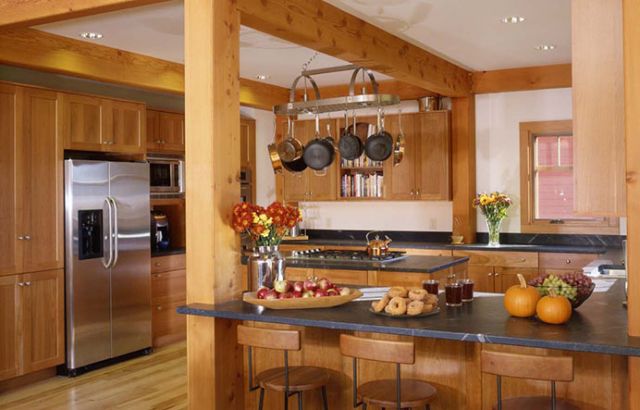 G-Shaped
This style kitchen is similar to the U-Shaped kitchen, but adds a curve to one side. This is a great design for those that don't have room for an island but want to maximize space, or, on the contrary, great for those that want to integrate an island with a little extra space (adding that curve for extra seating). Often this is used when an island is integrated into the U-Shaped design. If carefully designed it can work really well, but be sure to really think about this design, as sometimes they can feel enclosed in.
We would love to brainstorm with you about your ideas for your new home! Visit our timber frame kitchen photo gallery to gather ideas! Give us a call today at 800-636-0993!