On our website, you will notice we have dozens of pre-designed timber frame floor plans, from barn homes to large timber frame mountain homes to compact efficient designs. We thought it may interest you to learn what our most requested timber frame floor plans are!
The first timber frame floor plan we find to be the most popular is our infamous Classic Barn Home! While we have two slightly varying Classic Barn models, our Classic Barn 2 is the most popular because of the gorgeous cupola. Check out the barn home photo and floor plans below.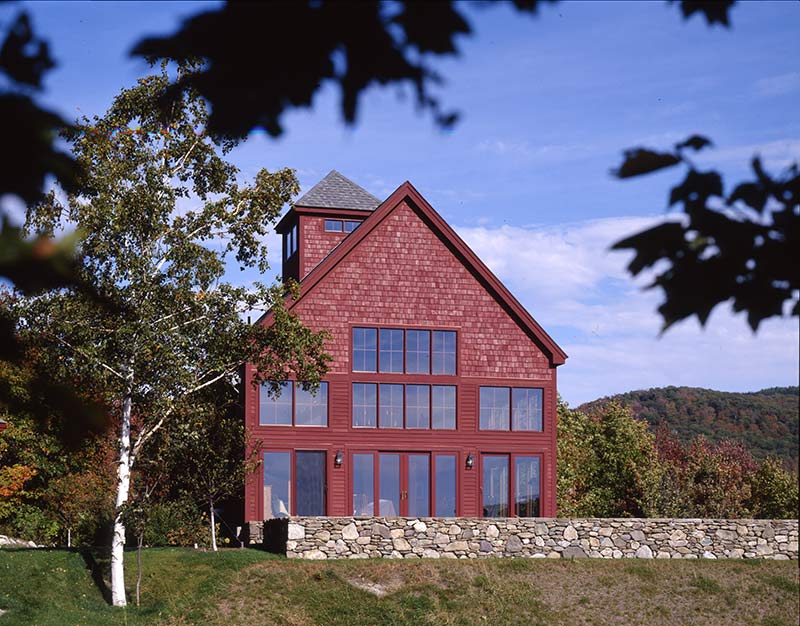 The Classic Barn
There is something about this red barn home that people gravitate towards. I'm not sure if it's the familiarity and warmth a New England style barn evokes in us or if it's because of its nice open concept layout.  Jeff Davis came up with our Classic Barn Home line 15 years ago. It's been all the rage ever since. We've worked with many variations of these barn homes all across the country. While many of our Classic Barn Homes are located in New England, however, we've also shipped this timber frame barn home model to New Jersey, New Mexico, and even Oregon.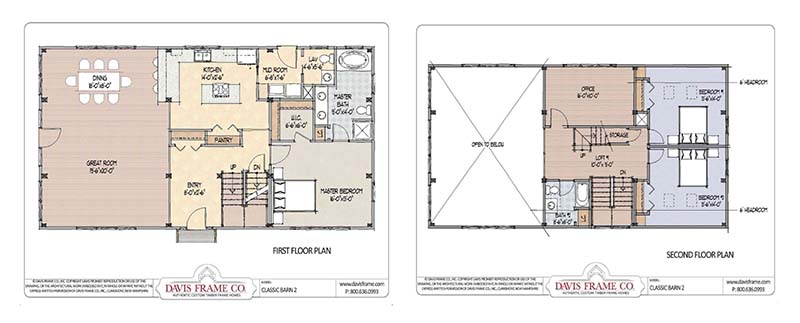 The Classic Barn Home ranges anywhere from 2,200-2,500 (depending on if you add the loft). The first features an open concept great room dining room and kitchen. The great room and dining rooms feature a cathedral ceiling with beautiful exposed timbers. We located a spacious first-floor master suite on the first floor. The second floor features two spacious bedrooms, a shared bathroom, and office/flex space. Not shown is a third level loft which offers an additional bonus space. Over the years, the third-floor loft has been used as a bedroom and office. Most recently many have incorporated access to it from the kids' bedrooms as bonus play space.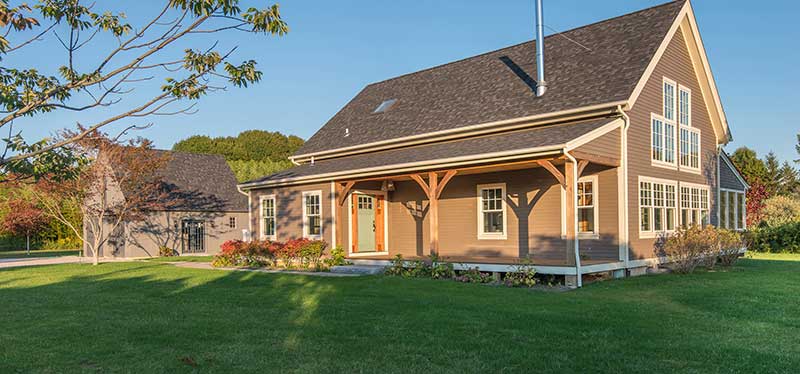 The Classic Homestead
The Classic Homestead timber frame barn home is a close tie in popularity to the Classic Barn. This small timber frame home lives large in 1,800 SF. The above picture is a custom version of our standard Classic Homestead 1 model. This home has become popular through the years because of its compact floor plan that lives large.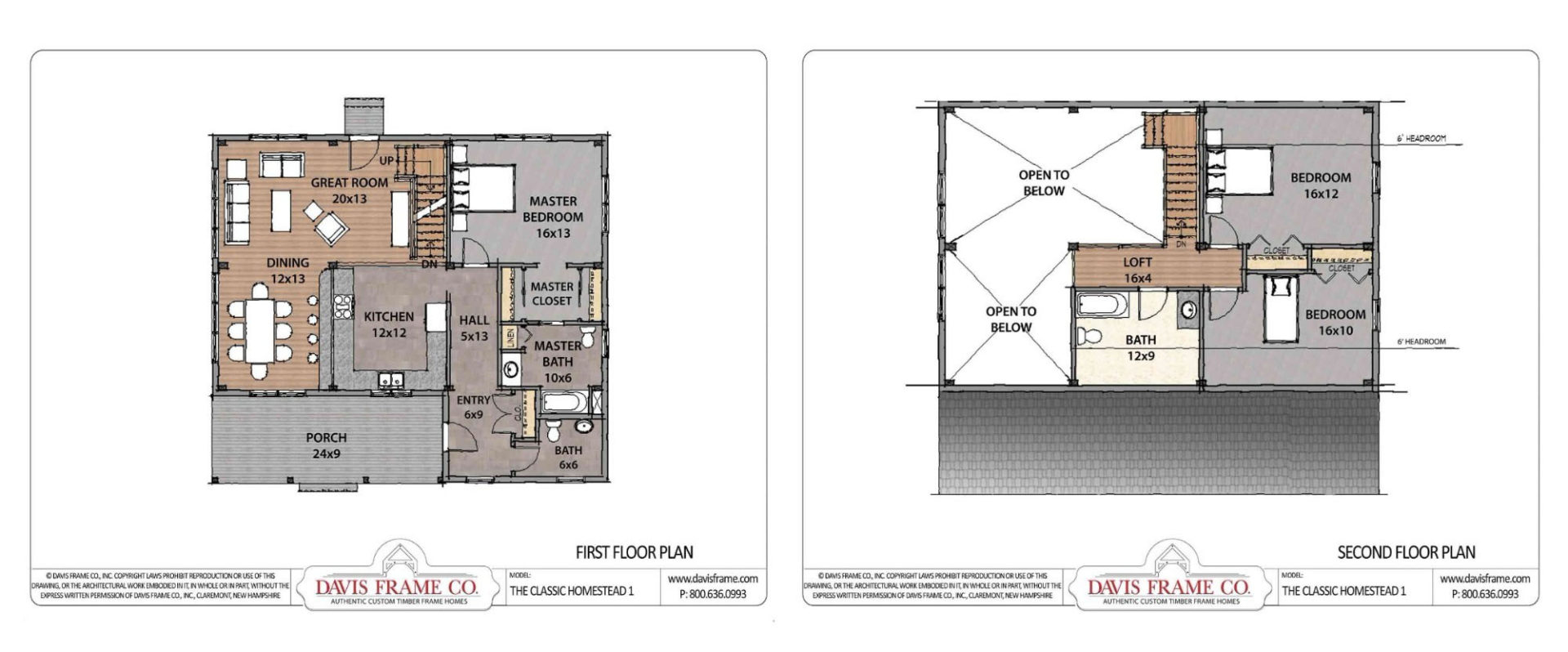 The first-floor plan a nice open floor plan with the great room, kitchen, and dining room open to one another.  We also located the master suite on the first floor. The second floor hosts two additional bedrooms and a shared bathroom. A loft space captures a beautiful view of the exposed wooden beams and rooms below.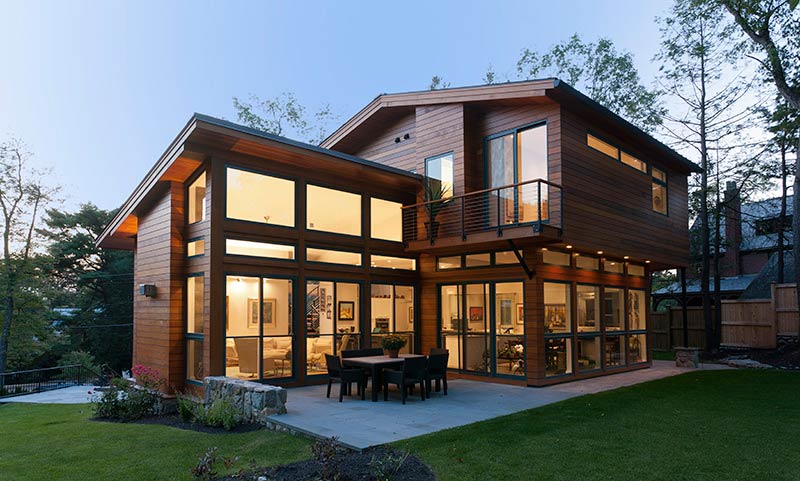 Modern Prefab Home
The next most requested home is the modern prefab panelized home we have featured in our photo galleries on our website. While this isn't a timber frame floor plan, it is a home we helped craft that uses our prefab panelized wall and roof system. Our panelized wall system is the perfect option for clients who want a prefab home that is not timber frame. This simple, clean line home design features a shallow-pitched roof on one side and a shed roof on the other. The shed roof section of the house features a nice wall of windows enhancing the modern appeal of this home. Our panelized system speeds up on-site framing and drastically cutting down the on-site labor time.  Not only is the time to build on site less, but there is minimal waste and the accuracy is spot on with minimal on-site cuts if any at all needed.
This modern architect designed home has attracted a lot of interest over the years.  Unfortunately, we cannot share the plans. However, it features around 3,000 SF with 4 bedrooms and 4.5 bathrooms. The first floor features a spacious kitchen that opens into the dining room and opens to the living room. These main living areas all feature a wall of windows, bringing the outdoors in with plenty of natural light. We also located an office on the first floor. The second floor features all 4 bedrooms and 4 full bathrooms.
If you are interested in building a modern prefab home, we can assist with the design in any size you would like.
Call us today at 800.636.0993 to speak to one of our project coordinators about your new home ideas.