At Davis Timber Frame, we receive many inquiries from prospects wondering if we work with clients who wish to build a small post and beam home. Although many of our photos on our website feature homes between 3,000-4,000 SF, over the past couple of years we have been seeing a trend with our clients and many wish to build smaller homes.
With the rise of energy costs and the current state of the economy, people are being more careful with their buying decisions and buying only what they need. This is the same strategy many prospective new buyers use when planning their new home. People are focusing more on quality finishing touches, rather than the size of the home. It's not really about the size of the home, as it is about how to make your floor plan work for you and meet your needs. Most our client's timber frame homes feature an open first-floor plan and this helps maximize entertaining space without having to add square footage; this one way to make a modest space feel "large."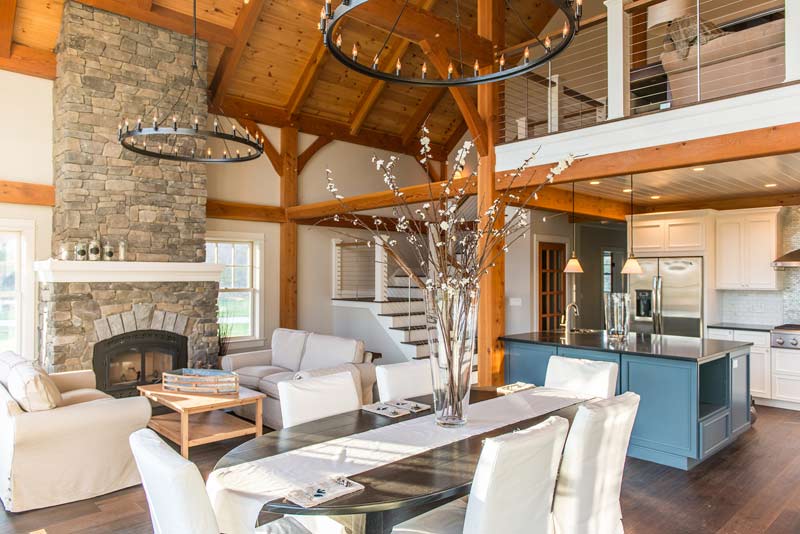 A view of one of our Classic Homestead homes. The footprint is 26'x40′ with 1,800 SF. The perfect smaller post and beam home!
Other design elements to consider that make a smaller home feel not so small are to: add lots of windows and/or skylights, tall ceilings, multi-functional rooms, built-ins, neutral colors and ample storage space! Creating enough storage space will help keep the clutter down and will also help make your home feel spacious. Not having enough storage can make your home feel small.
Also, most of us tend to design our bedrooms much larger than we need them; the main focus should be maximizing square footage in the main living areas of the home and scaling back bedroom sizes and the number of bathrooms. To help determine your square footage needs, we suggest making a list of priorities of your wants and needs for your new home. We can help you design a timber frame home that works around what you want and also meet your square footage needs.
The majority of the post and beam homes we design and craft now are between 2,000-2,500 SF and by no means is this average small, but they are more efficient than a large home and there is typically no wasted space. Building a smaller home will save you on energy costs and the time it takes to clean and maintain your home!
Interested in learning more about our post and beam homes? Call us today at 1-800-636-0993 to speak with a project coordinator.