Discover the beauty of living in a timber frame home, through this beautiful Southern Vermont Barn Home. Traditional New England barns inspired the design for this gorgeous barn home. The floor plan is unique with the homeowner's primary living space designed to be completely separate from guest quarters. This barn home is in a prime location and near a handful of mountains, including Mount Snow, Stratton, and Haystack Mountain (the Hermitage Club), perfect for those that like to hit the slopes.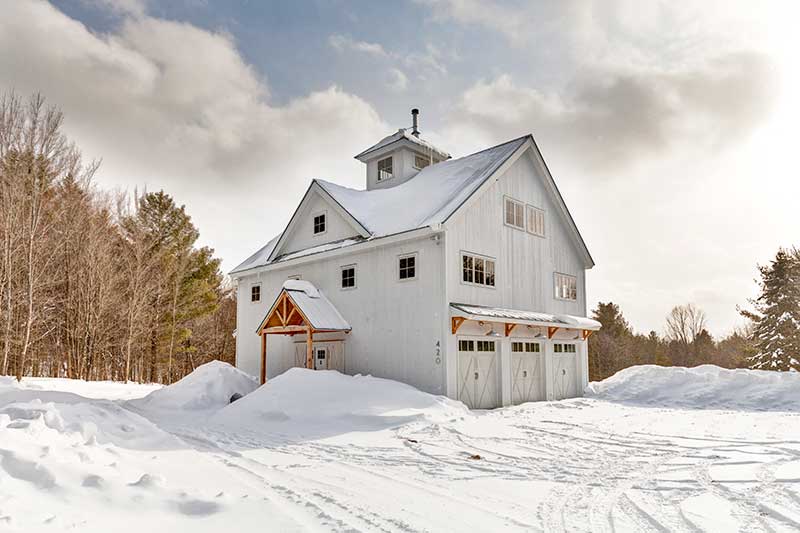 Do you know what else is amazing about this gorgeous timber frame barn home? It's for sale and can be yours! Check out the listing here.
Guest Quarters
The main level and the walkout basement feature the guest quarters. Between the levels, there are 3 bedrooms and 3 bathrooms, perfect for entertaining family and friends for a long weekend.

Homeowner's Quarters
The second and third floors host the homeowner's living quarters. These floors feature the beautiful exposed wooden beams (the timber frame). The second floor includes a wide-open living space with the great room, dining room, and kitchen flowing into one another. Four large picture windows on the west wall allow plenty of natural light in. The master suite and a kid's bunk room and a bathroom are also on the first floor. The third floor hosts an open play loft and a guest suite.
One of the best features of this home is the slide from the loft to the main living space. The slide is constructed out of parallam beams. The surface features a veneer with a solid sheet of zinc. The kids can slide down to join the parents after playing in the loft. In addition, there is another cool feature, the powder room on the main level. Check out our photo gallery for more photos of this beautiful barn home.

Prefab Construction
This timber frame home is built with prefab construction. Timber frame and Structural Insulated Panels make up the structural integrity of the home. This type of construction allows for fast on-site construction. The foundation system is prefab as well by Superior Walls. The system is modular and arrives in panels with insulation and ready for utilities and sheetrock. Installation is quick and takes roughly a day or two. The Structural Insulated Panels combined with timber frame home create a very energy-efficient structure.
If you are interested in learning more about this Southern Vermont barn home and our timber frame homes? Call us today at 800.636.0993.