Check out this timber frame barn set beautifully on a hilltop in New Hampshire! We worked with JL Purcell Architects on this beautiful timber frame barn. JL Purcell Architects designed the house and the barn, harmonizing the two together into one fantastic property. Learn more about the property below!
Timber Frame Barn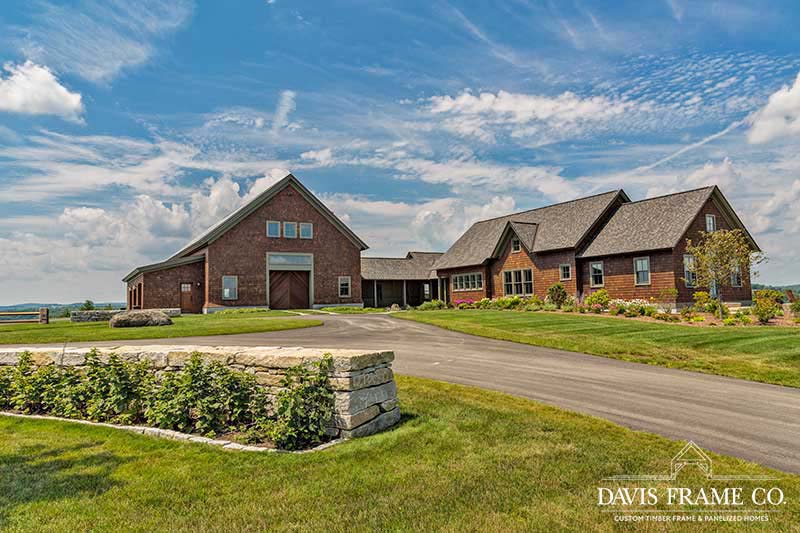 Here is a front view of this stunning timber frame barn and house. The home was stick-framed on site by the builder, and the timber frame barn structure was fabricated in our shop here in Claremont, New Hampshire, using Douglas fir timbers and traditional mortise and tenon joinery. Timber frame construction is a perfect option for barns, giving them a level of authenticity going back for generations.
On top of the timber frame roof is pine tongue and groove decking that we supplied. The timber frame is wrapped with Structural Insulated Panels (SIPS) on the wall and roof, creating a nice energy-efficient envelope. Using SIPS helps keep the space toasty during the harsh New England winters.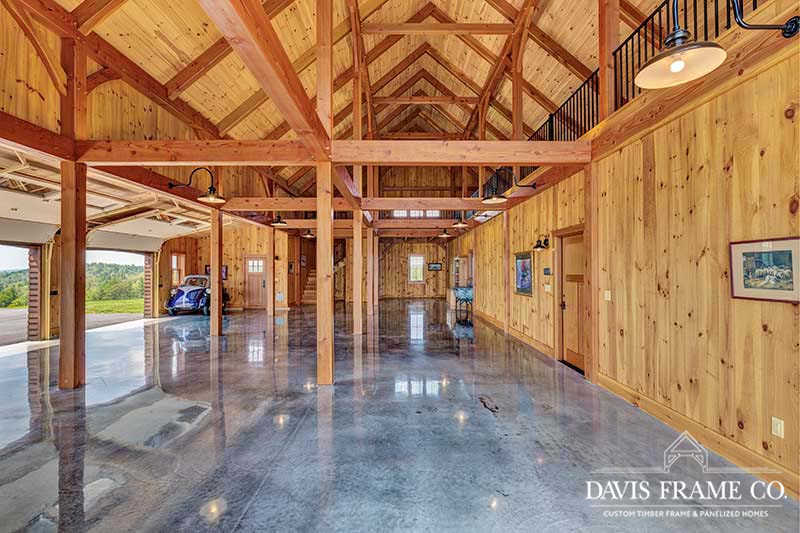 Can you say wow? This amazing timber frame barn was carefully thought out down to every last detail. The barn features a 3-bay garage with polished floors that really make a statement and allow for super easy cleanup. The space is perfect for a workshop or for storing cars and toys of all sizes and shapes.
A loft overlooks the first floor and is a perfect flex space that can be used for additional storage or as a space to relax and enjoy the beauty of the timbers, and the view of the timber frame structure is quite impressive. To add to its rustic charm, the homeowners added tongue and groove pine decking to the ceiling and tongue and groove to the walls. One great perk of using T&G on both the walls and the ceiling is that it's maintenance free – no touch-up on paint is required!
Barn Guest Quarters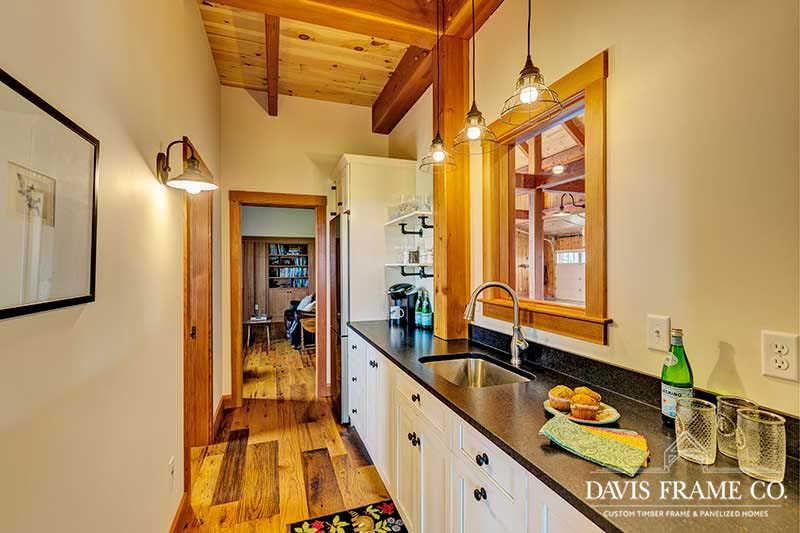 Adding to the versatility of this barn, there are guest quarters on the backside of the barn, featuring a guest bedroom, full bathroom, kitchenette, sitting area, and the homeowner's office. Pictured here is a kitchen equipped with a nice prep space for overnight guests to prepare a snack or a light meal, and a window that looks out to the main barn and also allows for natural light to peek through. The barn also features solar panels on the roof.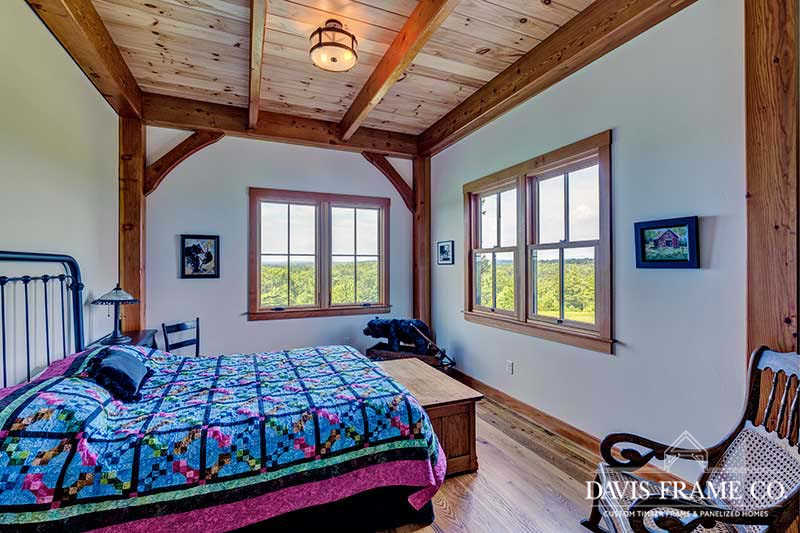 Here is the guest bedroom. It offers the perfect space for guests and captures a gorgeous view of the rolling hills and trees. What a peaceful space!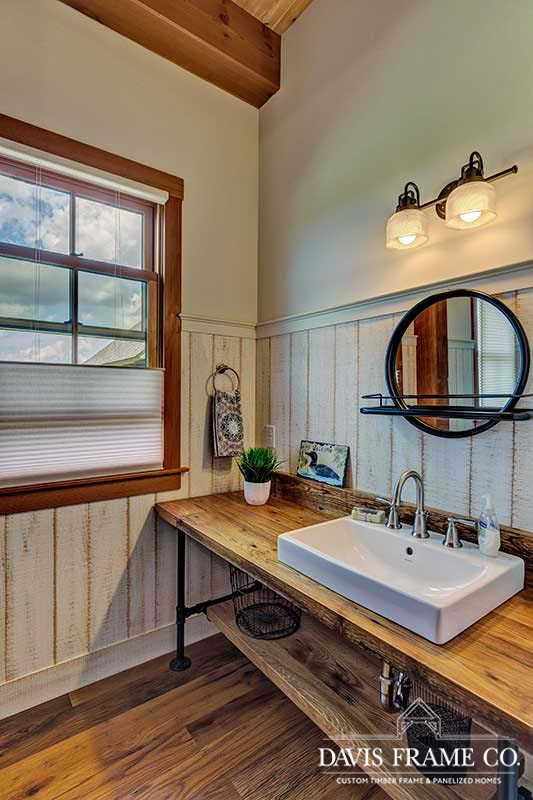 The guest bathroom decor harmonizes well with the charm of the barn. The homeowners designed the bathroom with a farmhouse look in mind, including rustic shiplap for the walls.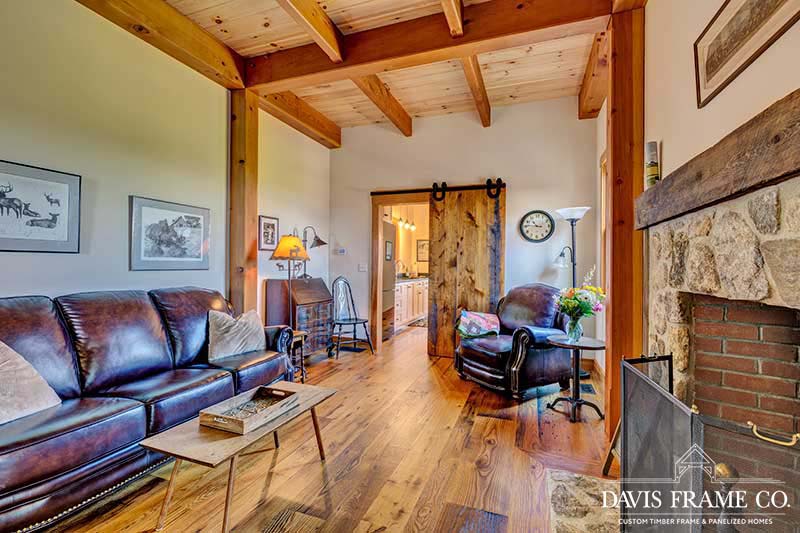 The barn's living room is warm and inviting, with a wood fireplace and barn door. It offers classic country-style living!
We hope you enjoyed learning about this gorgeous New Hampshire timber frame barn! Timber frame barns make a great out-building to any property, whether you want to use it as a garage, storage barn for tractors, or additional entertaining or guest space. Better yet, build a multi-functional barn like this one as your primary building! Interested in building a new barn? Call us today at 800.636.0993!