Discover timber frame barns! Barns evoke the feeling of a time gone by. Barn structures offer a certain nostalgia that's comforting. Older country houses featuring traditional New England-style barns, often framed with timber construction, are hallmarks to many a rural town throughout New England.
No longer just home to cows, today barns are more popular than ever. This year, with the COVID-19 pandemic, many homeowners need more space and interest has greatly increased for added accessory buildings, especially barn-style buildings. Inherent in the barn design is a lot of open space, making them very versatile. They can be used for auto, large equipment, or other storage needs, and many often include bonus space on the second floor. Barns can be simple or quite elaborate, and even fancy.
New England Barns
Traditional New England style barns were most common during the 19th century, although they were being built in the mid-1800s. Although you can find barns all over the country, they are most prevalent in the Northeast. Most barns housed livestock and sometimes stored farm equipment. The loft area would often hold hay bales. New England-style barn commonly feature gabled roofs, sliding doors or large outswing doors, and sometimes cupolas for ventilation and light.
Although you can find some gambrel roof barns (also known as Dutch barns) in New England, they are not as common as a gabled barn. Gambrel barns were often found in New York and New Jersey during the 18th century. It's hard to find these originals still standing today. Another barn style is the English barn. It features an eave entrance rather than a gabled entry, often had no windows, and was one story. Bank barns are another style of a barn that is typically built into a hillside and features two separate levels at ground level for accessibility.
If you tour some old barns from days gone by, you may find a mixture of timber frame construction and conventional. Many old barns built 100 + years ago are still standing today. Some of these barns may even appear to be falling apart, but somehow they never do and stand the test of time. It must be that good old Yankee-style construction from our forefathers.
New Vs. Old Barns
Unfortunately, today it's hard to find a property that includes a nice old barn. Fortunately, we are well versed in designing and crafting new barns for our clients. Whether you are looking for a traditional New England-style barn, a gambrel barn, or a bank barn, we can provide a beautiful timber frame for your new barn that will feel like it is from the days gone by. Often our barns feature pine or hemlock for the timber frame, to help maintain the rustic feeling and nostalgia of a barn.
Fun Fact: Do you wonder why many barns are painted red? According to the Old Farmer's Almanac, the early farmers did not originally paint their barns. But because of the wear and tear over time due to the natural elements, they would create their own paint mixture that contained red iron.
Check out a sample portfolio of timber frame barns we've worked on over the years.

Gorgeous traditional style New England timber frame barn built in the rolling hills of Vermont. The wood species is Hemlock, a common species for barns.

Beautiful wedding barn set in picturesque Vermont! Discover the beauty of a timber frame barn, a perfect place to host a wedding or function.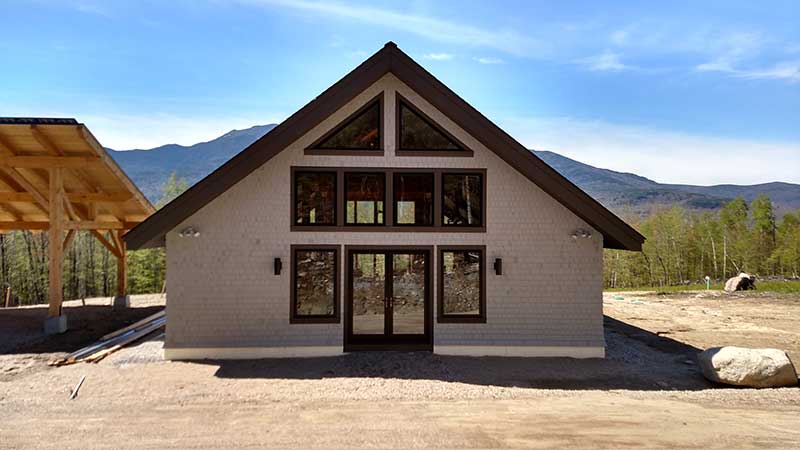 Modern-designed timber frame barn featuring a modern window design to update the look.

Discover the beauty of this timber frame barn! Davis Frame supplied the structural frame. The barn features 3 bays, a loft above, and guest quarters.

Timber frame barn designed and crafted to host vintage John Deere tractors on the main level. The second floor is a man cave!

Although we didn't cover monitor barns, we wanted to share this monitor-style timber frame barn and carriage house. It features garage space on the ground level and a one-bedroom apartment on the second level.
Interested in learning more about building a timber frame barn? Call us today at 800.636.0993!