Durability
Timber frame is one of the most durable forms of construction and the oldest. With large exposed wooden beams joined with mortise and tenon joinery and secured with wooden pegs, it creates a long-lasting and solid structure. This type of construction is not new, in fact, it is an ancient craft that was used hundreds of years ago in Europe and Asia. Many timber wood structures that are hundreds of years old can still be found standing today.
Design Flexibility
Timber framing offers flexibility in floor plan design due to the nature of the openness that a timber frame provides. Also, they are adaptable to all the different architectural styles such as traditional, modern, barn home, etc.  They also create a cozy and comfortable space. The exposed wooden beams give you a sense of nature in your home and create an undeniable ambiance.
Energy Efficiency
What makes timber frame homes energy efficient? They are also energy efficient and exceed energy codes. Most timber manufacturers partner with Structural Insulated Panel (SIPS) companies. SIPS is one of the most energy-efficient types of insulation on the market today. They create such a tight thermal envelope that air exchangers are strongly recommended to circulate air. There are virtually no drafts of air or cold spots in a SIPS structure, SIPS create a more consistent temperature throughout a home. We use Murus Structural Insulated Panels for our East Coast projects and Premier Panels for our West Coast projects. Both companies offer a premium product that complements our timber frame homes.
Also, most manufacturers also offer additional energy-efficient products such as windows, doors and incorporate passive solar design and solar products into the home design.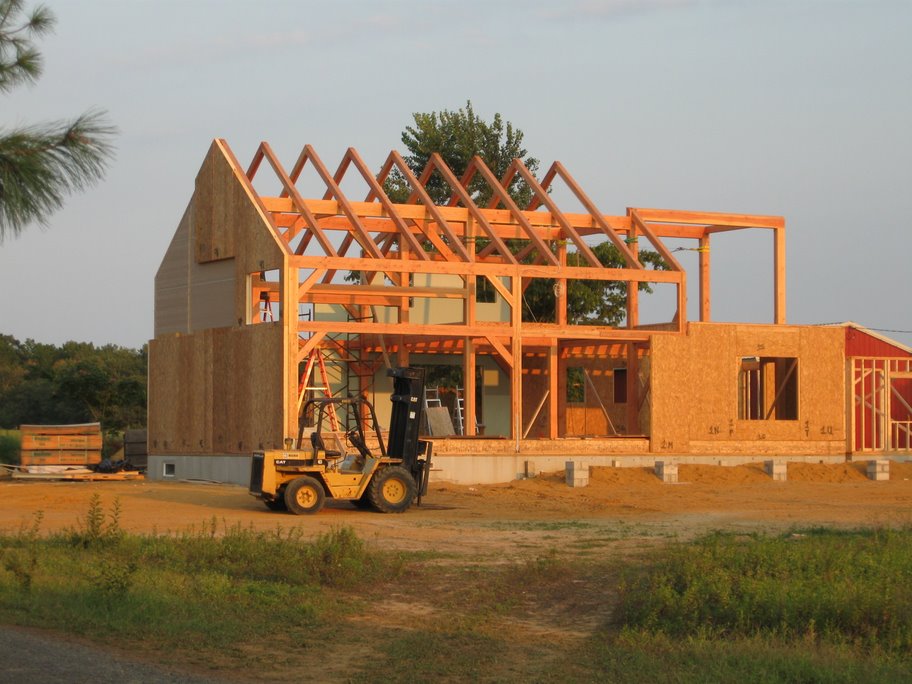 On-Site Benefits
Timber framing allows you to build your structure faster. It generally takes 2-3 weeks to install the frame and SIPS components, depending on the size and complexity of your home design. Another perk of using timber frame construction is that waste on site is minimal. Everything is pre-cut and ready to be assembled, which reduces the on-site waste factor.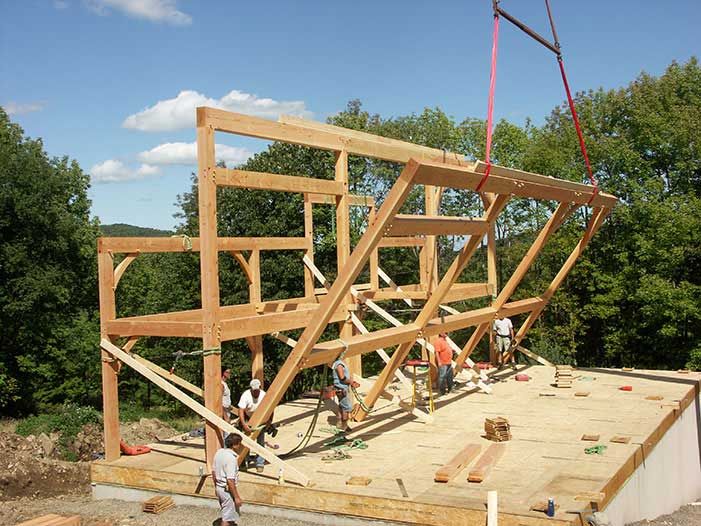 Value
Timber frame homes also appraise at higher market value. Adding to the value of a timber frame home is its unique beauty and craftsmanship and superior energy efficiency when compared to existing homes in the marketplace today. Should you ever want or need to sell your timber home, you can rest assured that your home will value higher than a conventional home on the market.
If you would like to learn more about Davis Frame Homes, call us today at 800-636-0993!