Now that warmer weather is finally here, we thought we would share some of our favorite Summer timber frame home photos! Here in New England, we love the Winter months, but when glimpses of warm weather peek through, we are all over it after months of cold weather. With it also staying lighter out later, our moods shift with the extra vitamin D we are receiving. Now, I know it's still brown out there and the grass needs to get greener, and flowers need to bloom, but we are getting close!
To help get us in the spirit of the warm weather to come, we thought we would share a few pictures of timber frame homes we've worked on over the years that make us feel hopeful that warmer days are ahead! From lush perennial gardens to a wall of windows allowing lots of light in, we have some great photos to share showing how amazing timber frame living truly is in the Spring and Summer months!
Classic Farmhouse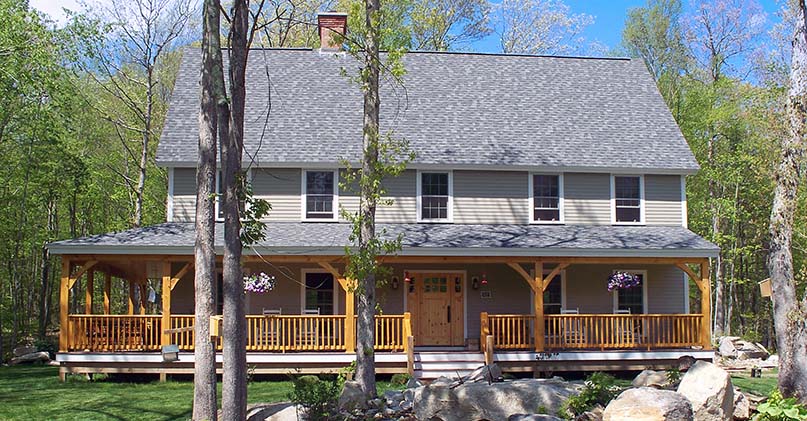 This gorgeous classic style farmhouse is built using Eastern White Pine timbers, giving it a very traditional farmhouse feel. What has attracted clients to this home is the timeless wraparound porch that is featured. With flowers hanging and the rocking chairs out on the porch, this screams enjoyment for the homeowners.
Open Concept Living on Long Island
This is a favorite photo among many of us here at Davis Frame. This timber frame open concept space includes the great room, dining, and living in one large area. It's a great space for entertaining and is bright! The natural wood and the white woodwork complement each other nicely.
Pastureside Timber Frame Kitchen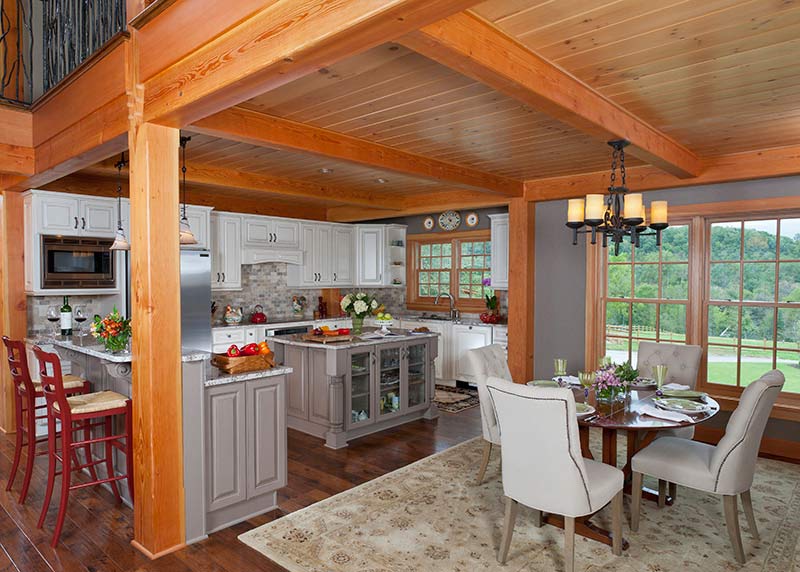 This kitchen and dining area is a dream with its light and airy ambiance, and, it features a picturesque view of the green pasture nearby, perfect for the family's horses. This Pennsylvania timber frame home reminds me of warm weather and the beauty that comes with living in the countryside.
Martha's Vineyard Timber Frame Great Room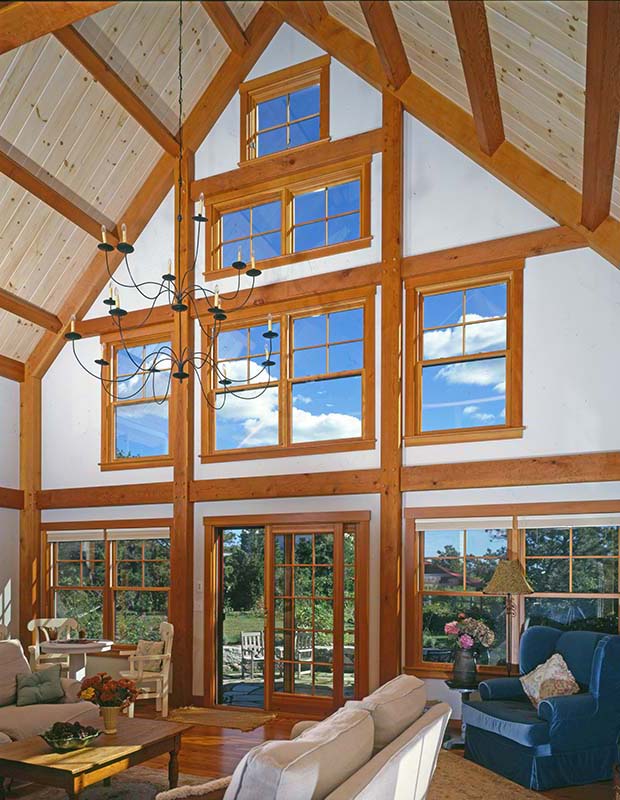 This gorgeous timber frame great room features a spectacular wall of windows, allowing lots of natural light in and a view of the landscape outside.
Timber Frame Pool House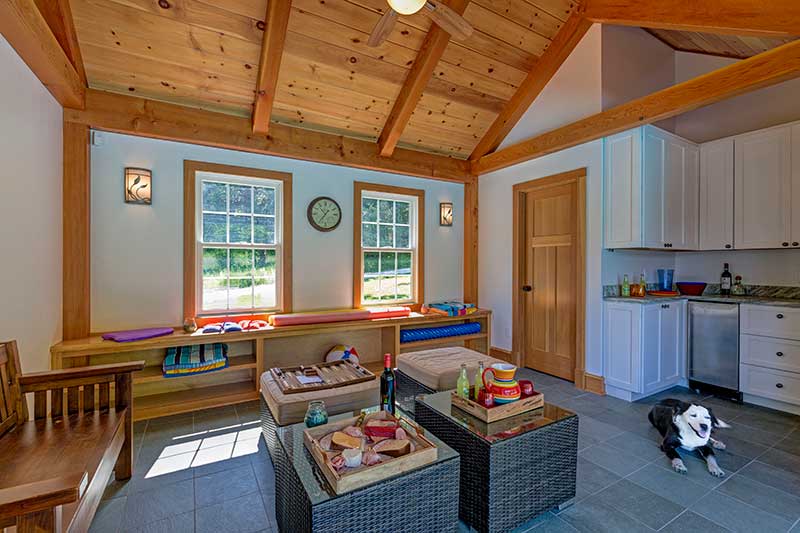 This timber frame pool house is an addition to the gorgeous timber frame home we worked on in Vermont. The pool house offers a wide-open space with a wet bar, seating to get away from the sun, and a bathroom. What a perfect place to entertain guests during the summer months!
Lakeside Timber Frame Living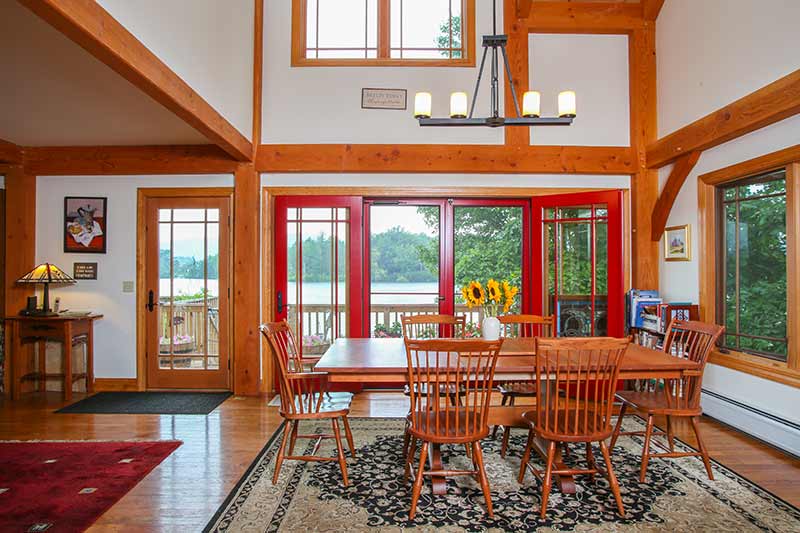 Double French doors lead you out to the deck where you will enjoy a beautiful view of the lake. The doors also open wide so the nice warm air can filter through while dining inside this craftsman timber frame home.
Octagon Timber Frame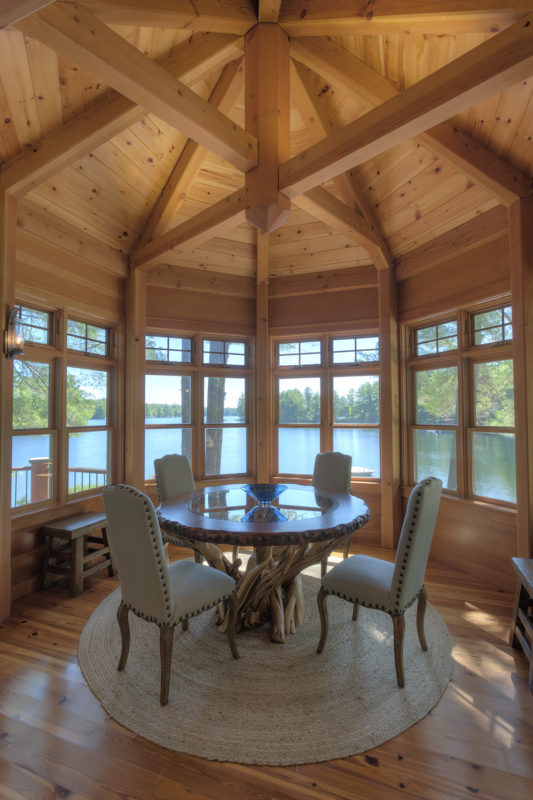 Our client's built a brand new panelized lakefront home using our prefab wall and roof system. To add a pop, they also incorporated this octagon sunroom which boasts a panoramic view of the lake. What a perfect space to enjoy breakfast or lunch with the family!
Deck Living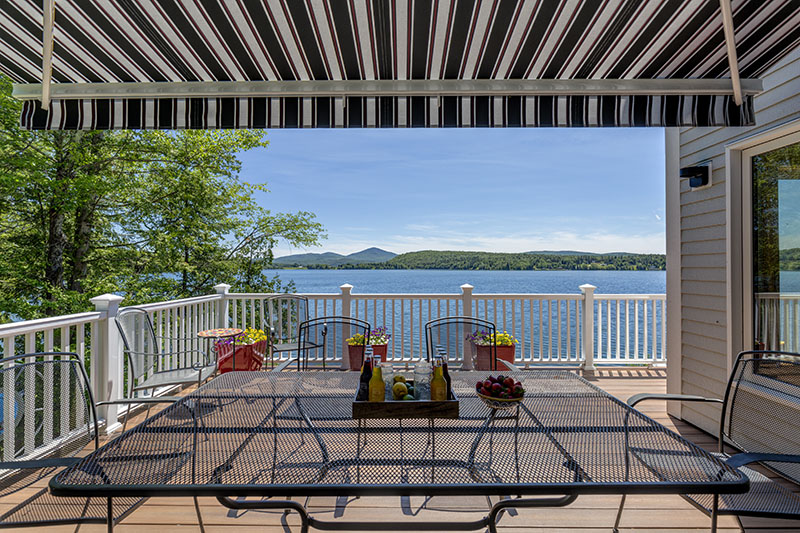 If you live on a lake, you know how important it is to think about the outdoor space, it's almost as important as designing the inside. This hybrid timber frame home we worked on in the Northeast Kingdom of Vermont features a spectacular deck with an awning so that the homeowners can enjoy the beauty of a lake in a cool space outdoors.
We hope you enjoyed seeing some of our warm weather photos! Please explore our website for more photos and ideas as you plan your new home. Have questions? Call us at 800.636.0993!