Several years ago, we worked with Southern Vermont builder, Northland Builders, on this beautiful new
Stratton timber frame ski house
in the heart of Stratton, Vermont. This hybrid timber frame home features a mix of conventional "stick frame" construction and timber frame construction. The center of the home features timber frame, while the rest of the home uses the conventional technique.
For the timber frame part of the home, the client chose a truss-style frame. Looking for a more contemporary appearance, these custom trusses feature an arch and steel accents and, although not standard with our timber frames, the client added a beige stain to their timbers for a truly unique look. Tongue and groove decking is shown on the ceiling, complementing the timber trusses.
This gorgeous Vermont ski home is the perfect place to escape to on the weekends (especially during this pandemic year).
Stratton Ski House Photos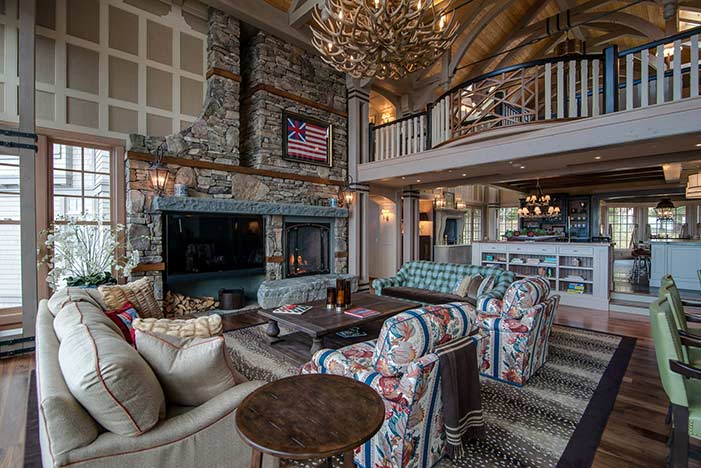 This timber frame great room features gorgeous furnishings that complement the timbers. The vaulted space also adds a nice dramatic look to this space, which is a common feature with timber framing.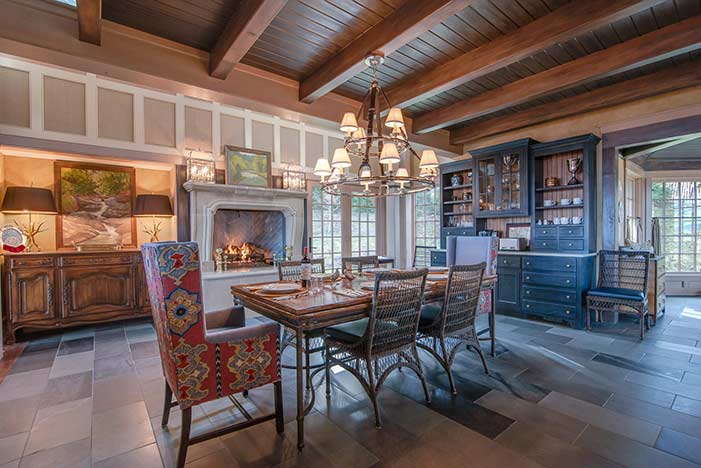 The beautiful dining room is the perfect place to enjoy dinner with the family after a day of fun. The fireplace adds a nice touch and really adds coziness to the space.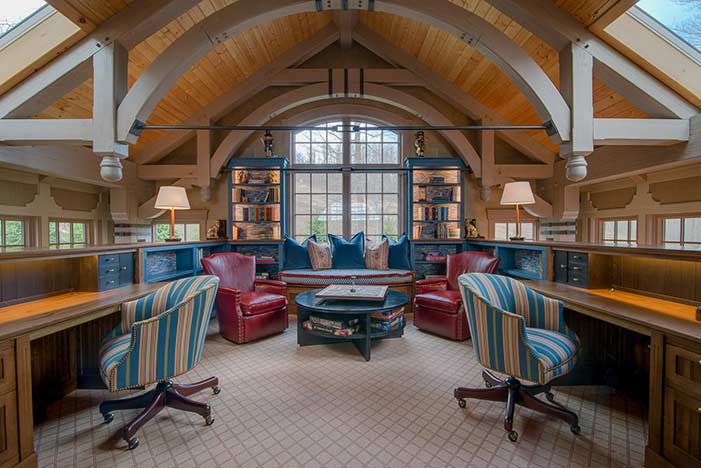 Well, this lofted office space isn't a bad place for an office, especially if you work remotely these days! Here you can see the trusses in greater detail.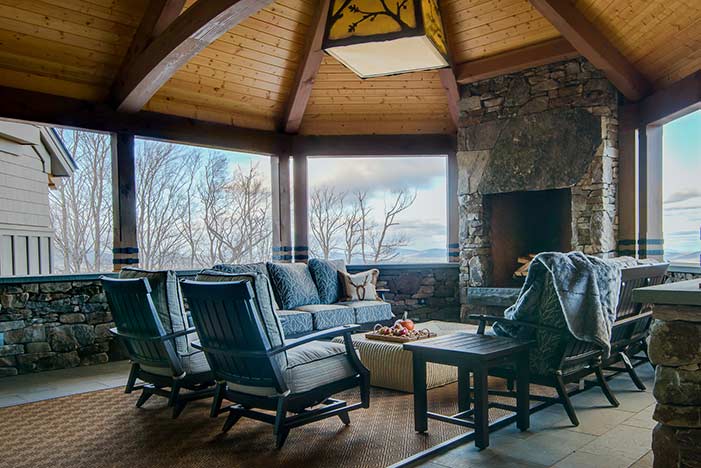 The timber frame porch features a large fireplace, extending outdoor socializing beyond the warmer months – an especially nice feature for socially distant and safer gatherings!
The home's interior design was done by Amy Thebeault Design. Amy's decorating style complements the timber frame beautifully. The home is inviting for full time living as well as weekend ski getaways. Every detail was carefully planned, right down to the stain and the fabrics selected for the furniture.
A special thanks to Amy for letting us use her photos to show off this gorgeous new ski home. If you are interested in seeing more of Amy's work, visit Amy Thebault Design.
Interested in learning more about this timber frame ski house or want to discuss your own new home project? Call us today at 800.636.0993!