Discover timber framing with modern glulam beams! Here at Davis Frame Company, we specialize in timber frame homes and offer traditional timber framing practices with mortise and tenon joinery using dense select structural Douglas fir timbers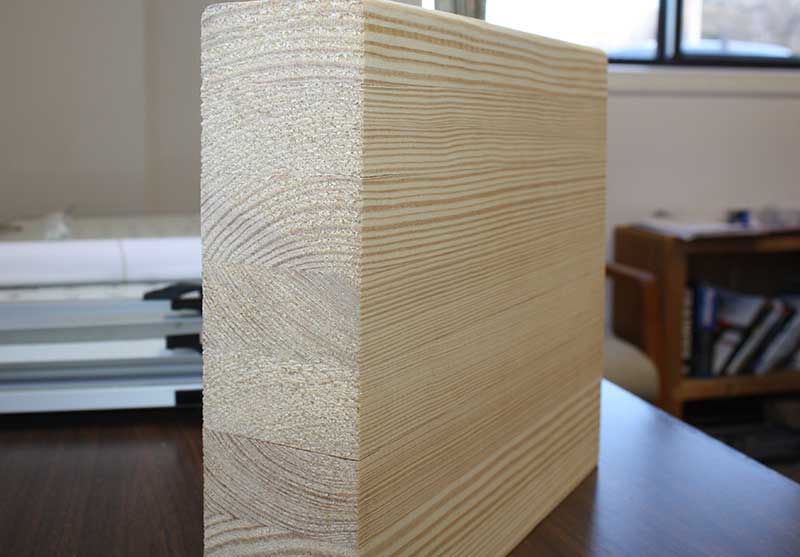 or Eastern White Pine. We also offer the option to use architectural grade glulam beams for strength and also to give those a more modern looking timber frame home. Glulam beams are comprised of structural dimensional wood that is laminated together with structural adhesives. They provide unmatched strength and are perfect for large spans and for home designs that require heavy timbers used for strength.
Over the years, we have crafted complete glulam structures and incorporated it with our traditional approach which is using dense select structural Douglas fir. By choosing a glulam timber frame system, you gain a little more flexibility. You can span your trusses further without the interference of interior posts. This is ideal for those that want a wide open space. Glulam is also good for those that are looking for arched timbers. Another benefit of glulam is there is minimum checking and shrinking making the timbers more stable, creating a cleaner and less rustic look. Many like the charm of the minimal checking that goes along with traditional timbers, however, for those that want to ensure there is no checking, a glulam beam is the best approach. A glulam timber frame can transform your wooden home and give it a more modern look.
So what are the biggest reasons glulam timbers are used? It's usually required in certain applications where the span is large. The other reason which is becoming increasingly more popular is that many homeowners enjoy the more modern look that glulam has to offer.
Below are a few examples of glulam projects we've worked on.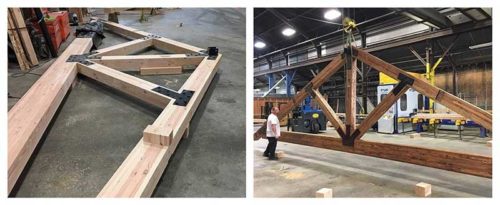 We worked on a commercial project that required 31′ long glulam timber trusses. With this large span, glulams were the perfect solution. Here is a view of the glulam trusses being manufactured and assembled.
Sometimes we use architectural grade glulam trusses with traditional Douglas fir timbers. In this barn design, we used glulam beams to support the roof as the span was great and the strength that glulam provides was perfect for this scenario.
This modern timber frame ski home features all glulam beams. Our client's chose glulams to give the ski home a more modern look.
Interested in learning more about timber framing and incorporating glulam beams? Call us today at 800-636-0993!