There's something special about the traditional timeless home styles of days gone by, they are familiar, warm and offer lots of character. A traditional style home is not only timeless and beautiful, but they can be more cost effective to build due to their simple lines and shapes. Now one thing about many of the traditional homes are on the market today is that they are not always the most energy efficient, which is a growing concern for many homeowners.
So how do you achieve a timeless home that is also energy efficient? Besides the option of extensively renovating an existing home on the market which can be costly, many homeowners are choosing to build new homes that resemble timeless designs like the colonial, farmhouse and cape.
At Davis Frame Company, we designed a series we call Classic Barn Homes which reflect the traditional architecture of days gone by. We designed our Classic Barn series to offer simple and more cost-effective designs. It is possible you could save 20%-30% on the total cost to build compared to a custom-designed home that features a more complex design.
Our series features, barn homes, colonials, farmhouses, capes, homesteads, and sugar houses. With the quality of building materials we offer in our packages, we can provide you with a legacy home you and your family will enjoy for generations to come. Whether you build a timber frame home or purely panelized, we guarantee that our homes will withstand the test of time and will offer you one of the most energy-efficient homes on the market today. Our timeless designs will blend perfectly with older homes in the neighborhood, it may even be hard to tell from the outside what is a new home and what is an older home.
Check out a few of our traditional timber frame homes below:
Classic Farmhouse with attached barn
Classic Farmhouse with a wraparound porch
Classic Homestead timber frame home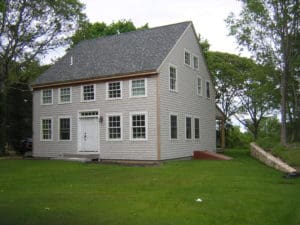 Colonial style post and beam
Interested in building a traditional timber frame home? Call us today at 800-636-0993 and speak with one of our project coordinators about your upcoming home project.