As our schedule is quickly booking up, we thought it would be a good time to explain how planning your timber frame home in advance can make all the difference in meeting your construction timeline.
A lot of time goes into planning a new timber frame home, such as finding land, planning your home design, researching methods of construction, selecting a builder, meeting with timber frame manufacturers and the list goes on!
With all that there is to do with planning a new home, we at Davis Frame recommend that our client's contact us early in the planning stages of building their new home.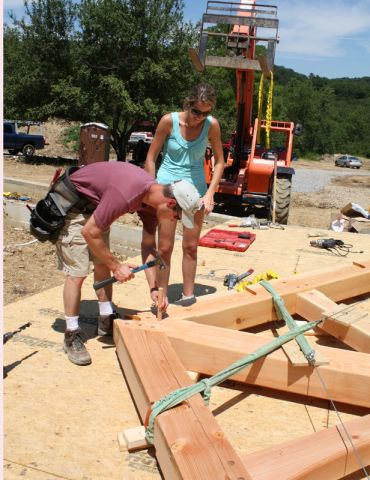 If we are designing the new home, our design process can take anywhere from 1 to 3 months, depending on if you are modifying one of our pre-designed floor plans or starting the design from scratch. During this process decisions also have to be made on what you want to use for your weather tight shell materials.
After the design and material selections are complete, we will work on pricing your package. If moving forward with a contract, our production schedule can be anywhere from 8 to 12 weeks before we can deliver your package to you. This is our standard process, however, it could be more or less time depending on what our production schedule is. Spring through Fall is the busiest time for construction, so planning far in advance will get you ahead in the game.
Our reps in the Pacific Northwest, Oregon Timber Frame, came up with a construction timeline for a new timber frame home and they did a great job projecting the timeline. Refer to the picture below:
As an example, if you are planning to build in the Spring of 2020, think about starting the planning process for your new home now. We would be happy to guide you on what steps you should take to meet your construction timeline. Call us today at 800-636-0993!