Explore the best of barn home living and why you should choose a barn home for your next home! Barn homes are charming, familiar, and very desirable, especially in New England, where it's common to see old barns along a scenic drive. You can even find restored barns in more suburban areas where farmlands once dominated the landscape. Barn homes offer a timeless design that will never go out of style!
What is a Barn Home?
Lots of people may wonder the distinction and ask what is a barn home? A barn home could mean different things to different people, but mostly a barn home refers to either a house that looks like a barn or features timber frame or post and beam construction, or both! If you search the Internet, you will find all kinds of barn home ideas, including barndominiums and pole barn homes, neither of which are true timber frame barn homes. We at Davis Frame do not manufacture these barn home-style structures. A Barndominium is typically a metal building that may have a barn look to it, and a pole barn home typically uses wooden laminated poles that are buried into the ground and often feature conventional trusses and 2x on the exterior. They are mostly used for agriculture, however, in some areas of the country, they are being built as an economical wood homes.
Above are examples of what some consider barn homes, but we have a different definition. Our barn-style home is a home that looks like a barn from the outside but has all the modern amenities of a house on the inside. Our barn homes feature high ceilings in portions of the home, open concept living, and a little (or a lot) of natural wood touches throughout the interior that make up the structure and the charm. Common architectural details for a barn home include a gable roof with a steep pitch, cupolas, large windows, sliding barn doors, and today, we are seeing more vertical siding on the exterior.
Example Barn Homes from Davis Frame

Showcased above are a few Classic Barn homes we have designed and crafted throughout the years. We have created several versions of the original Classic Barn floor plans (see one of the original plans below). This classic barn style design has become a staple of our offerings. As you can see, the design resembles a traditional gable-styled barn, typical of the barns you see all over New England. The baseline footprint for our Classic Barn is 28X52. Our Classic Barn 1 floor plan offers 2,200 SF with 2 floors and a 10/12 roof pitch. It's the baseline barn home we created. Our Classic Barn 2 is a variation of the Classic Barn 1 and features the same footprint, but besides the two levels, there is a bonus loft bringing the square footage to 2,500 SF. A couple of other key differences is it has a steeper roof pitch at 12/12, which allows room for that bonus loft. Kids love this feature, especially when their parents incorporate a ships ladder to access the loft from the upstairs bedrooms. Our Classic Barn 2 also features a cupola which adds to the charm.
While both versions of the Classic Barn floor plans feature a few differences, all the features are interchangeable between the two. Like Classic Barn 1 but want to add a cupola? We can do that! Our barn style homes offer complete flexibility.
Classic Barn 1 Floor Plan

The Classic Barn 1 floor plan is our most popular layout. The front entrance is featured on the eave side of the home. Upon entering there is a closet, perfect for hanging coats and storing shoes. To one side is the master bedroom suite and on the other side is the open concept great room and dining room. In the back center is a spacious kitchen and to the right of the kitchen is a mudroom/laundry room and powder room. This is a great floor plan to consider!
The second floor features two generous-sized guest rooms, a shared bathroom, and an open loft that opens to below. There is a small cove right next to the bathroom that could be a nice area for a small desk and chair.
Classic Barn 2 Floor Plan

Above is the Classic Barn 2 floor plan. Like the Classic Barn 1, the front entry is on the eave side. With this version of the Classic Barn, there is a timber frame farmers porch. It's a nice feature that gives the front of the home additional character. Straight ahead, upon entering is the dining room and kitchen. To one side of the entry is the great room and the other side includes two bedrooms and a shared bathroom. This is a nice first floor layout to consider if you are looking for two bedrooms on the first floor. There is no mudroom, however, and that can be a downside for those building in New England. Mudrooms are a must during the spring mud season and the snowy winters. We have had folks add a connector and garage to the backside of the home, which is a great option to consider, especially if you are already considering a garage. In my humble opinion, a garage is a must!
The second floor plan on the Classic Barn 2 features a large 16'x20′ master bedroom. Also included is a full master bathroom. In addition, there is a loft that overlooks the first floor. In the loft, there is plenty of space for an office. What a great option if you are working from home!
And one of the best features of this barn style home floor plan – the loft! This would make a great private office or even a playroom for kids.
Classic Barn 3 Floor Plan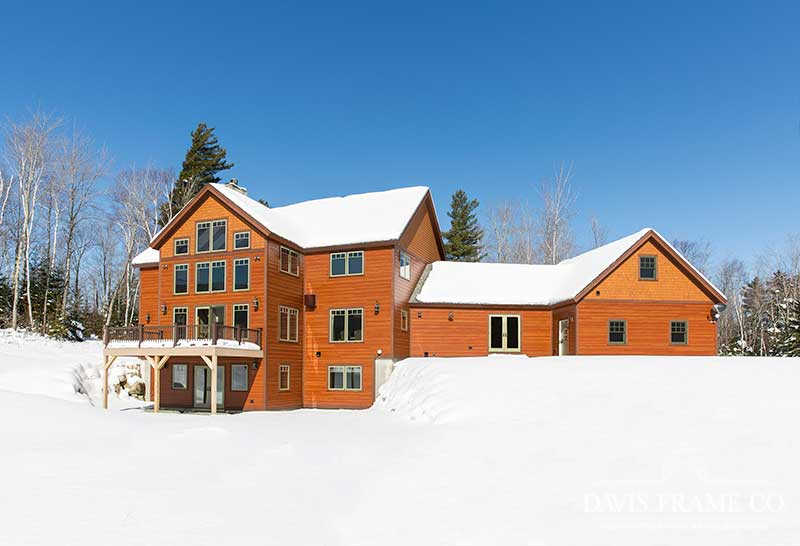 Our Classic Barn 3 floor plan is our largest standard barn home floor plan, coming in at 3,000 square feet. The footprint is 28'X52′, same as the Classic Barn 1 and 2, but has a 12'X20′ bump-out that adds a nice additional space off the great room

The first floor includes a master suite and great room. Both have access to the outdoors at the back of the house. The first floor also features an enclosed kitchen, a secondary entrance with mudroom, a half bath, and an office.
The second floor is home to four bedrooms, a full bath, and a loft that overlooks the great room below.
Are you interested in building a barn home? Call us today at 800.636.0993!