About Davis Frame Company
DAVIS FRAME COMPANY is a New England-based designer and manufacturer of high quality custom timber frame and panelized homes. Our craftsmanship, quality materials, and personal service put Davis Frame a notch above the rest.
Over the years, our drive for excellence has led us to continual improvement. Always incorporating the latest construction best practices, we regularly incorporate the most advanced technological building systems into our home designs, while also embracing new materials to remain on the cutting edge. The end result is a high quality, high performing, and truly stunning structure.
DAVIS FRAME HISTORY
Over three decades ago, frame-wright and custom home builder Jeff Davis and Rick Bascom realized they shared a common dream – to build the finest custom-designed timber frame homes.
Together they formed the Davis Frame Company, whose original shop was located in a barn in Brownsville, Vermont. Over the years, the demand for our timber frame homes grew and in 1997, we built a 22,000 square foot design and manufacturing facility in Claremont, New Hampshire
In 2007, we added a manufacturing facility for our newly launched panelized wall system. Today, with the scarcity of on-site labor, the demand for our panelized homes has grown tremendously with the builder community.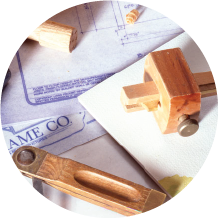 TESTIMONIALS
I'm so glad that we "took the plunge" and contacted Davis Frame back in 2005 to begin the process of building this home. Everyone at Davis Frame was supportive and helpful, from the receptionist to the designers to the project manager. You have been unfailingly friendly and patient, and I have come to count you all among my friends.
We loved the way Davis Frame took our hand-drawn house plans and turned them into a home. Our plans were developed without an architect, thanks to the skills of their in-house CAD designers' creative input. We built the house as a vacation home with plans to move in full time for retirement in several years – but we love the house so much we moved in after it was completed!
AREAS WE SERVE
While located in Claremont, New Hampshire, if your timber frame project materials will fit on a flatbed truck then we can it ship it, anywhere! Over the years, we've worked with customers on both the East and West Coast as well as internationally. You can find our timber frame homes all across New England, Colorado, Florida, Missouri, Alaska, and even in the Caribbean.
To learn more about how we can work together, call us at 800-636-0993