Working with Davis Frame
Are you an architect or builder looking for a faster or different way to build your clients' new home?
Davis Frame Company offers a variety of systems-built structural package options designed to simplify the building process by utilizing CAD technology to design and fabricate structural building components to ensure a seamless and quick on-site installation.
Our collaborative process takes a "builder's eye view" of the project, all from the safety of the digital space. Mistakes on-site are costly and time consuming. With our proprietary CAD software, we rehearse the structural assembly in advance to identify and resolve any potential problem areas or unforeseen design situations, saving time, money, and frustration in the field.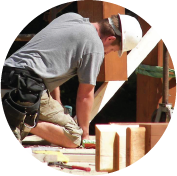 AVAILABLE DESIGN & BUILD SERVICES INCLUDE
Architectural/schematic design
Project development & virtual fabrication
Complimentary site visits
On-site technical advisor program
On-call phone support
ARCHITECTURAL DESIGN PARTNERSHIP SERVICES
Davis Frame often partners with architects to complete the construction drawings for a new systems-built home. In this case, the architect handles the architectural design and we assist with the technical designs for the framing aspects. This process ensures that each element of the design is refined according to the highest standards within the industry and approved by construction professionals with decades of homebuilding experience.
TECHNICAL DESIGN
Beginning with rough massing and dimensional layout, we work up a piece-by-piece accounting of all the structural framing members necessary to complete the job.
Once the 3D modeling is complete, a project moves into the production design phase, where the on-site assembly drawings are created. Using our sophisticated, proprietary software, our design professionals translate the 3D models into easy-to-use drawings that provide all the information required to efficiently assemble our systems-built packages.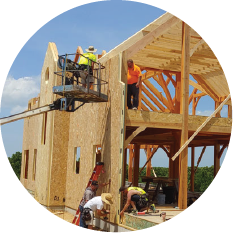 ON-SITE TECHNICAL SUPPORT
At Davis Frame Company, we often lend on-site technical support through our technical advisor program. This is where one of our senior team members works with the on-site framing crew to ensure a seamless frame assembly process. Our team is also available by phone to answer questions that present themselves throughout the building process.
DAVIS FRAME SYSTEMS-BUILT OPTIONS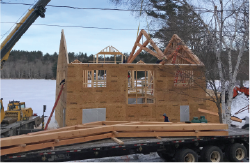 Davis Frame offers a variety of different systems-built construction options, including:
Our building systems are designed to reduce the number of sub-contractors and on-site labor needed to complete a project. The benefits to the construction phase of a project are many, as well as to the project planning and management phases....
We offer a variety of systems-built construction methods that work together with hybrid or standalone construction. For example, if you want to incorporate timber with 2x panelized construction and SIPS – a great cost-saving option - we will create a hybrid home using all three methods.
TESTIMONIALS
Since 1998 Dutton Construction Corp. has partnered with Davis Frame Company. Projects range from large custom homes to small additions that feature timber elements. The knowledgeable sales staff and in house design teams have made for a seamless process from concept to completion. We are looking forward to continuing this great working relationship in the coming years.
We've had the unique pleasure of working with Davis Frame on some amazing homes. What sets their team apart is the collaborative approach and willingness to design a home that is exactly in alignment with the client's vision.
WHY USE SYSTEMS-BUILT CONSTRUCTION?
Systems-built construction is a method of home building that uses prefabricated components. There are plenty of benefits to this construction method, including:
Reduced on-site labor requirements
Improved accuracy and quality
Optimal energy performance
Quick on-site installation
Minimal to no cutting on site
Reduced overall project waste and associated costs
Shorter overall on-site build cycle