The Timber Frame Home Difference
Timber frame homes are built using a time-honored construction method, resulting in distinctive architectural designs.
Our beautifully designed and crafted timber frame homes combine these old-world construction methods with advanced techniques. We provide a wide breadth of uniquely enchanting designs that pay homage to this centuries-old craft of homebuilding. Many of our timber frame homes can be found all across the United States.
Timber Frame versus Post & Beam Construction
As you research timber frame homes, you may also come across the term "post and beam home." Timber Frame and Post & Beam are often used interchangeably, and the final products look similar, however, there are some key differences in the way each are constructed.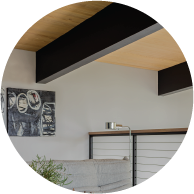 TIMBER FRAME HOME CONSTRUCTION
The timber frame construction method uses posts erected from walls and bents, spanning from sill to eave or ridge. The bents run perpendicular to the ridge of the roof, while walls run parallel to the ridge. Wooden pegs secure the mortise and tenon joinery of timber framing without the need for exposed metal connections.
POST & BEAM HOME CONSTRUCTION
The post and beam framework is based solely on vertical and horizontal pieces that are not fit together, but instead are either butted up to one another or sit atop one another. Post and beam homes are constructed in layers so that each floor is built independently, and posts and beams are joined using metal brackets rather than wooden pegs.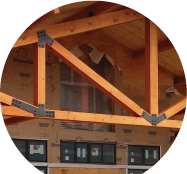 The Versatility of Floor Plans & Designs
Whether you like a traditional architectural style or a cleaner, more contemporary design, either can be accommodated with timber frame construction. Most people associate timber framing with a rustic aesthetic, but that is not necessarily accurate. You can easily modernize a timber frame home with certain design decisions such as stained timbers and other decorative material selections.
FLEXIBLE TIMBER FRAME PACKAGE OPTIONS
We offer flexible options in our timber frame styles. You can choose a fully timber framed home design or a hybrid option where just portions of your design feature timber frame. Hybrid timber frame homes generally feature timber framing in the center section of the home while the wings are conventionally framed. A hybrid timber frame home is a great option for those who just want a hint of timber frame. The design possibilities are endless!

"Jeff, Amy and I thank you and everyone at Davis Frame for making our house so beautiful. The design and production were superb and so it was very easy for our builder to erect it and work on it. The perfectly engineered fabrication had a plus as our kitchen installer told us he spent 1.5 days less on our installation because the house was perfectly square. The Douglas fir and pine ceiling are simply gorgeous. Thank to Steve, Gina, and Molly for their excellent guidance and service."