Discover the top New Hampshire ski areas for your new home, all ironically in the Mount Washington Valley! Here at Davis Frame Company, we work with many clients who are looking to build a vacation home in the mountains. New Hampshire is a popular place for those that live in Massachusetts and Connecticut, as it's within close driving proximity. New Hampshire is also popular because of how many awesome mountains it has. With a variety to choose from, homeowners can enjoy a variety of mountains close to one another. The Mount Washington Valley along has several amazing mountains to ski and snowboard on. In fact, most of top New Hampshire ski areas are in this region.
From Franconia to Whitefield to Lincoln, we've seen a huge surge of interest in building primary and secondary homes in this region. It is no wonder the region is so popular for new home construction; the towns included in the White Mountains region all have so much to offer between skiing, hiking, gorgeous scenery, amusement attractions and so much more. Learn about the most popular ski resorts and what each area has to offer for four-season living.
Discover each popular mountain below and what each offers!
Bretton Woods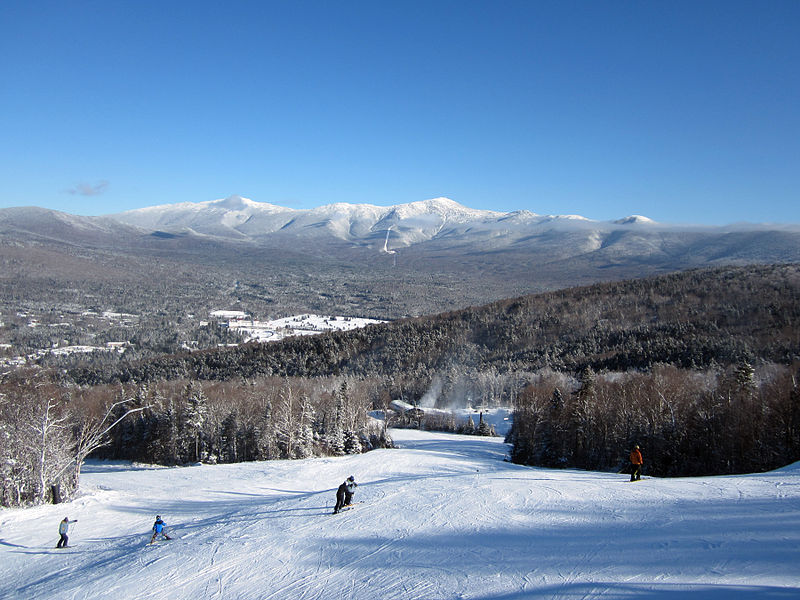 Photo credit: Wikipedia
Bretton Woods is the largest ski resort in New Hampshire containing over 63 trails and 10 chair lifts. The resort also has an 8 passenger high-speed gondola.  Bretton Woods is award-winning having won Best Grooming in the East by Ski Magazine. Conde Nast Traveler chose it as the #12 ski resort in the world. What is also unique about this resort area is that it faces Mount Washington and the Presidential Range. The infamous Mount Washington Hotel is also close by and is a luxurious place to stay at least once to enjoy the upscale and historic lodging.
This area is also perfect for enjoying multiple seasons. During the Summer and Fall months, many visitors visit the area to enjoy going to the top of Mount Washington via car or on the Mount Washington Cog Railway. The Cog is a must if you are in the area as it climbs Mount Washington using a steam train (or biodiesel option if you wish). There are also two golf courses nearby and you are within a reasonable driving distance from other famous White Mountain attractions.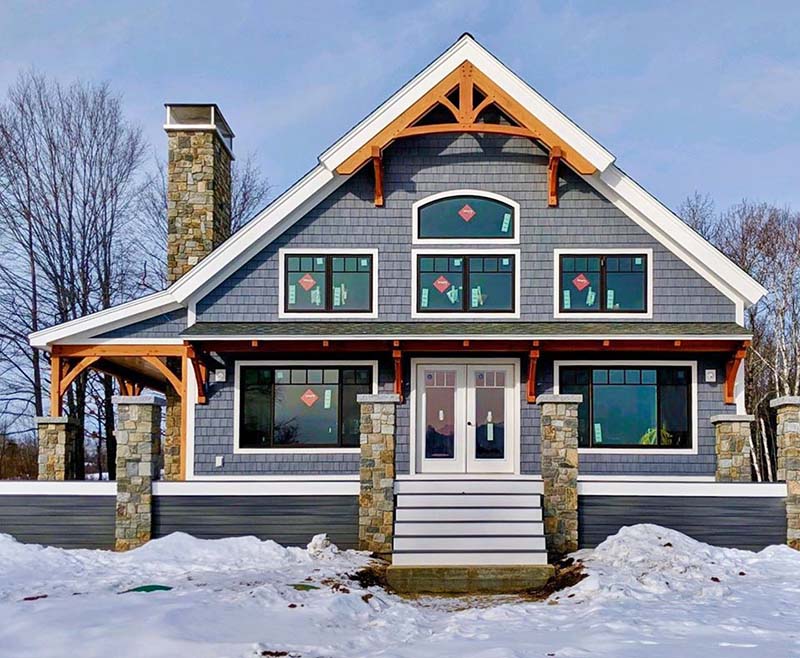 Davis Frame timber frame home under construction near Bretton Woods. Design by Timber Works Design in Vermont. 
Cannon Mountain

Photo Credit: Fredlyfish4 [CC BY-SA 4.0 (https://creativecommons.org/licenses/by-sa/4.0)]
Cannon Mountain and the region of Franconia, NH is becoming popular for new home construction. We have worked on a few timber frame homes in the area and are also working on another new timber frame home design for a new home in Franconia. Cannon Mountain is famous for US Olympic Gold Ski medalist Bode Miller, who grew up in the area and learned to ski on the mountain. It also features some challenging trails and is known for its rock and ice climbing. Hikers flock to the area in the Summer and Fall months.
Also nearby to enjoy during the warmer months is Echo Lake and you can visit the Old Man of the Mountain Museum. There is also an aerial tramway that will bring you up the 4,100-foot summit where you can enjoy beautiful views of the White Mountains and into Maine.
Again, Franconia is also near many popular attractions in the White Mountains, including a half drive to Clark's Trading Post. Within a 20-minute drive is Lincoln where you can ski Loon Mountain, another popular ski resort area.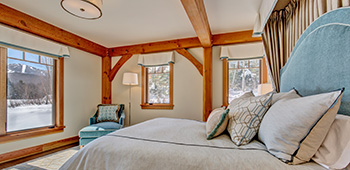 A Davis Frame timber frame vacation home in the area.
Loon Mountain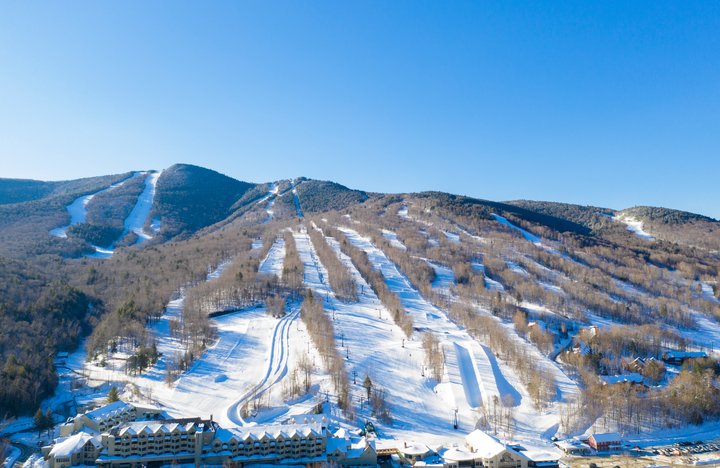 Photo Credit: loonmtn.com 
Loon Mountain is located in Lincoln, NH, a fabulous place to visit throughout the year. Loon offers plenty to do during all the seasons, whether you like to ski or want to enjoy a fun aerial park during the warmer months. Lincoln offers a quaint town with little shops and eateries to visit. During the winter months, you can ski/snowboard, tube, cross-country ski, snowshoe and ice skate.  The Summer activities include a zip line, mountain biking, disc golf, and gondola rides.
Lincoln is also home to the Flume Gorge, Hobo Railroad, Clark's Trading Post, Whales Tale and the famous Indian Head. Lincoln is a perfect area for families with small kids with all that the area has to offer that is kid-friendly. If you want year-round entertainment for you and your family, this is a must to consider visiting and/or to build a vacation home.
A new Davis Timber Frame Home that will be built near Loon starting January 2020. 
Cranmore Mountain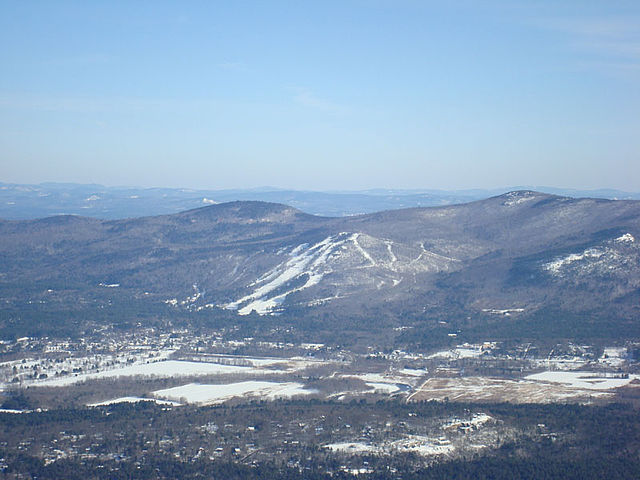 Photo Credit: Wikipedia, Jeremy R. Clark
Cranmore Mountain Resort has become popular throughout the years due to its proximity to North Conway. As with all the local mountains in New Hampshire, Cranmore offers many activities to cater to all four seasons. Cranmore is also investing in redevelopment and has a $50 million dollar plan in place. It also is the #1 place to tube in New Hampshire!
With Cranmore being in North Conway, it offers so much more than skiing. The bustling area offers the Settlers Green Outlet Village that features over 60 stores to visit. It also has many options for dining, including the Flatbread Company where you can enjoy wood-fired pizza. There are also many places to stay, including the Red Jacket Resort which features an indoor water park, perfect for families! Within a 15 minute drive is Storyland, a popular amusement park for children. There are also some great areas to camp in the summer along the Saco River.
Timber frame carriage house near North Conway.
We hope you enjoyed learning about these popular New Hampshire ski areas. If you are looking to build a timber frame home in this area, call us today at 800.636.0993!