Learn more about building a Caribbean Timber Frame Home in the Cayman Islands! Prior to Hurricane Ivan (September 11, 2004), Phil and Nancy lived in a four-bedroom house on the Caribbean Island of Grand Cayman that they were happy with. However, during Hurricane Ivan, the roof came off and the house's metal frame twisted. Phil and Nancy were immediately homeless after the storm, but not property-less; they moved into a 3 room cottage where they have been living for the past 7 years.
Planning a New Home
After some time passed by, they looked for a new house. But after researching many homes on the island, they couldn't find a home that suited them, so they built. But the question was, what were they going to build?
Phil and Nancy hired an architect friend to design their new home and came up with a 3 story design that passed through planning. But prior to submitting to the Island's Building Control Unit (BCU), they sat down with a Quantity Surveyor and he showed them they were standing on a financial precipice, so they backed off. More time passed by and eventually, the couple came up with an alternative design. Nancy researched small house plans on the Internet. One of the first plans that popped up was Davis Frame's Japanese Tea House. Nancy thought, "Oh, that's nice," and continued her research.
Phil and Nancy drew, printed and adjusted many self-designed floor plans. They wanted to get their thoughts and ideas in order before again involving an architect to design their home. The first time they began the design process, they were not sure what they were looking for, but this time they had a good idea. Phil and Nancy spent many nights tweaking many of the plans they found online. They would sit down and discuss the plans they tweaked, put the plans away, and look at them a couple of weeks later. Sometimes after revisiting they would tweak again and other times they would start all over. Finally, they chose the Japanese Tea House and decided this was the plan they wanted to work with.
The Japanese Tea House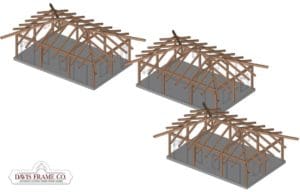 Their next step was to meet with the Quantity Surveyor to decide if the Tea House would work on their difficult site. After concluding that the one-level design would work, Phil and Nancy called Davis Frame Company to discuss the Japanese Tea House. Phil says after looking around the web, it got a little intimidating to find a company that he could trust and find reputable. Phil visited New Hampshire in April 2010 to make sure Davis Frame was the real deal. After visiting the Davis Frame headquarters, Phil found the staff to be professional, friendly and offered a quality product; and after having many good conversations, Phil and Nancy knew Davis Frame was a good fit.
Next, Phil and Nancy hired a local Architect. They used Davis Frame's Japanese Tea House floor plan as the starting point, working with the design to fulfill their vision. Phil and Nancy wanted 3 pods. Pod 1 featuring the master bedroom suite, pod 2 would be the main living space, and, pod 3 would feature two guest bedrooms pod. After living in a 3 room cottage for 7 years, Phil and Nancy knew they wanted to build a nice home with everything they wanted. They opted for high-end finishes with nice countertops, cabinets, appliances, and tile. They also included a nice large deck with an in-ground pool that looks right over the ocean.
After finishing the plans, Phil and Nancy submitted their plans to the planning board; this process wasn't too difficult and went smoothly. However, the Building Control Unit (BCU) was more challenging to pass the plans. Davis Frame's team worked with the local architect and BCU to resolve the issues they had with the plans. They approved the plans, and the Davis Frame crew got to work crafting the timbers for Phil and Nancy's new home. Once we cut the timbers and hand-finished, the package loaded onto a flatbed truck and transported to Florida. Next, it was loaded into a shipping container. The shipping containers shipped from Florida to the Cayman Islands by boat.
In November 2011, Jeff Davis, President, and co-owner of Davis Frame flew down to Grand Cayman to advise the local crew on a proper timber frame raising. Now a few years later, we have beautiful finished photos of this gorgeous Caribbean timber frame home!

Photos by Pinnacle Media Group, Cayman Islands
When we asked Phil and Nancy why they built a timber frame home? They said, "because it's beautiful!" Nancy grew up with hardwood floors throughout her home and never lost her love for real wood.
Visit our Caribbean Timber Frame photo gallery to see more!
Interested in learning more about your timber frame and post and beam homes? Call us today at 800.636.0993!